On the back of Bob Mould's finest album in years, Getintothis' Simon Kirk was on hand to witness the noisy interpretations from Sunshine Rock.
After Northern rail served up their customary dish of shithousery, thus firmly keeping to their usual level of service standards, resulting in us blagging an alternative train service to Oxford Road, we finally arrive at the Manchester Academy 2 for some of the glorious noise we expect Bob Mould to offer.
Mould needs no introduction. Having been the architect of finely tuned aggressive guitar music as the centrepiece of the era-defining Husker Du, Mould provided a gateway for bands like Green Day and various other 90s/00s pop punk acts to successfully carve out financially stable careers.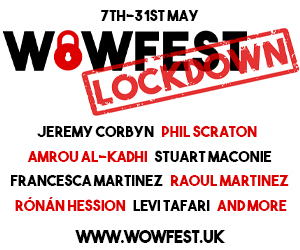 With Sugar and later in a solo capacity, Bob Mould continued to break his own boundaries via sonic exploration, infiltrating pop punk with his own slant, injecting a unique aggression with sharp dexterity and timeless foresight. He is a mainstay within the alt-rock parish and continues to make pertinent music while those whom he influenced continue to flounder artistically. Merely yesterday's men.
That very relevance is in the way of Mould's latest long-player, Sunshine Rock. An album that is one of Mould's greatest achievements yet.
Sunshine Rock breaks through the ceiling of darkness that has perhaps enveloped Mould periodically for as long as we can remember. Having coincided with his relocation to Berlin, Sunshine Rock reveals a happy Bob, which leaves us waiting with bated breath as to how these new offerings present live.
Mould enters the stage confidently, his figure burly, towering, wearing black-rimmed glasses and a replica Flannel Sunshine Rock shirt that his aficionados could pay ninety-five quid for at the merchandise table. No thanks, Bob – you're rocking it far better than anyone else could.
He rips into Beauty and Rain's highlight track, The War, smiling wide and prowling the stage with nervous energy.
The maelstrom of noise that Mould conjures up from his guitar is feral. Rather than split your ears with dissonance, it's a sound that makes your stomach churn, likes waves crashing against a retaining wall.
The anthemic swagger of Sugar's A Good Idea follows, setting the tone of what's in store for the rest of the night. Husker Du's I Apologise and Sugar's Hoover Dam roll off the stage as Bob effortlessly takes on a trip down memory lane.
Sunshine Rock's Sunny Love Song and the best track Mould has written in years – the foot stomping steam-roller rocker that is Thirty Dozen Roses – are both delivered with bruising panache and – to be honest – it would be nice to keep hearing material from Mould's latest conception.
Shame interview: "I can say on good authority that Theresa May doesn't like us."
In between another journey through Mould's sonic cannon of hits, we do have another heavy dose of Sunshine Rock. He delivers the album's title track with neck veins bulging and screaming the words in a cardiac-red rage. I Fought is served in similar fashion with Mould's screams akin to a bull terrier biting his bollocks.
The rendition of Sin King is almost balladeering, proving oddly comforting, while Lost Faith contains Mould's most prevalent lyrical statement in some time and it's not lost on the crowd, as Mould sings. 'You really got to stop this now/you let yourself get too far gone/when you stray from the ones you love/you get so hard to find your way back home/life is so complicated/don't let your hopes and dreams disappear/baby we all lose faith in troubling times/you know I'm gonna be right here.' Stirring stuff.
The last four songs fill the vacuum created by the many who have come here tonight for some nostalgia.
Something I Learned Today sees people losing their minds and Charted Tips receives similar treatment while Celebrated Summer arrives at the summit of this Husker Du love-in.
Mould's Sonny Curtis cover of Love Is All Around provides an interesting juxtaposition for the finale of Makes No Sense At All. It's a fitting end to these turbulent times.
Mould and his band leave the stage and rather than engage in discourse with the audience, he has arrived tonight to do a job and do a job Mould has, tearing through twenty-four songs basically one after the other.
Sunshine Rock is such an accomplished album that it would have been more than warranted had Mould included another two or three of its songs into the set, with What Do You Want Me To Do being a notable omission and a very worthy substitute for material from, say, Workbook or Silver Age.
This is merely nitpicking, however. Bob Mould's performance tonight demonstrates an artist in top form, providing further evidence that he is one of the true visionaries of the alt-rock movement and continues to create and part with pertinent statements.
Comments
comments