Maverick Sabre is ready to take on the world with his confident swagger and powerful voice as  Getintothis' Will Truby finds out.
For no obvious reason, doors at the Arts Club on Saturday evening are 6pm, and curfew at 10pm, which seemed unnecessarily  early for a gig with just two artists. Still, we arrived diligently at half past, fully expecting the first act to arrive within the next half an hour or so. A DJ table and microphone was set up in the middle of the stage, presumably ready for the first act.
Flash forward to 7.45, when the first act Jordan Max, arrives onstage with his DJ. Now, we're not entirely sure what happened, whether Jordan Max was AWOL, the Arts Club has done him dirty, or whether this was all part of the plan, but an hour and a quarter's wait after doors seems strange to us.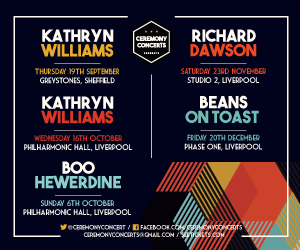 Jordan Max arrives onstage, accompanied by moody and soulful R&B, played by his DJ. He's drowned out a bit by his backing track for the first track, but he explains that he never got a chance to soundcheck, and by the second song he's on track.
His brand of R&B strikes as excellent stoner music, all lofi drum grooves straight out of the 90s, dripping with gospel and grit. Jordan's voice is also quite impressive, a mix of soulful singer and Soundcloud-esque mumble rap.
In fact, we get the vibe that there's a good chance he's a bit high – which is fine – as long as there's been music there's been drugs involved. He's got a very laid back presence, and his inter-song banter smacks of that super-chilled stoner stereotype, all of which is refreshing to see onstage.
However, this simplistic and laid back approach also means there's not an awful lot to see onstage. There's a little bit of audience interaction and movement, but for the most part it's all quite static. And with the majority of the music coming from a laptop, including backing vocals, you've got to wonder if it really warrants a live performance.
Paris Youth Foundation talk new EP, Sound City and supporting the Sherlocks
After another half hour wait, a group of musicians walk onstage and start playing a 70s funk groove. This is, in fact, Maverick Sabre's backing band playing him on. We're instantly grabbed by his immense swagger and confidence; we've honestly never seen a musician seem so at home onstage, he tops even Gallagher levels of cockiness.
This confidence is actually Maverick Sabre's secret weapon; his music is strong, and his voice is phenomenal, but what sets him apart from his peers is his superhuman amount of energy, his blatant passion for performing, and his Goliath presence in a fairly large venue. Throughout the evening, he instigates a number of singalongs and waves, more successfully than we've ever seen.
The majority of the songs end with the band dropping out, leaving Maverick to repeat the last few lines by himself, or along with the crowd. He's got such phenomenal control over his really quite powerful voice, but ultimately this just proves how much confidence he has in his ability to fill the room and grab the crowd.
The set is comprised of a good mix of old favourites, new songs, and a couple of covers in the middle. It stands to his credit that the new songs, from an album he only put out a week ago, go down almost as well as the tried and tested hits. Singles Drifting and Slow Down are a little more upbeat and summertime than his older stuff, but are packed full of soul and swagger.
He plays breakout hit I Need alone with an acoustic, and loses absolutely no presence even stuck behind a guitar. After the climactic album closer of Glory, we come away confident that Maverick Sabre certainly has it in him to take this all the way.
Images by Getintothis' Ian Flanders
Comments
comments