Kikagaku Moyo bring their Japanese psych mystique to District, Getintothis' Jamie Bowman joins the throng of admirers.
What is it with the Japanese and psychedelic rock? Julian Cope tried to nail it in his classic Japrocksampler book concluding it has something to do with the country's cultural and geographic isolation and their musicians' tendency to "thrust everything they discover from the outside world through their own singularly Japanese filter, mainly resulting in a peculiar copy of the original, but quite often bringing forth something magnificent and wholly better than that which had first inspired it."
Whatever the reasons the last two decades have seen the likes of Boredoms, Makoto Kawabata's Acid Mothers Temple, Boris, Asahito Nanjo's High Rise and Ghost all heading west and blowing minds and amplifiers in equal measure.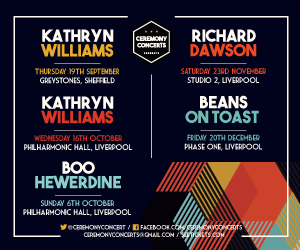 The latest act off this Orient express is Kikagaku Moyo (Japanese for geometric patterns apparently) – a Tokyo-based psychedelic rock band whose sound incorporates elements of Krautrock, Indian ragas, and acid folk.
Over the course of a short period of time, they've released a series of records, including 2016's breakout House in the Tall Grass and 2018's sharply sculpted Masana Temples, that have balanced heavy, crushing jams with softer, more contemplative moments, becoming darlings of the international psychedelic scene.
As always with Japanese bands, there's some good back story too: there are rumours of songs being written over a night spent "jamming on a suspended footbridge in remote mountains," while drummer Go Kurosawa has travelled the world including a stint living rough in Central America.
Deeper Cuts Festival – an interstellar new music happening in Liverpool
Whatever the truth, the hype has worked and District is just about as packed as your writer has ever seen it, with Liverpool's heads eager to see the mystery become reality. The band certainly look the part: guitarist/vocalist Tomo Katsurada, bassist Kotsuguy, guitarist Daoud Popal and sitarist Ryu Kurosawa resemble early Black Sabbath hanging with the Incredible String Band which also goes some way to describing their sound.
The first few songs mainly base themselves around slow moving guitar-and-sitar figures before scattered vocals break through the trance-like haze. Gradually things get louder with Kurosawa's forceful drums clattering along over beds of distorted guitar before the musicians fall into a groove and go off in some new direction.
If this sounds like mere jamming, it's actually far from it. No second is wasted and judging by the concentrated looks and frequent grins offered in each other's direction the band know exactly where they are going and are determined to enjoy the ride.
The crowd, meanwhile, are happy to take the offer of a lift as things build and build towards an ecstatic encore before Kikagaku Moyo exit stage left, their mystique intact.
Images by Getintothis' Abi Moss-Coomes
Comments
comments