The Claque play only their second ever show alongside local favourites Eyesore & The Jinx at one of the cities' newest venues, Getintothis' Steven Doherty gets amongst it.
It's not often you get to see a band in such infancy, but tonight is one of those nights.
Dublin's The Claque, who share guitarist Alan Duggan with the about-to-go-huge Girl Band, are playing their very first show in this country.
They have just one single to date, so it's encouraging to see such a turnout on a summery Thursday night.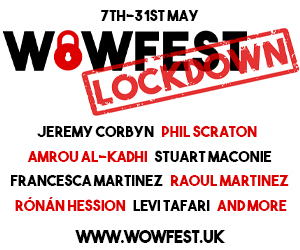 This is also down to tonight's support, local heroes Eyesore & The Jinx, who this writer is ashamed to admit, has yet to see them live. And doesn't he feel quite the fool being so late to the party.
I guess everyone else knows that On An Island is an absolute stone cold banger of a tune.
Amongst the older stuff that make up the first part of the set, current single Swill (not its original title but changed for BBC reasons, we discover) thrills along at such a pace.
They are full of humorous between-song patter and dedicate a song to the 'miserable cranks in the room', which gets some approving nods.
Deeper Cuts Festival; an interstellar new music happening in Liverpool
They're here tonight primarily to try out some new songs, but when it comes to road-testing them, they seem apprehensive.  They've really no reason to be, the new songs all sound like future classics to these ears. They remind us of a softer Mclusky, telling stories over a racket.
And there's no bigger compliment than that, and that's coming from one of the aforementioned miserable cranks in the room.  They are such a revelation.
And speaking of the room, having not been here before, it's a sensational space with such good sound, the main benefit being an outdoor space to escape to between bands, like all good venues should have these days, a splendid set-up.
The Claque take to the stage and instantly identify themselves as being somewhere between a squalling ball of feedback and a soft but menacing vocal.
One of the two tracks from the recently released double A-side Stray comes up quite early in the set and it's a startling wall of noise compared to the softer recorded version.
At times, it can be a struggle to hear the vocal, but it's carried eloquently by the racket it accompanies.
Choppy swirling guitars built around a wall of feedback, the 'quiet then loud' feel to the songs remains menacing, (and a big shout out to the promoter for admonishing people for talking over the 'quiet'), it's almost ear-bleeding at times.
The inexperience shows in between songs as the set doesn't really flow, naturally for only gig number two, but the confidence in the material grows at the set goes on. The single Hush comes, and it is the squealing mess we'd hoped it would be.
Too soon the last song is announced, it's almost poppy, this could be the new single, you could almost hear it on the radio, and then…it sounds like a bomb dropping. A fierce attack on the earlobes, and then back into the pop vibe. All within the space of a minute.
Dublin is the place to be for a band to emerge from these days and The Claque should be proud of not just jumping on a bandwagon, and ploughing their own noisy furrow.  Two bands tonight that have made you glad to be alive, in Liverpool, and a lover of all things music.
Pictures by Getintothis' Daniel Hill
Comments
comments