After an impressive week has passed, another follows with a fine array of midweek gigs and Getintothis' Simon Kirk has the details.
No sooner has an impressive week has passed then another is upon us. Particularly in the interest of midweek gigs.
Last week produced some absolute belters on the gig circuit, with Crack Cloud and Tropical Fuck Storm rolling through the city and making it their own last Tuesday night. Where the latter was concerned, it was one of the finest representations of rock music this writer has witnessed in quite some time.
This week boasts an equally impressive line-up of acts and again, it feels as if the main points of concern are during the week, which means there's no excuse for ditching gigs in favour of weekend rambles in North Wales. You can do both!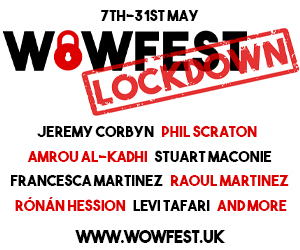 There's a brilliant mix of up and coming local acts, International talent and, of course, a bit of nostalgia for those seeking past glories.
So, enjoy the sun, but not too much. Get a balance of the better weather by enjoying some live music. Combined with the sun, it's good for the soul.
This week's top picks.
Psychedelic Porn Crumpets: The Shipping Forecast, Tuesday May 21
Australia's Psychedelic Porn Crumpets should draw the biggest crowd of the week based on their awesome name alone.
Off of the Aussie psychedelic conveyor belt that brought us Tame Impala and Pond, PPC are touring in support of their new album, And Now For The Whatchamcallit.
Ali Horn: 81 Renshaw Street, Wednesday May 22
On the back of his Modern Voodoo single and recent performance at Sound City, Ali Horn plays the tranquil climes of 81 Renshaw Street.
If you're like this writer and missed Ali at Sound City, then it seems like we have a reprieve. Cloud Factories will also be performing on the night.
Viagra Boys: Jacaranda Phase One, Wednesday May 22 
Swedish post-punk firebrands, Viagra Boys, provide your relevant dose of venom for hump day at Jac Phase One.
The four-piece arrive in the country on the back of their latest long-player, Street Worms. Should be a lively one, this.
A Certain Ratio: Jacaranda Phase One, Thursday May 23
Manchester's A Certain Ratio play Jac' Phase One in celebration of their 40th anniversary.
Having just released their compilation ACR: BOX, which also contains reworking's of past material, this one is surely the nostalgic gig of the week.
The Claque: Kazimier Stockroom, Thursday May 23
Introducing The Claque. They are from Dublin and comprise of current Girl Band member, Alan Duggan. Enough? No? Well, their performance at the Kazimier Stockroom is their very first U.K. show. Now you're excited!
Support comes from everyone's favourites locals, Eyesore & The Jinx.
Kikagaku Moyo: District, Friday May 24
Japan's Kikagaku Moyo return to the city for more psychedelic goodness, this time bringing their noise to District.
The psychsters tour in support of the brilliant 2018 release, Masana Temples.
Witching Waves: Craft Taproom, Friday May 24
Before embarking on a tour with Ex Hex, London's Witching Waves will play at the Craft Taproom on Smithdown Road in support of their new album, Persistence.
Support is provided by Mincemeat and Puzzle. Did we also mention this one's free? Yup, it is.
What else is on:
Alex Abbuehl single launch: Jacaranda Phase One, Monday May 20
ParrJazz presents Liminal: Jacaranda Phase One, Tuesday May 21
Matthew & the Atlas: Leaf, Wednesday May 22
Parrjazz presents The Blues featuring Zingaro: Lounge 69, Wednesday May 22
James Walsh (Starsailor): EBGB's, Wednesday May 22 
Mamatung: Studio2 Parr Street, Thursday May 23
The Luca State with The Rahs: The Zanzibar, Friday May 24
Infants, Blanchard, Piss Kitti: Outpost, Friday May 24
Spare Rib Superstar 2019: Jacaranda Phase One, Friday May 24
Neck Deep: Hangar34, Friday May 24
Haus22 presents Dax J: 24 Kitchen Street, Friday May 24
Flamingo House: Sound Food and Drink, Liverpool. Friday, 24 May
Crazy P: The Invisible Wind Factory, Friday May 24
The Icicle Works: O2 Academy, Saturday May 25
Live Transmission plus special guests: EBGB's, Saturday May 25
Lizzie Nunnery & Vidar Norheim: 81 Renshaw, Saturday May 25
Sassy J In store DJ Set: Jacaranda Phase One, Saturday May 25
The Shipbuilders single launch: The Shipping Forecast, Sunday May 26
Comments
comments