Peggy Sue return to the UK in the autumn with a date pencilled in for Parr Street Studios, Getintothis' Luke Halls looks back at the band's recent years and brings you the 2019 tour dates.
London-via-Brighton two-piece Peggy Sue make their return to the gig circuit in autumn 2019.
Whilst being very much an on-and-off band for the last few years (there's been a short run of shows, a new single once in a blue moon), the self-proclaimed post-folk duo are back and ready to kick it up a gear.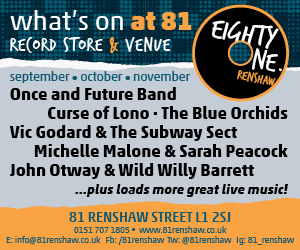 January 2017 was the last glimpse of new material from Rosa Slade and Katy Young, in the form of breezy single Slow Fade. The announcement of a 2019 tour suggests new material is likely to be in the pipeline.
Over the years the two-piece has had its name appear alongside an array of musical stars, opening for the likes of fellow folk compatriots First Aid Kit, Local Natives and the inimitable Jack White.
The group achieved critical acclaim with 2014's LP Choir of Echoes, walking away with 8/10s from NME, Louder Than War and Clash – the latter applauding its exploration of 'absolute defiance' of religious belief systems.
Peggy Sue returns with a live band made up of Landshapes drummer Dan Blackett, as well as Grip Tight bassist Benjamin Gregory. Such diverse musicality will bring the band's choral-driven pieces to life in new ways beyond past releases.
Deeper Cuts Festival – an interstellar new music happening in Liverpool
Peggy Sue will play Liverpool's Parr Street Studios on October 16 with a slew of UK dates in tow. Support is yet to be announced, but considering the band's live history as a support act, it can only be complimentary.
Peggy Sue Autumn 2019 UK tour dates:
October 9 – Green Door Store – Brighton, UK
October 10 – Louisiana – Bristol, UK
October 11 – Clwb Ifor Bach – Cardiff, UK
October 12 – Kings Arms – Manchester, UK
October 13 – Hyde Park Book Club – Leeds, UK
October 15 – Hare & Hounds – Birmingham, UK
October 16 – Studio 2 – Liverpool, UK
October 17 – Hug & Pint – Glasgow, UK
October 18 – Cluny 2 – Newcastle, UK
October 19 – Picture House Social – Sheffield, UK
October 20 – Portland Arms – Cambridge, UK
October 24 – The Dome – London, UK
Comments
comments