Local hero Bill Ryder-Jones takes his piano around the country this autumn, Getintothis' Steven Doherty brings us all the info.
Bill Ryder-Jones has just announced details of a full UK tour, plus a new (ish) album release.
The big local date is Sunday October 6 at Manchester Band On The Wall, and it's going to be something of a departure for Bill, as the night will consist of just him and a piano.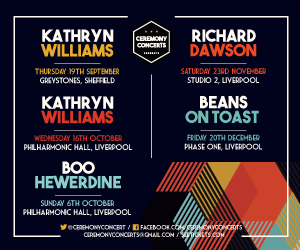 This comes on the back of his already announce festival dates this summer and the July 26 release of new record Yawny Yawn.
As the name may suggest, it's last year's critically acclaimed Yawn, also stripped down to the one man and his piano.
Even though there is over six weeks before the album's official release, the short run of 500 teal coloured vinyl copies that were made available are now completely sold out.
Speaking of sold out, he has already had to add a second night in London, as the first is already full up.
Liverpool Arts Diary: Captain Beefheart, Northern Ballet and full Everyman & Playhouse Autumn Winter programme- June 2019
Of the album, Bill says ""I can't remember why I thought it was a good idea to make a piano version of Yawn, I presume at some point I felt that the original had too much pep. It was actually quite fun to make ,although I've since developed a dislike for the way my hands look".
The full piano dates are:
Spetember 24 -Isle Of Man Bar 1886
September 26 – Reading South Streets Art Centre
September 27 – Margate Tom Thumb Theatre
September 29 – Exeter Phoenix
September 30 – Southampton Joiners
October 2 – London St Matthias Church
October 3 – London St Matthias Church
October 5 – Kendal Brewery
October 6 – Manchester Band On The Wall
Comments
comments