With a boisterous crowd at the ready, Bill Ryder-Jones plays one of his largest shows yet ,as Getintothis' Simon Kirk is there to witness.
The Grand Central Hall is welcoming backdrop for tonight. It's a marriage between old and modern architecture. The high ceilings supported by present furnishings. The bar looks like we're at the Shankly Hotel. The mirrors so clean that it looks like you can watch the bands through ultra high definition.
We were meant to be here for the Phosphorescent and BC Camplight show back in October but with a late venue change, it's been a while between drinks, so to speak.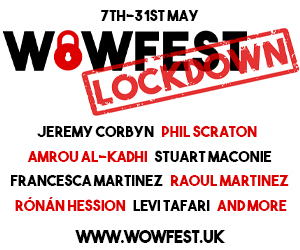 It's a big week for music in Liverpool. In fact, it's been a mental few months, however as we head towards the point end of 2018, this week in particular marks a slew of special occasions.
Paul McCartney weakened the knees of the masses down at the Echo Arena last night and with Michael Head gracing the same stage in front of us at the weekend, the proverbial meat in the sandwich is one Bill Ryder-Jones.
Confession time. For me, Ryder-Jones' new album, Yawn, is a rocky terrain to negotiate. A bitter pill, even. Not because it isn't good, because – on the face of it – perhaps it's Ryder-Jones' most successful album to date.
Like Bill, I've recently lost a person very close to me. That person and I spent hours garnering pleasure from A Bad Wind Blows in My Heart and West Kirby County Primary and although it was never stated openly to each other, in a collective subliminal kind of way, Bill was our guy.
There are other artists that have lost something close to them like Bill has. Nick Cave, for example, and while personally Skeleton Tree remains a staple in the day-to-day, with Ryder-Jones' cannon of work it feels as if his emotion is too close to grasp. It's like your mate or next-door neighbour getting up and producing this marrow-deep level of sadness.
It's not that Cave's loss is anything less. Not at all, but with Ryder-Jones his street-level persona seemingly exacerbates the pain and with A Bad Wind Blows in My Heart and West Kirby County Primary, these songs resonate more now than ever, making it increasingly difficult to fully engage with the next chapter which in this case is Yawn.
It's a deeply personal battle that feels almost incomprehensible to closely engage with Yawn without running the risk of losing the plot completely. By the same token that's maybe why Yawn has the potential to be so special, but only time will tell and tonight is not the time to debate that point.
Gintis, however, are something we can talk about as they provide a certain warmth to the early door dwellers who decide to escape the bitter winds which occupy the streets.
Gintis bring their brand of folk infused with trumpet and trombone. It's a sound based on a pop bedding often veering off into the oddball world of Granddaddy and the Mountain Goats.
The Duke Spirit's Liela Moss is next and it's great to see her play songs from her new solo album, My Name Is Safe In Your Mouth. Far removed from the straightforward punk rock shards of The Duke Spirit, this is more in the guise of a desert angel brawling with demons at the gates of hell. Naturally, Liela wins out. It's bourgeoning and it's a shame we haven't given her new long-player more time because from this performance, there's something good here.
The audience is well-oiled for the arrival of the local favourite son to grace the stage. Having witnessed his Yawn album launch show earlier this year at Jacaranda Phase One, the surprising feature of the Bill Ryder-Jones make-up is just how genuinely funny he is. Only the Dirty Three's Warren Ellis and Josh T Pearson probably better his in-between song banter and it's a pleasant surprise, given Bill's generally aloof persona.
He casually ambles out onstage with a fishbowl-like glass of red wine (we think it's red wine…?) in hand. Acknowledging the crowd, he says, "Asda", smiling as he swigs from the glass and kicks off with There are Worse Things I Can Do. He and his band are in the zone from the off.
And Then There's You almost sounds like Red House Painters' Mistress, but injected with that Ryder-Jones recipe of slacker bur and Mersey-chime.
There's Something On Your Mind is played at a slower pace and the track is better for it, undoubtedly the most heartfelt cut from Yawn.
Guitarist and From The Sea's Liam Power is the perfect foil for Ryder-Jones, as he leads the band into numbers from A Band Wind Blows in My Heart, There's a World Between Us and Lemon Trees 3. They are played with a renewed warmth, sounding as crisp as the winter air.
Bill gives a thumbs up to his dad who's seated in the stalls, as he eases into By Morning I, or a very stripped back version of. It sounds great only for the torrents of chatter from the audience which sadly kills the moment.
Ryder-Jones is less jovial tonight as opposed to his performance at Phase One. His in-between banter reserved for acknowledging his friends in the crowd. There's a tale about Alfie the stagehand and WWF videos Bill's mum used to tape for him. Still quite funny, mind.
The achingly brilliant Daniel is played at a slightly quicker pace, simmering with an anger and given the song's subject, it's not surprising.
With the crowd becoming ever more frustrating for those who are there trying to engage solely with Ryder-Jones and his band, Catherine and Huskisson and Wild Roses form an upsurge of sound akin to early Pavement, which are more conducive to the current surroundings, momentarily drowning out people talking shop and spilling drinks.
The band leave the stage, as Ryder-Jones delivers the beautiful Seabirds, which is followed by ironic shooshing much to his appreciation.
"It doesn't bother me but the person next to you thinks you're a prick". Affirmative.
Evidently humbled by the appreciation from his devotees, rowdy or not, Bill begins to take requests.
"Two To Birkenhead by myself like a dickhead?"
Put It Down Before You Break It, Tell Me You Don't Love Me Watching, and John are the make-up of the requests as the band return to stage for one final taster. Speaking of the latter, Power emerges with an extra large glass of gin and tonic for Ryder-Jones who has successfully consumed his fishbowl glass of red.
Time Will Be the Only Saviour reaches the beautiful high ceilings of the Grand Central Hall as the band follow with Two To Birkenhead. Bill essentially pisses more Pavement here as the mass sing-along ensues in what is the highlight of the night.
Happy Song and Satellites follow and close the night to a thinning crowd who have scarped after Two To Birkenhead like folk leaving a football match before injury time. Baffling, really.
Just seen @BRyderJones there, his album got me through chemo and my transplant. Superb live and that new album is 🔥 🔥 YES LAD ✊✊

— Banks (@mikeybanks25) December 13, 2018
The night is over as Ryder-Jones is visibly humbled by tonight's turnout. It's probably one of the biggest shows he's ever played and as an artist who projects such an emotional heaviness through his songs, it feels as if he deserves better tonight.
Incessant crowd chatter is like a smoke alarm which you can't stop from chirping. An annoyance you can't escape instantly and sadly, at times, that's what tonight feels like. Bill Ryder-Jones parts with a great performance, but we come away feeling that it's stained by some who liked the sound of their own voices more than the one they paid to see.
Images by Getintothis' Kev Barrett
Comments
comments