Liverpool Music Week takes over EBGBs this week and Getintothis' Lauren Wise was there to catch Girl Ray plus some brilliant support acts.
EBGBs has become home to the DIY Breakthrough Stage for Liverpool Music Week, with plenty of new music for the audience to soak up each night.
First up tonight are Disastronauts, a heavy Liverpool-based four piece with a grungey 90s punk rock sound. As far as support bands go, it's fair to expect teething problems and awkward starts, but in amongst these are the genuine hidden gems. Impressive bass lines and clattering crescendos pepper the set, making for a great start to the evening.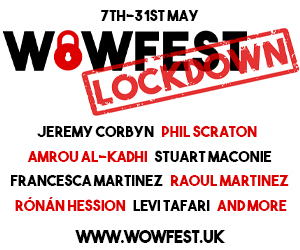 Stand out songs are Ghosts and Dry Eyes, the latter allowing the bassist to thoroughly demonstrate his full talents. These will definitely be ones to watch in 2018.
Soon after five-piece Gintis take to the stage, and a trumpet player was the first in many unexpected turns in their set. The first song is the one that grabs, hooking in the listener first with a lulling melodic number that would soon jump to a quicker pace and dance between the two until you get dizzy.
It's impossible not to bob along to the northern-sounding five-piece, whose influences of north-west bands through the years emerge in each song, from The Beatles to The Stone Roses.
The most important part of Gintis' performance is that it's like no other you'll see. Not only during Liverpool Music Week, but anywhere else in the country. Their combination of varying paces, unexpected turns and infectious indie/pop/rock is enough to make you want to see them again, both for the infectious music and smiles.
Following are four-piece Sugarmen, who have had plenty of hype surround them following the release of their debut album earlier this month. We're pleased to say the hype is all justified.
While each song may sound similar, we can safely say we have no problems on that front. Sometimes there is simply no reason to fix what isn't broken and if you're the Sugarmen, it means instead simply adding in a stellar solo or topping up the harmonies.
Their sound is firmly rooted in the Ramones, Strokes and Buzzcocks arena, but that doesn't mean it was by any means stale and ageing. Rather, everything felt tantalisingly fresh as both frontman and guitarist exercise varying ranges that match their punk rock sound to a tee.
Now, in cheese terms, if Sugarmen were the stilton of the night, Girl Ray were the cheddar. It might have been more impossible to change tone between two bands than if Nirvana had hit the stage prior to Little Mix. And Girl Ray's meek and mild sound was certainly a sharp shift.
The band that everyone is here to see may sound great on a record, but unfortunately their live performance doesn't quite stack up.
The four-piece from London don't ooze the same on stage chemistry as each preceding band had, which can certainly hinder a performance. However, strong melodies and basslines keep the dreamy pop quartet in high regards with the audience, who fill up the entire venue.
Harmonies are one of the strongest points for the band, with soothing melodic tones of bassist and drummer met with the meandering underbelly.
Top songs of the set are Trouble with its catchy guitar chug and Stupid Things with enchanting harmonies.
Photos by Getintothis' Warren Millar
Comments
comments