We're in the thick of festival season, and if you're one of those who are gigging what feels like every night of the week, Getintothis have some tracks for you while you're recuperating. If not, enjoy anyway!
It was once my favourite question to be asked. Not only was it easy, but it was a chance to express what I always thought was my biggest asset; my music taste. The answer to the question was often one of surprise, sometimes the person that posed the question would look impressed, or sometimes become stand-offish.
"Pfft, you're not old enough to listen to them! I listened to them first time around!" Namedropping The Stone Roses, The Charlatans and The Smiths generally led to less common ground and more defensiveness. But as I grow, and my taste develops, I realised the answer to: "So, what sort of music are you into?" has become a little less specific.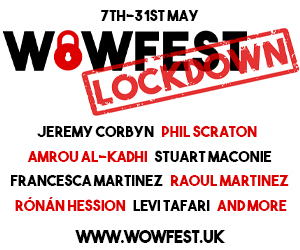 It's not that I don't still have my favourites, I do, look at my listening over the course of a year and the usual suspects will be there time and again. It's just, I've listened to more, and more carefully.
And now, I have become the person with the answer I always hated. Upon starting a new job, and mentioning all this Getintothis palava, I answered: "Well, I like a bit of everything really."
To me, the person that answered this was never interested in music at all. They were a "whatever's on Radio 1" person, a Now That's What I Call Music person, not a real music fan.
Yet here I am, a supposed music aficionado who struggles to name his taste. I like guitars, and drums, I like music that shakes the pint glass in your hand and the music you can feel shudder in your feet. I like Classic FM, sometimes, too.
The other week, when The National's new album landed on Spotify. I knew exactly what to do with it. My earphones and I headed out onto Liverpool's Friday night streets. It was LightNight, this was ideal.
The lit up Bombed Out Church, a bustling Cafe Tabac, samba drummers lugging their gear up Bold Street from a performance before the drizzle started to come down.
And so I Am Easy To Find played through my earphones – my new earphones, I am terrible for losing earphones, especially the little rubber bits. Quiet Light, Oblivions, the outstanding Not In Kansas. It just hit the spot.
I came back, flicked the kettle on and remembered that another band I've liked over the years, Biffy Clyro, had also released an album the same day.
This was a soundtrack to Simon Neil's co-directed new film Balance, Not Symmetry. I tapped play, the title track kicked in.
Within a minute it was off, 30 seconds perhaps. I felt like I'd opened Pandora's Box. Then I realised, for that period of that day, The National were my taste. I Am Easy To Find was part of my answer to that golden question, Biffy Clyro were not. Not that day.
Deeper Cuts Festival – an interstellar new music happening in Liverpool
So I wrote this. And I can imagine between the time of writing and the publication of this piece, I have since found a time where I've been hungry for Biffy Clyro. I probably really like it.
The complexity of the human brain can be used to explain, or at least justify, most things in life. Personality, emotion, actions. I don't know why it's taken me so long to realise that actually music taste is like any other.
Sometimes I want a beer from the Ship and Mitre, sometimes wine from Petit Cafe du Coin. Sometimes a roast dinner from a country pub in the Lakes, sometimes a Mr Kebab next door to Slaters.
Sometimes I want The National to comfort me, to delicately soundtrack my walk through nocturnal Liverpool. Sometimes I want Biffy Clyro to blow my eardrums out and put my new headphones to the test. That's okay.
Listen to the tracks in this column now, or listen to them tomorrow, or next year, listen to them all at once or one a day. Consume and indulge or embrace and evaluate. They are included because we love them, and we make a good bet that at some point, in some frame of mind, you love them too. Lewis Ridley – new music editor
MUNKEY JUNKEY– Look Out Below

MUNKEY JUNKEY, also known as Kurran Karbal, has led a wide and varied life. He is of Indian and English descent, was born in New York and grew up in Abu Dhabi and Switzerland before moving to the UK. This exposure to different places and cultures reflects in his music, which is a meeting place for the sights and sounds he has picked up on his travels so far. 
Look Out Below starts with a chant in an Eastern scale before MUNKEY JUNKEY's measured rap comes in.  The vocals are slightly treated with a vocoder effect and the lyrics concern themselves about trying to fir into a scene. It is easy to imagine, given his roots, that Karbal's past this is something he would've felt keenly and frequently.
Musically it is hard to pigeonhole Look Out Below, but it has a pop sensibility running through its veins. Ultra modern pop, but pop nontheless.
It is a song that would sound equally at home coming from the stage of a small, packed club as it would coming from a Radio 1 playlist.
There is always a place for credible, heart felt pop and this is what MUNKEY JUNKEY gives us. Nice one. Banjo
URF – Solitude
Following their For The Ride EP from last year, Manchester's URF return with their new single
Solitude. Clocking in at just over the five minute mark, Solitude, is a brand of psychedelic/shoegaze rock that's welcomingly left of centre.
Many acts these days find comparisons to The Verve circa Storm In Heaven hard to shake (some with good reason), but URF's secret weapon comes in the form of femininity with Abbi Parcell's
soaring vocals. In a genre that is often guilty of retreading former pastures, it's refreshing to see a
band tackle things from a different angle and with Solitude, URF certainly do that.
Having already supported artists not limited to the Brian Jonestown Massacre, Pretty Vicious,
Estrons, Tess Parks, Matt Hollywood, and Crocodiles, URF will also be playing the Deeper Cuts festival in July at Phase One as well as the Manchester Psych Fest in August alongside Courtney Barnett, Goat Girl and Temples. Simon Kirk
Gintis – Movements (Part 1, 2 3 & 4)
On paper this should be good, being as it is released on the fantastically named Popty-Ping label,
and tellingly produced by Bill Ryder-Jones.
It sees North Wales made (but based in Liverpool), 7-piece Gintis release the follow up to the very well received debut double A-side single Dennis/Oh My Little Malcontent. They describe their sound (stunningly accurately) as "California-via-Abergele" and the obvious comparisons to their compatriots such as Meilyr Jones and Gorky's Zygotic Mynci are plain for all to see.
It's a gorgeous ball of whimsical, uplifting piece of bliss.
Exactly four minutes long, and as the title says, it's four smaller songs in one, it's an absolute joy, lilting harmonies over sweet melodies, this should be the sound of a summer evening. Gintis are around the local area over the next few months at St.Helens, Chester, a headline date at Sound and at the getting-better-by-the-day Future Yard Festival in Birkenhead, and if they are as good live as this record is, then they are one for the lists.
Fittingly for a band that has already garnered airplay on 6 Music and Radio 1, this single was made possible by a grant from a BBC fund, and is money very, very well spent. Lovely stuff. Steven Doherty
Brijean – Show And Tell
Stumbling upon Brijean's Show and Tell is a moment of pure delight. I'm lulled into a new world by Brijean Murphy's hypnotic vocals and the summer vibes that flow through Doug Stuart's production. Latin beats creep through with the drum beat and the electronic overlay has me teleported into space, I'm utterly blown away.
The dreamscape of Walkie Talkie allows you to experience the opposite of what it is to fall down a rabbit hole. You are elevated to another plane with these dreamy disco tracks and licks of jazz, pop and 90s house that run throughout only propel Brijean further up the list of acts to make a note of.
After collaborations with Poolside, Toro Y Moi, and U.S. Girls, I thought Murphy would have a break, but thank the Lord, she didn't. Instead, she collaborated with Stuart and they have produced one of the best EPs of 2019 so far.
Tracks like Intro and Stretch First sample Stuart's amazing work as a producter and the blends into the songs that follow these pieces feel effortless. It's a shame that all of the tracks don't have this waterfall
effect of musical energy, but this is only an EP, there is lots yet to come. The full EP is out June 28. Megan Walder
Strangers – Midnight Driving (Mixtape)
Cheshire three piece Strangers have released a 9 track mixtape which collates two previously released singles with a fistful of previously unheard tracks. Midnight Driving gives each track the ability to be able to tended to individually, but opening track The Last Glimpse of sunlight, a jaded and cathartic curtain raiser, sets the foundation for a mixtape that evokes growth and narrative.
It simmers into single Hibernate, before Nocturnal evidences a very different asset to the band. 49 second twitch Icarus is one of three short stop gaps, upon which Strangers can use the release to experiment somewhat. Morning, for example, is a clean closing track, and differs somewhat from the rest. It means that in many ways it may have found itself in our Getintothis' Albums Club, we can only hold Strangers will feature in the future. Lewis Ridley
Factory – Remote Controller
Liverpool four piece Factory are back with brand new single Remote Controller. Released at the end of May, the song is a proper indie anthem that is perfect for the summer.
With an emphatic energy throughout, Factory certainly encompass the rock roots from their surroundings. Aiming for a room filling track, Remote Controller certainly has a big feel to it with passionate vocals from singer James Shelly, providing a Liam Gallagher and Beady Eye esque sound.
The song release ends what has been a busy month for the band, which culminated with a show at Phase One. There is surely more of this to come, so keep tabs. Amos Wynn
Josh Ace – Searching My Whole Life
After releasing his first single Nothing back in March, Welsh singer songwriter Josh Ace is back with new single Searching My Whole Life which dropped last week.
This is a proper pop track, and there are definite hints of The Coral and early Miles Kane within this track with its catchy riffs and singalong chorus. The sharp and jangly guitar breaks apart the track as it teases towards the new wave of post-punk.
Ace's original Welsh roots paired with the indie-pop vibe shine through and creates harmonies that leave the us excited to hear more. Rebecca McGrath
Santo Helenia – Drama Queen
Santo Helenia, is the solo project of Liverpool-based indie songwriter Harri Aston, who has dropped debut single Drama Queen this month. The track is a jagged yet easy listening, compact pop song which is underpinned by a catch chorus.
"Drama Queen is based on a caricature of several people I had in my mind, those who think the world revolves around them," says Harri, who recorded the track at Liverpool's Crosstown Studios recently despite apparently having penned it over 10 years ago.
In a way, you can feel it, too. It has that sort of irresistible pop aura that makes it a real repeater, it may have taken some time to surface but it certainly has the desired effect. It is said that there are a number of other tracks ready to drop, produced with Jon Lawton, they should make for very neat releases.  Lewis Ridley
The Bohos – Stupid
The Bohos aren't exactly new to these pages. Stupid is a fairly succinct example of their punky, gnarly, scuzzy, frenetic sound, coming in at a spikey three minutes and forty-three seconds. It is a staple of their live set already so if you've seen them live you'll probably have heard this. You'll have certainly seen frontman Fin Power stalk around the stage as the riffs kick in.
It is up there with Fleet Street Dance Number, Already Dead and Confused. This, however, is a different beast to their previous given that we've seen them a few times they have picked an absolute stormer to reintroduce themselves to the internet and the wider world.
So far they've played storming sets with Cast, DMA's and White Lies, proving that they can manage themselves in a big room, here's hoping this tune and the rest that will follow will give them a few more to play with, in the coming months. Chris Flack
Sam Dian – Sailing
Parisian composer, singer and multi instrumentalist Sam Dian has created the perfect musical backdrop for a summer soiree.
New single Sailing goes full steam ahead with a fizzy fusion of hip hop, jazz and funk and will get feel good vibes flowing like a musical version of prosecco.
Taken from his recently released Blue Desire EP, Sailing is one of his English language offerings and combines drum, bass and Daft Punk esque guitar riffs, to create one smooth groove of an earworm that screams sunnier and warmer climes.
This artist skilfully combines an old skool vibe with a modern day edge. If Nile Rogers was looking for an apprentice, he would do well to call on Sam.
If you fancy testing out your GCSE French, have a go with the French language tracks on the EP, but to be honest, words are not needed when the music speaks the universal language of cool. Jane Davies
Comments
comments