As members of Scottish band Frightened Rabbit release celebratory covers album, Getintothis' Howard Doupé takes stock over Scott Hutchison's continuing legacy.
It should have been a tremendous occasion, a culmination of the celebratory milestone, the 10th anniversary of Frightened Rabbit's much-loved breakthrough album The Midnight Organ Fight– at the time, it was.
Last year the celebrations began with the now all too common occurrence, '10th anniversary tour'.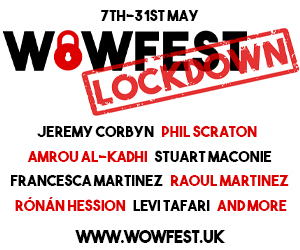 Much to everyone's joy, the dates were a resounding success. An opportunity for those who came into the fold throughout its decade long existence to see these songs fill an auditorium.
Then what happened, happened.
Scott Hutchison's body was discovered at Port Edgar, near South Queensferry, Edinburgh last May. The end to his suffering brought about a finality to Frightened Rabbit.
Unbeknown to many, work had already begun on further anniversary celebrations. With the shows completed attention turned to the not so common ground- celebratory covers album. Now name me one act who's done that in recent history.
A brave and audacious project, one that was fully endorsed by the band.
Hutchison himself made direct contact before his death with its contributors to see if they'd even be willing to embark on such a venture- no surprises they managed to bag so many keen participants.
Not only were this specific group of acts given the choice of which song from the 14 track album they felt able to re-imagine, but here were a closely chosen collective of acts that meant the world to Frightened Rabbit.
Friends, admirers, touring partners and celebrity fans alike now feature on Tiny Changes: A Celebration of Frightened Rabbit's 'The Midnight Organ Fight'.
It is therefore a lasting tribute to Hutchison's legacy, fully supported by the man himself.
The 17 tracks include contributions from Biffy Clyro, Josh Ritter, Daughter, Harkin & Sarah Silverman, Aaron Dessner & Lauren Mayberry, Manchester Orchestra and The Twilight Sad.
The title, comes from the line taken from album track Heads Roll Off– a rallying call to all, a motto worth wearing.
These artists aim to express the changes Hutchison made in the world- the impact to lives perfectly felt on an album that serves to exemplify such.
It's a wonderful collection, made all the more special with artwork once again by Hutchison directly linked to the style and content of the original album.
On the announcement of the album the band had this to say 'The honesty of his lyrics and openness about his own mental health inspired people in all walks of life. It is a legacy that should be continued and nourished.'
The accompanying booklet offers further insight into the album's conception, the honour of being asked to and the love felt by those who contributed.
Grant Hutchison, Scott's brother and Frightened Rabbit's drummer has this to say, 'This covers record was something all 5 of us put a lot of effort in to bringing to life. It should be enjoyed as a celebration of an album so raw in its depiction of fucking and fucking up that it hurts and heals in equal measure.'
It's quite a startling listen.
Hearing these songs that are so familiar, yet reworked and reinterpreted the inclusion of others voices really allow the songs to shine though. There are hit and misses, some work where others have you wishing you'd just spent the time listening to the original.
What is clear is the sense of respect and magnitude of pressure each artist would have felt faced with the task of doing their track justice. It must have been an extremely difficult task.
Some are straight forward homages to the originals (Oxford Collapse's version of I Feel Better, Right On Dynamite's Fast Blood) where others take these songs in unimaginable orbits (Inletts' take on Extrasupervery or Floating In The Forth by The Twilight Sad).
What has undoubtedly been the most lasting action is the decision by the Hutchison family to set up a fund in his name, as a way to highlight mental health issues and offer support to those who may need it.
Spurred on by the overwhelming number of messages from people regarding how Scott has touched their lives through music, they felt inspired to launch the initiative highlighting the struggles faced- particularly among young people.
In the past 12 months the fund has grown into an official mental health charity named Tiny Changes.
It's primary focus to raise awareness about children and young people's mental health issues through the advanced understanding of the root causes of mental ill health, whilst supporting innovation in the design and delivery of mental health services to children and young people.
His immediate family had this to say on the creating of the charity, 'Since his sad death in May 2018, the outpouring of grief from people that knew Scott has been overwhelming. Whether they knew him personally, through his music and art, or through the interviews he gave on deeply personal matters, so many people have been profoundly affected by his life.
Mental health, and young people's mental health in particular, was a cause close to Scott's heart. He often spoke openly of his own struggles as an anxious child, even naming his band "Frightened Rabbit" after a nickname given to him by his Mum.
Tragically, the weight of his ill health became too great for him to carry as an adult. We want to continue the legacy that Scott built. To channel the energy he generated in people all over the world into positive action on mental health among young people and to make tiny changes to Earth.'
What a fitting and exemplary way to ensure his legacy does just that.
Comments
comments