Lemonade Fix held an indoor garden party for the release of their new single, Getintothis' Mostyn Jones and Stephen Fallows joined in the fun.
Fighting against the elements, Lemonade Fix were able to mostly salvage Saturday night's Brick Street gig.
Originally planned as a garden party before the heavens opened over the city, the gig was successfully mopped up and wrung out on stage as a more standard indoor affair.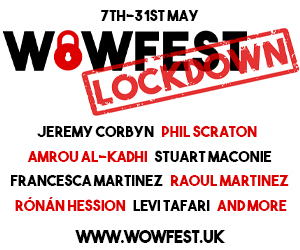 Seven local acts all with very different musical styles and approaches meant a decent crowd that braved the rain and got bigger as the day went on building the atmosphere as the day progressed.
First up was Tracky and the self styled ghetto blaster punk funk producer lived up to his tag with some 80's influenced backing tracks and satirical look at modern day life and got the day off to a great start.
He has built up a decent following after recent performances such as his set at Sound City and on this form should see that following grow with each and every performance.
Ana Mae offered something totally different, as her soft, dreamy pop made the audience move closer into the front part of the venue.
There were a few nerves as she spoke about how strange it was being on stage alone instead of with her usual band but the crowd were supportive and it made for an earnest and heartfelt performance that those gathered lapped up. A cover of Echo & The Bunnymen's The Killing Moon rounded off an excellent set.
By the time Podge made it to the stage there were some interested parties starting to filter in, but the promising set was undercut by persistent technical hiccups including wailing feedback which had the crowd spending less time dancing and more time wincing in unison. What could be heard through the fuzz was a promising show of dreamy psych, with notes of Pizzagirl and MGMT.
Thankfully Roy was the most reliable act on the lineup if only because his act only requires a microphone and some raw scouse charisma.
It's a bold move breaking the momentum of a night of music to bring up a spoken-word performer; but if you've seen Roy up on stage you'll know that his act is a sure-fire success, especially playing to the home crowd.
Zu bring tenth-anniversary Carboniferous show to Kazimier Stockroom
The crowd, and by this point they were a crowd, was treated to a story about a trip to the chippy with an existential twist, and an image-driven list poem that was maybe about nostalgia for mundane certainty but maybe just a good list of things?
The weakest of the night was The Floormen, who punctuated their set by shouting back and forth with the sound tech. Unable to make the best of things, the usually-reliable four piece put in a lacklustre display.
Though they prepared us with the announcement that they'd be playing new material, their offerings felt unfinished and it was more like sitting in on a jam session than a polished set. A jam session by a talented band with some promising moments where it all came together, but the overall impression was a bit directionless and lacking a strong stage presence.
After a decent set from Samurai Kip, who managed to bring the energy back to the room with some jazz-infused swagger, the headliners took the stage.
With probably the most technically flawless set of the night, the band were able to shrug off earlier disappointment and give the crowd the gig they'd been promised. Maybe it was the benefit of lowered expectations at this point but Lemonade Fix seemed to do more than make the best out of a bad lot.
With life giving them lemons they lived up to their name.
Images by Getintothis' Stephen Fallows and Ian Flanders
Comments
comments