Ahead of their biggest headline date so far, The Heavy North are the latest band to answer our 13 Questions, Getintothis' Steven Doherty interrogates.
The Heavy North made their entrance at the tail end of last year, announcing their arrival with two quick-fire single releases in the shape of Don't You Wait For Me and The Night Don't Give No Love.
They were formed when vocalist Kenny Stuart and producer/guitarist Jose Ibanez (both formerly of Jacobi), recruited Andrew Horrocks, Ste Penn (ex-Wicked Whispers) and Mark Rice, and since then they have let themselves grow organically, playing just a handful of carefully selected dates scattered around the North, including a performance at February's Deep Cuts at Phase One.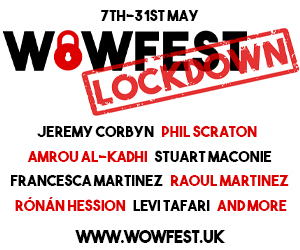 June saw them release single number 3, Some Good Lovin' and saw them appear on their biggest stage so far, outdoors in the sunshine at Sefton Park.
They are now looking forward to the release of their forthcoming single Lying To Yourself and shortly they embark on their biggest headline date thus far, with a Friday night that promises so much on September 6 at Jimmy's.
They've been heralded as "dive bar blues" and "no-nonsense garage rock" has already garnered them quite the fan-base, which has already let to them procuring a pretty big support slot in October, sharing the Arts Club stage with Saint Agnes.
We caught up with Kenny and Ste to find out more with our 13 questions.
1. Where are you and what are you doing?
"We are currently in our studio in North Liverpool, just putting the finishing touches to our next single release before it gets sent off for mastering."
2. How is that working out for you?
"Boss! We've been chipping away on some new recordings over the summer so we're hoping to release a couple of tracks before the end of the year."
3. What's your favourite venue?
(Kenny) "I've always loved the sound in The Zanzibar. We've all played there loads over the years in different bands and played some of our best shows to date. Collectively we all owe a lot to Tony Butler for helping us out when we first started out."
(Ste) "I loved The Kazimier and I don't think we'll ever have another space like it in Liverpool. Despite so many venues closing, there's some great new additions like Phase One and Jimmy's which I think are helping to revive the city's live music scene after a few rough years!"
4. What was your first gig you went to?
(K) "Van Morrison at Kings Dock for the Summer Pops. I couldn't understand a word he said but it sounded good!"
(S) "I went to a gig at the Royal Court when I was about 14 or 15 – how good was it when that was a live music venue? I think it was some dodgy emo bands – New Found Glory & Finch."
5. What's your death row meal?
(K) "My mum's roast dinner."
(S) "Kenny's homemade vegetarian lasagne with garlic bread. He absolutely smashed it the other week for the lads!"
6. What's your favourite view?
"Looking out at a decent crowd who are loving your tunes."
7. What's the worst gig you've ever done?
"We've been really lucky that we haven't played a bad gig in the 12 months that The Heavy North have been active, although we did have a bit of a panic getting over to play our debut gig in Leeds back in May this year. It was a Wednesday night and the traffic was chaos. Jose arrived at the venue and literally stepped straight on stage to play the gig."
8. What's your first memory?
(K) "Sh*tting myself when my mum put me on a bouncy castle"
(S) "I remember getting bollocked by my Dad when I was really young for whacking a heavy duty magnet against the family TV and it wrecked all the colours. It looked like when you break a calculator, but loads of colours bled together around the magnet."
9. What's your favourite cartoon character?
(K) "Peter Griffin, Family Guy."
(S) "Hank Scorpio from The Simpsons."
10. What's your favourite season and why?
"The footy season, we can't wait to lose loads of money on stupid accumulators."
11. What's the first record you bought with your own money?
(K) "Some Might Say by Oasis. What a great single, and it introduced me to Acquiesce. What a tune."
(S) "I don't know if it was my own money, but Limp Bizkit's Chocolate Starfish was one of the first CDs I owned, along with the Marshall Mathers LP."
12. Tell us a secret?
(S) "It's not a top secret, more a vaguely interesting fact, but I own one of Jerry Dammers's Vox Continental organs, I've played it for years without realising."
(K) "Andy our bassist collects kitchen utensils, mainly spatula's. He's got quite the collection."
13. Thanks for answering our questions, do you have anything else you'd like to say?
"Just to say if you haven't heard us then get down to Jimmy's on Friday 6th September!
We're supported by Dan Wilson & The Counterfactuals who are boss, and we're going to be playing our first full-length set.
We've also got some new tunes on the way and we can't wait to get them out there."
Comments
comments