As news filters through about the passing of Daniel Johnson, fans across the globe are sharing memories of a cult hero, Getintothis' Lewis Ridley reports.
The influential cult singer-songwriter and visual artist Daniel Johnston was reported to have died from a heart attack, his former manager Jeff Tartakov confirmed to The Austin Chronicle.
Johnston was a prolific musician, recording numerous albums primarily on homemade cassette tapes and was known for his sincere and childlike music.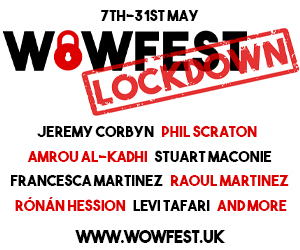 Born in Sacramento, California, Johnston began creating music in high school, recording piano, vocals, and chord organ on a boombox.
He cultivated a cult following by handing out his demos before being diagnosed with schizophrenia in 1990 before being involuntarily committed to a mental hospital after playing at a music festival in Austin, Texas in 1990.
Kurt Cobain brought attention to his music worldwide by sporting his 'Hi, How Are You' artwork on a T-shirt with Atlantic Records signing him on a major label deal.
In 2004, he released the compilation The Late Great Daniel Johnston: Discovered Covered with renditions of his work by TV on the Radio, Jad Fair, Bright Eyes, Tom Waits, Death Cab for Cutie, Beck, Sparklehorse, and more. In 2005, Jeff Feuerzieg directed the award-winning documentary about his life called The Devil and Daniel Johnston.
Johnston played Liverpool Music Week in 2009 at the then-named Masque Theatre, now the Arts Club alongside a.P.A.t.T. and other Liverpool outliers.
In 2018, the city of Austin honoured Johnston by naming January 22 "Hi, How Are You?" Day.
As the news filtered through on Tuesday evening, artists and fans alike shared memories of Johnston on social media.
RIP Daniel Johnston https://t.co/y7ECMuX6Lr

— Beck (@beck) September 11, 2019
So terribly sad to hear the news, from my dear friend Jeff Tartakov, that Daniel Johnston died late last night. Daniel is my all time favourite pop songwriter. His music captured so much with its honesty, humour, poignancy and great melodic heart. https://t.co/sULL7Ib3RJ pic.twitter.com/S7JWJaJcgn

— Duglas T Stewart (@DuglasTStewart) September 11, 2019
So sad to hear about the passing of Daniel Johnston. He wrote at least two of my favourite songs of all time – "Hey Joe" and "Walking The Cow". Listening to "Hi, How Are You?" on my old cassette radio whilst doing the washing up is my mental 'happy place'.

— The Cribs (@thecribs) September 11, 2019
RIP Daniel Johnston. Truly a one-of-a-kind artist. He helped make Austin weird.😢 pic.twitter.com/WyT9NrmLOJ

— Adam Best (@adamcbest) September 11, 2019
Daniel Johnston wrote beautiful songs and inspired countless musicians and songwriters. The heart and its truths are captured in his music. I feel lucky to have been introduced to his artistry. I never know what to say in these times, but I will miss youhttps://t.co/c7qNIuZwsI

— Jason Ritter 🦋 (@JasonRitter) September 11, 2019
there are not enough words i can say about the important and vitality of daniel johnston's musical spirit. he was a huge inspiration to me, to follow my creative impulses no matter how messy or simple. RIP.

— ZJ (@ZOLAJESUS) September 11, 2019
Memories of Daniel Johnston at our residency shows in 2009

When he threw his guitar triumphantly in the bin after the first show. "Whooo!"

Told the same joke 3 times on the 2nd night

Drank 20+ hot chocolate drinks when left alone

Loved his fish and chips#danieljohnston pic.twitter.com/kuBllRBQjx

— Nath Brudenell (@Nath_Brudenell) September 11, 2019
When I was born in '61
They already had a hit
They worked so hard and they
Made it too
They really were very good
They deserved all their success
They earned it yes they did they didn't
Buy their respect #DanielJohnston

— Haley Joel Osment (@HaleyJoelOsment) September 11, 2019
RIP #danieljohnston 🐌
This photo from 2009 is when we met both Daniel and Matt Groening at ATP festival, where we first discussed starting the band. We had bumped into Johnston multiple times that weekend, by luck or chance and everytime he was sweeter then the last. pic.twitter.com/DnRZMazt1f

— Flamingods (@Flamingods) September 11, 2019
Comments
comments