As Ladytron release new video for single Deadzone Getintothis' Peter Goodbody had a transatlantic conversation with the band's Daniel Hunt.
In the early part of this century, Ladytron were reasonably prolific, having released 5 studio albums between 2001 and 2011, as well as a live album in 2009 and a best-of compilation in 2011.
It then seemed to go a bit quiet for a while, until the release earlier this year of studio album number six, the self-titled Ladytron.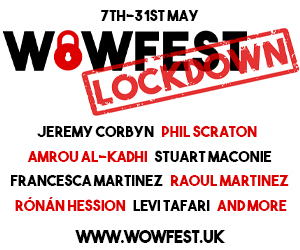 In between times, of course, there were other projects brewing, remixing, DJing, producing, writing soundtracks and the like. But it was to be a full eight years before fans got any new Ladytron 'proper' music in the form of this year's release.
The band got caught up in the now well-publicised PledgeMusic debacle, having intended to fund the release of Ladytron by pledges and pre-orders of vinyl, CDs and merch.
Unhappily, the intended release of the album pretty much coincided with PledgeMusic running into financial trouble and its ultimate collapse. The band has rarely spoken out about what went wrong and how it impacted them (others have been much more vociferous at airing their displeasure), but safe to say Ladytron had to put their hands in their own wallets to get this album out to the punters.
And, as fans, we're grateful they were able to do that.
Ladytron is, however, a dark piece of work and a reflection of the times. Though even this band could never have predicted how much darker it would get, it seems as an apt a soundtrack as any with which to navigate the world and all who would wish to remain on it.
You need look no further than the new video for Deadzone, to see the literal car crash that is going on around us as we peer in through the wreckage being unable to take our eyes away from the carnage.
Ahead of a trio of UK dates in October, including their first Manchester date in a decade, we caught up with founder member, keyboard and guitar man, Daniel Hunt.
Getintothis: Where are you and what are you doing right now?
Daniel Hunt: I'm in São Paulo, on the way out to Karaoke in Liberdade, the big Japanese neighbourhood here where we shot the video for 'The Animals'.
Getintothis: You released 5 albums in the early 2000s and then there was a gap of about 8 years before this year's release. Why so long a gap and what kept you?
DH: We had planned a break after the last album, it just lasted a few years longer than planned, for various reasons. Life, basically.  But from our perspective, it was only a 4-year break before we began work on the new record. To the outside, it looks like 8. Then once you're finally putting the record together things move around, schedules change. In the meantime, we were all doing other things too, of course.
Getintothis: Does having a break of that length help or hinder your creative process?
DH: A help certainly. You're broken from a routine so you have to remember how processes actually work, but creatively I would say a help, without doubt.
Getintothis: Tell us a little about how you work together as a group, because, although we regard you as a Liverpool band, it seems to be the case you all live or spend time in different countries.
DH: Yes, when we began 3 of us were in Liverpool, over time we left one by one. Reuben and I obviously return regularly. It is still home of course. There was only a brief period in the beginning when most of us lived in Liverpool, later on, everyone else lived in London, and I lived in Italy. Now we are scattered all over the world but the process isn't really any different to how it always was. Nothing remarkable about the way we work, certainly not in 2019, only that the distances are greater now.
Red Rum Club interview: "We've still got that Tarantino edge"
Getintothis: The recent album was to have been crowdfunded via Pledge Music. As many people now know, that company collapsed recently. How did that impact on the album release?
DH: All the artists, and those who got involved, are victims of corporate negligence and possible fraud. That's really all there is to say. We have not really complained publicly like others have.
Getintothis: Have you seen the Brian Eno quote on Wikipedia that says Ladytron are "a funny mixture of art-school dicking around and dressing up"? What do you make of that?
DH: That's a snippet of a quote from when he picked us to play a festival he curated at the Sydney Opera House about ten years ago. We were obviously very happy that he knew about us and to get to talk and hang out with him down there.
Getintothis: Your band's name comes from a Roxy Music song. What do you have in common with them?
DH: Almost nothing, come to think of it.
Getintothis: The recently released video for Deadzone is a pretty dark and unsettling piece of work. Can you tell us a bit more about how that came about and what you are saying with it.
DH: It is the director Bryan M. Ferguson's idea but it is probably the video most close to the lyrical concept of the song that we have ever made. I love it. It is obviously very Ballard.
Getintothis: We know you have a few US/Canada and UK dates coming up. How does touring work for you? Do you enjoy it, or would you rather be at home? Why only the two UK dates? [Our mistake – there are three].
DH: 3 UK shows like we did a year ago. Yes, we enjoy it a lot in these doses, these next shows are probably the last in the UK for a while though.
Getintothis: What are you listening to right now? Which bands do you think we should be checking out?
DH: I recommend checking out an artist in Brazil I work with, Lia Paris. Her second record is just out, and she has just started playing shows in Europe.
Ladytron updated Manchester date:
Comments
comments