Scalarama film festival returns in September with a program of cult classics and hidden gems, with screenings set to take place in venues across the city, Getintothis' Mostyn Jones has the news.
Taking its name from King's Cross' Scala Cinema, a beloved venue which closed in 1993, Scalarama is a community-led celebration of film and its ability to bring people together.
The festival now runs in cities throughout the UK, with events in the region coordinated by the trio of movie enthusiasts Katie Moncaster, Lucas Ruggier, and Monika Rodriguez and supported by a myriad of organisations including Film Hub North, Reel Merseyside, and the BFI.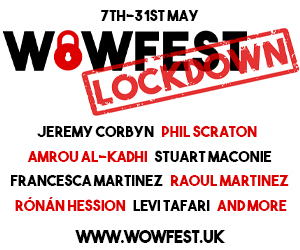 After opening the festival at VideOdyssey with a selection of Bafta-qualifying short films provided by the Aesthetica Film Festival, Rodriguez enthused that 'There's genuinely no film festival in Europe that's running this way, that's really this DIY.'
The films on show for this year's festival range from studio releases from Oscar-winning directors to low-budget indies from local filmmakers.
The hook of Scalarama is that anyone can submit a film and anywhere can become a venue, 'The best thing about Scalarama is that there's so many people involved,' says Moncaster, 'When it first started out people would just send in videos of like, their cats. It was brilliant.'
An antidote to both corporate blockbusters and on-demand streaming, the communal aspect of moviegoing is key to the festival's appeal.
Films of the year – Getintothis' top picks for 2019 (so far)
In coordinating the program it's clear that a lot of thought has gone into matching films with venues, in an effort to curate a bespoke experience that only comes from a true love of cinema.
'It does sound a bit sentimental,' says Ruggier, 'but it does represent a community, there's a whole spectrum of people doing different things.'
The trio was brought together by their shared passion for film and galvanised by the closure of Victoria Street's volunteer-run Small Cinema in 2015. While the venue was another victim of redevelopment, the spirit it embodied lives on through the people keeping events like this going.
For anyone who considers themselves a movie lover, the month's events look to be a chance to celebrate cinema alongside fellow fans. While those who are just curious, are sure to find themselves welcome.
Festival Highlights
Britain on Film: Protest!
Old Griffin Antiques, Derby Road
Sunday 8th September at 2pm
Produced by the Independent Cinema Office, this documentary compiles footage from national and regional archives across the UK, newly restored and digitised for a modern audience. Featuring striking miners, CND demonstrators, and victory over fascists at the battle of cable street. This documentary celebrates an enduring spirit of defiance over a hundred years old, and still alive today.
Willy Wonka and the Chocolate Factory
Metal Liverpool, Edge Hill Station
Saturday 14th September at 1pm
A rare opportunity to see Roald Dahl's classic tale on the big screen. The definitive screen adaptation featuring the great Gene Wilder giving a performance that combines warmth, humour, and the slightest pinch of menace.
Don't miss the chance to relive the nostalgia, or to introduce your own children to the unsettling psychedelia of the iconic riverboat tunnel sequence.
Hits Like a Girl / Real Steel
Kirkdale ABC, Old St Lawrence School
Thursday 19th September at 6pm
Ralla Ecological Garden and Kirkdale Boxing Club present a double feature of boxing flicks.
From director Harry Sheriff, the short film Hits Like a Girl follows a young fighter from Toxteth as she fights through her own anger and uneasy family life.
This is followed by the underrated 2011 popcorn slugfest Real Steel, featuring Hugh Jackman as the huge jacked man who reconnects with his son by boxing giant robots. It's a good-natured slice of cheese.
Peggy Su!
Kitty's Launderette, Grasmere St, L5
Thursday 26th September at 2:30pm & 6:30pm
Maybe the perfect encapsulation of the spirit of Scalarama.
As the first-ever film to receive national lottery funding, this 1998 romantic comedy is a criminally overlooked piece of British movie heritage. Set among the Chinese community of 1960's Liverpool, the film stars Pamela Oei as 19-year old Peggy, who lives above a Merseyside launderette with her brother and his wife.
With copies of the film being so hard to come by that festival organisers had to contact the director personally to get one, this may be the only chance to see this historic piece of work.
An American Werewolf in London
VideOdyssey, Toxteth.
Saturday 28th September at 7:30
As the festival nears its end, John Landis's cult classic of horror, gore, and comedy returns to the big screen. Fans of practical special effects won't want to miss a chance to see the iconic transformation scene, a masterpiece of ventriloquism that still stands up today.
This screening will be followed by a film quiz in the VideOdyssey arcade.
Comments
comments