Unknown Pleasures this week brings an exclusive listen from Martha Hill and a brace of new found gems, Getintothis' Peter Goodbody has things on his mind.
Well, that's been some week.
And it's only Wednesday as we type this, yet already Nancy Pelosi has decided enough is enough and set the ball rolling that may end up in the impeachment of Donald Trump.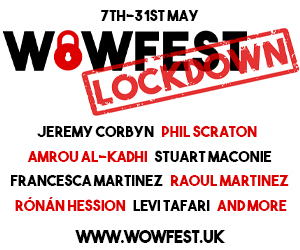 So, too the Supreme Court in the UK declares the prorogation of Parliament as illegal and thus null and void.
Goodness only knows how the rest of the week pans out. An open day at Area 51, perhaps. Or North Korea declaring unilateral nuclear disarmament. Nothing seems improbable any more.
But the real burning issue that's had the airwaves a buzz is the one concerning a spider. Yup, did you see it?
As Baroness Hale landed body blow after body blow on our hapless PM, there were quite a few people who noticed the brooch she was wearing on her right shoulder in the form of a pretty big spider.
What did it mean? Was there a coded message, such as where The Queen wore a brooch given to her by Barack Obama for the Orange One's state visit?
Red Rum Club interview: "We've still got that Tarantino edge"
Of course, Lady Hale will never say. So the (conspiracy) theories abound.
She is known for having a penchant for insect / bug type adornments and has been seen sporting brooches resembling a centipede, a dragonfly and a frog before now. Maybe she is just at one with nature?
Oh, what a tangled web we have found ourselves inhabiting. We saw a few suggestions on Twitter and, ingenious as they were, there was one stand out. We wish we could claim it as our own, but alas we're not that funny. Remember that song by The Who called Boris the Spider?
We'll just leave that there.
Save to mention one further point of order. Pretty quickly after the judgment was handed down, some enterprising wags printed up a stack of t-shirts sporting the what shall now be known as the "Hale Spider" on the shoulder. Some of the profits go to housing charity, Shelter and they've raised about £5,000 so far. You know what to do.
Anyway on with this week's business.
Martha Hill: Be Still
First up is Be Still, from Scottish / Newcastle based alt-pop artist, Martha Hill. It's taken from her debut EP of the same name which is due to hit the waves on September 27.
This is a Getintothis exclusive and your first chance to hear the recording of this tune.
Martha is gaining some traction having come to the notice of the likes of Tom Robinson, Clash Magazine, The Line of Best Fit. And she has a headline UK tour starting in October this year.
She describes the EP as a self portrait, something with which to introduce her and her music. "It's a musical exploration, she says, "the only common thread really being my voice and my story. In-keeping with the theme of exploration, each track more or less was written and recorded at completely different times with different people, giving it a laid back and journey like quality."
Be Still' is one of the oldest tracks I play, and it's still relevant to me now. It's about learning peace and slowing down, it's about self love and pace of life. I wrote it on a beach in Portugal called Carrapeteira- it's one of my favourite places in the world. Theres a lagoon there and I camped out beside it when I was hitching around Portugal. I used to wake up out of my tent and get straight in the water and float around. It's a beautiful place and it brought me a lot of peace.
This is a real gem. Give it a whirl.
WIVES: Servants
Queens, NY-based punks WIVES return today with Servants, the fifth and final single from their forthcoming debut album So Removed. Servants, is an insistent, swaggering track, for fans of minimalist stripped down punk à la Strokes and others.
WIVES are the latest fit in a long lineage of New York's gritty, melodic-tinged punk – hook-driven, grungy dark-wave that's tethered to daily anxiety and angst. The album hits the shelves on October 4, 2019 via City Slang.
Speaking of the track, WIVES frontman Jay Beach offers, "Servants is a cautionary tale about running from the feds, which pivots into a possible dream of redemption. 'Go down the rabbit hole, don't come back out working for the dark side.'"
Now you know.
Lauren Tate: What About the Kids
She may be known as lead face of Yorkshire punk outfit Hands Off Gretel, but this solo project is new territory for Lauren. What About the Kids is the first single from her softer, more American sounding album Songs For Sad Girls.
It's a massive shift from what we've seen and heard before and, we have to admit, we're rather keen.
The album was (mostly) recorded and produced in Lauren's home studio.  She not only self-produced and recorded all instruments on her debut album, but she designed all the album artwork and merchandise too.
We think you'll like this one.
Comments
comments