The Secret Society of Super Villain Artists have a new exhibition in our favourite underground haunt, Getintothis' Peter Goodbody had a chat with Hobo Kiosk's Tristan Brady Jacobs.
You may have seen the stickers or the stencils around town. And wondered what it was all about.
But now there's a new exhibition that may help shed some light on the mystery.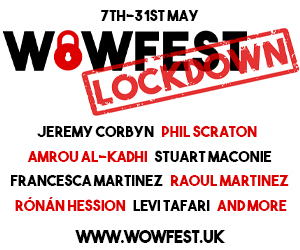 SSOSVA – the Secret Society of Super Villain Artists – is a loose collective of street artists from various countries who share a common bond, namely that of getting their art out into the world regardless of feedback.
Street art can usually be thought of as a pretty altruistic exploit.
It's exponents do their thing and disappear into the night.
They usually have no idea how their work is appreciated, if at all, nor even if it will still be there the next day. There's always the chance it will have been painted over or ripped down.
Hobo Kiosk owners Tristan and Delia Brady Jacobs are trying to change that. They have given wall space to SSOSVA and a chance not only to display the work, but also, hopefully to make some return from the sale of the pieces on offer.
Tristan explained the thinking behind SSOSVA. "It was started by Silent Bill who came up with the SSOSVA idea and unofficially grew it locally and then all over the world to collect artists, not only in the UK but also in Germany, Holland, Canada, America and Palestine.
There are people in all sorts of disciplines too – painters, paste ups, stencils and the more interventionist pranksters like Silent Bill. There is still a desire to make art. You see this work, it looks so bold and strong, but you see these guys – they're not extroverts. They don't get official recognition for their work".
Tristan is in his element now and he gets passionate about street art.
He has big plans to explore the market and give some of these underground artists some space, studios and retail opportunities, as well as give people a chance to view the work and invest in a piece of art for not too much money.
SSOSVA is a continuing group, people drop in and out but the core remains the same. They support Hobo Kiosk and Tristan finds this exhibition as a way of giving back to the group.
HOBO Kiosk the Liverpool pub injecting communal bohemianism into the Baltic Triangle
It would be worth the short walk down to have a look.
And maybe buy a piece of art, perhaps.
The exhibition doesn't have a fixed end date, but will probably come to a close around Christmas. Tristan's final comment – when it's sold, it's all gone.
He has other grand plans, but we don't think now is the time to spill the beans. But, you should definitely keep an eye out.
Hobo Kiosk won't be an underground dive for long.
Images by Getintothis' Peter Goodbody
Comments
comments