Portland's Moon Duo popped by the Invisible Wind Factory last night and Getintothis' Jamie Bowman was there to bear witness.
After years of plotting a generally steady course to heart of the sun with his Wooden Shjips offshot, mainman Ripley Johnson seems to have upped the ante on Moon Duo's latest opus Stars Are The Light.
For a while now there's been a suspicion that Johnson may have been saving up the best tunes for the project he formed his wife Sanae Yamada, but for those witnessing the band's current foray to these shores it's not a secret anymore. Moon Duo have lift off.
Perhaps it's only right after all in this 50th anniversary year of Armstrong and Aldrin's giant steps that Johnson has made contact with the heavens and fittingly tonight's show leaves all the naysayers earthbound. And that's just considering the light show.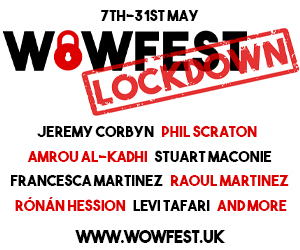 Taking to the stage enclosed in what can be best described as a cosmic greenhouse, Johnson and Yamada are joined by a drummer on this tour – John Jeffrey – who instantly adds to the dense sonic textures, and rambling experimentalism the pair explored on 2017's diptych Occult Architecture Volume 1 and 2.
Most startling of all is the band's clear decision to strip back the guitars and add soft disco and shiny electronics to their sound, epitomised by the Moroder-esque disco pulse of The World And The Sun.
Slinky snyths, shimmering Madchester, and electronic trippery abound and you could be forgiven at times for thinking you were listening to the kind of sound Primal Scream were searching for on the likes of Evil Heat and More Light.
With Spacemen Three's Sonic Boom on mixing duties, it's not hard to see where the influence for all this is coming from and there's an undeniable 80s sheen to much of Jeffrey's motorik rhythms and Ripley's characteristic echoey guitar.
Thankfully though Ripley has not totally ditched the guitar-heavy dirge of the band's earlier work and older songs like White Rose and Cult of Moloch make their presence felt.
With the constant accompaniment of stunning visuals (imagine living in a Bridget Riley painting) this is another dreamlike night in the company of a band metamorphosing into something very special indeed.
Images from Getintothis' Chris Everett
Comments
comments