Robyn Hitchcock brought his superb guitar skills to the Capstone Theatre, Getintothis' Jamie Bowman views him as a national treasure.
Silver of hair and loud of shirt, 66-year-old Robyn Hitchcock has become a pleasingly regularly visitor to Liverpool in recent years.
Always something of a cult concern, joining around a hundred other Hitchcock devotees in the plush surroundings of the Capstone Theatre, feels like being let in on a special secret: surreal, eccentric, whimsical.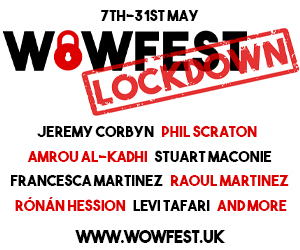 Some would say you either get Hitchcock or you don't.
It's unsurprising that these faithful fans stick with their hero because, boy, does he deliver on stage. Happy to dip into his sizeable back catalogue of over 20 solo albums, Hitchcock continues to blend folk and psychedelia with a wry British nihilism, that makes so many of his songs sound raggedly haunted in a way that is reminiscent of genre touchstones like Syd Barrett or Kevin Ayers.
Kicking things off with the Soft Boys' classic Queen of Eyes sets things up beautifully, as Hitchcock reinvents his previous band's chiming jangle pop as an acoustic strum.
Hitchcock's guitar work is one of the standout aspects of the gig.
His superlative abilities with the six string ensure songs such as Madonna of the Wasps leap beyond their original recordings while 2000's I'm Only You becomes a stunning whirl of Indian raga a la The Byrd's Eight Miles High.
Mixed in in with all this are Hitchcock's trademark inscrutable asides to the long suffering soundman who is variously asked to "make my voice sound like three Graham Nashes" or "can you make my guitar sound like someone broke into a cave only to find that Pink Floyd was already there?"
New single Sunday Never Comes is a beauty but it was a rendition of 1984's I Often Dream of Trains that seemed to really encapsulate everything wonderful about Hitchcock.
Dreamy and semi-hallucinatory, it's account of a train journey through Basingstoke in which Hitchcock dreams of love between the buffet car and the corridor, as the winter sun falls outside the train windows, sounded equal parts John Lennon and Damon Albarn.
It's a timely reminder of why he remains an artist to treasure.
Images by Getintothis' Graham Smillie
Comments
comments