Big Joanie say they like being in Liverpool, Getintothis' Peter Goodbody is happy they're here.
It's a Liverpool debut for Big Joanie.
And we're happy about that. They made a big impression at Supersonic in Birmingham in the summer.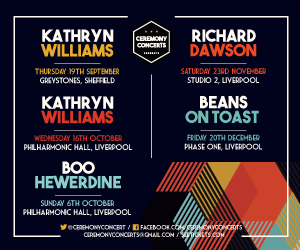 Their brand of Ronettes / Riot Grrrl / Punk isn't quite like anything else about at the moment. They sit quite well with, say, Witch Fever and Dream Wife, but there's also a retro Detroit Cobras type feel to the debut album Sistahs.
They're not just a band, though – they work with their local communities in London. They're involved with the festival for punks of colour – Decolonise Fest, they coach new talent at Girls Rock London and they champion LGBT causes with their Stop Rainbow Racism campaign.
Anyway. They're boss, we know that much. Let's hope they turn it on tonight.
Nikki & The Waves are a late added support tonight. It's a short set, but that's fine.
Quality over quantity always goes down well here.
A kind of jazzy pop lead by Nikki's silky voice and her classy 70s keyboards. The band's party trick is the trombone that comes out for some of the numbers to provide some extra texture.
It's fiesta funk music. It would work well on the back of a float at any carnival you care to think of.
Latest single Welsh Mountains slows the pace down a touch, but we're still dancing.
They finish off with Rose Petal Rush, which although, again, may not be the band's most danceable number is clearly one of the highlights.
Strong rhythm, that trombone again and Nikki's vocals all coming together in a warm soup of loveliness.
Good work.
Supersonic Festival: review, what we learned and the best bands from Digbeth
Big Joanie are about three songs in and announce the next song's about hating people. "Hooray. Tories". Says someone in the audience.
"Yeah we hate the Tories too". Used to be Friends is the song. It sort of sets the tone for the evening.
Big Joanie are an unusual set up. With Chardine on drums standing centre stage, flanked by Estella and Steph on bass and guitar, you can tell straight away this is not a normal band.
Nor is their sound quite what we expected. Down in EBGBs basement it's scuzzier and heavier than we remembered from Supersonic. Maybe that's because it's a much, much smaller room.
They make a big sound wherever they go. Down here the effect seems to be magnified.
Chardine pounds on her kit with huge force. She stands for gigs. It means she can hit the skins all that bit harder.
Crooked Room is about recognising screwed up spaces and atmospheres, intolerance and racism it's dark and one of the least accessible songs of the set. It's also only about 1 minute long. Quality over quantity again.
Solidarity is what the band is after. "Make connections with each other and work better with communities. Have conversations. Register to vote". We're not getting preached at. We all know these things to be right.
"So do you, because you're here at a Big Joanie show".
They finish with It's You and Fall Asleep from the album, having first asked for recommendations of where to eat later. "We'll be back" they say.
They like it here. So do we.
The final brace are the heaviest of the lot. Fewer Ronettes and more thump for these two. They bow out in style.
It wasn't the biggest audience we've ever seen in EBGBs, but it was a cracking gig and the ones that made the effort were well rewarded.
Images by Getintothis' Sean Taylor
Comments
comments