Boston Manor play the hype but they're completely outclassed by their support, Getintothis' Peter Goodbody is left somewhat bemused.
We're down with the emo punks tonight.
Led by Kerrang favourites, Blackpool's Boston Manor in a sold out show at the O2 Academy.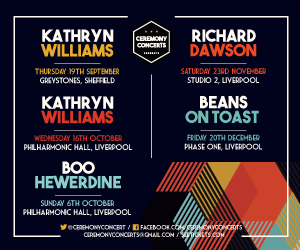 That is, they've sold out the smaller of the two venues in this building – Academy 2.
And this strikes us as surprising. Not so much surprising that they sold out the venue, but that they're not in the much larger main room.
That's fine by us – we like small gigs, but we had expected the hype surrounding Boston Manor may have translated into a bigger gig. Ah, well, we shrug.
It's an energetic looking bill, though, full of the promise of flailing guitars, sweat and long hair.
It's also been a long week, so there's a bit of a challenge tonight, (not directly, personally, communicated to any of tonight's bands, we'll admit). But we could do with being entertained.
First off, we fuel up in Chinatown.
This is important. Lunch seems like a long time ago and the cold, damp weather is seeping into our bones. It's not helped that we forgot this gig was at the O2 and therefore a longer walk in the rain to the venue than we'd anticipated.
More shrug. We won't dissolve.
Brighton's Gender Roles are doing their thing as we arrive out of the rain. They all have long hair, check. The punk sound, check. Three minute, shouty numbers, check.
It's fine. If not wildly original. It's comfort music.
Just, stop apologising, guys. For tuning up "in public", because your next gig in Brighton is "a fuck of a long drive away". And for your last song, "Apologies".
We enjoyed it and so did the crowd, which was a decent size for the first support of three bands on the bill.
To be fair, we take your point that we're unlikely to get in the car and drive 300 miles to see you in Brighton. But if you happen to be playing in Liverpool again, we'd happily get the bus into town for that one.
New major festival Melon Yellow set for Invisible Wind Factory in 2020
Hair display #2 of the night comes in the form of Modern Error.
This is an altogether different proposition.
We once persuaded a mate to come and see Taking Back Sunday in this venue about 15 years ago. He was somewhat bemused and well out of his comfort zone.
He's rarely been to a gig with us since – it happens. We mention this because Modern Error have so much TBS about them, we wonder if they're twins, albeit born many years apart. If you see what we mean.
For all the uncompromising assault, there are marks of a band who are not afraid to take a bit of down time. Just as we said that Neurosis at Supersonic had remarkable moments of intricacy in their set and synths that added layers to the mayhem, then a very similar description could apply to Modern Error. They know how to put a set together.
This was the last night of a full on European and UK tour for Modern Error and Boston Manor. It may as well have been the first for all the energy and punch ME brought to the party.
We wanted to be entertained tonight. We could go home now, happy the job was done by the support. In about half an hour. Superb. We honestly were not expecting that.
Right from the off the O2 goes nuts for Boston Manor. They're only 30 seconds into their first number and recent single, Liquid, before the crowd surfing starts. It will continue all night.
There's a distinct lack of long hair on stage, though. Which is disappointing. That isn't the only let down.
"How you doing Liverpool, we're here to play some fucking music".
We rather wish they would.
There will be many more "How ya doing Liverpool" shouts before we call it quits and admit defeat.
We hate to be the odd one out in the room, especially when everyone else is having such a good time. But, it's generic, formulaic rock written by numbers and it really is difficult to find anything constructive to say about it.
You've heard it before. And it's just not that interesting.
why does every boston manor gig leave me feeling like I've just been beaten up, is this what old age feels like??!

— jamila♡🌹 (@JJamilaaaaa) November 15, 2019
We really wish we could say more. OK, we'll try.
We'll accept we we're not front of the queue for the stage diving and crowd surfing – that's best left to others. And they were having a good time. Nobody will take that away from this crowd – they were totally into it.
But, but. Nah. It's been done before.
We rather fancied a beer next door.
We are acutely aware we get exposed to a hell of of a lot of live music here at Getintothis. And we are only too sensitive to the fact we get into gigs for free. It's very easy to stand back and saddle up our high horse.
We thought this one was going to be hot and sweaty. It wasn't.
And when the lead singer of Boston Manor bemoans the fact we aren't getting sweaty enough, then, maybe you know all you need to know.
Modern Error, on the other hand. Come back any time. You're more than welcome.
Images by Getintothis' Sarah Sidwell
Comments
comments