Brix and the Extricated were on top form in Lancashire, Getintothis' Peter Goodbody tries not to mention The Fall, much.
The Grand has been around for 150 years or so in one form or another. It's had a recent refurb, which makes for a pretty versatile space for gigs, films, lectures and the like.
Their programme of events is also pretty eclectic, but far ranging. It needs to be, for Clitheroe is not exactly a massive town. It has its appeal, though, and the Ribble Valley has recently been deemed the happiest place in the UK in which to live.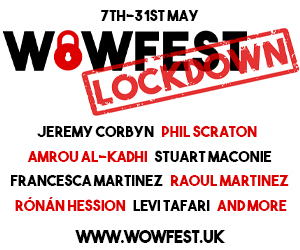 It's also where our parents live. We bagged a bed for the night as Brix was in town. Seems fair.
It's a proper punk night tonight in The Grand. That's music to our ears.
Five years on and three albums in, it's probably about time we give Brix and the Extricated their own place in the landscape without having to reference the band's Fall provenance.
Super Blood Wolf Moon is an album of sheer pop punk joy, guitar driven tunes and Brix's powerful vocals.
Local tearaways, Uke Punk (influences: real ale and pies) have the unenviable task of starting off proceedings to a sparsely populated room with a kick about set of rattling three minute numbers. They pretty much sound like you'd think they would with that name, but better. The band's main claim to fame is apparently having been told to "fuck off" by Mark E Smith (in this very building), a badge they wear with pride.
It's not particularly sophisticated, but it's good fun and done well. And, to be fair, the sounds Paul Davies gets out of his ukulele are pretty impressive. So, too, is their hatred of the Daily Mail. Good lads.
"Evening. We are the band called TV FACE". Just so there's no confusion with any other kind of TV FACE. This Lancaster trio immediately attack with a Pixies style garage psych punk thing.
We love it. Raw, dirty and rough around the edges, it's the kind of thing that makes us tick. And. They have a song called Cold Potato Salad. They're a sure fire win on that basis alone.
Title track from the band's recent EP, Chemical Imbalance was a definite highlight. An angry, angular, mash of guitars on loop / delay and alien sounding vocals from Steve McWade.
They finish off with another EP title track, Simian Nation: "Have you ever thought of getting an animal? Petting it? It will make you feel better".
It was a pretty impressive way to bow out and a perfect foil for Brix. Top marks.
Brix is looking striking as she walks on stage, dressed all in black, save for her glitter make up and faux (we assume) diamond tiara.
It's a set largely based around Super Blood Wolf Moon, with a smattering of earlier songs thrown in for good measure – Vanity and Glam Racket both get airings tonight.
Stand out track from the new album would almost certainly be Wintertyde – how we'd love to hear that used as the soundtrack to a John Lewis Christmas advert – we hear the howls of protest already.
New major festival Melon Yellow set for Invisible Wind Factory in 2020
There's force and aggression from Brix and the band in spades.
But there's also a sense, at least at times, that Brix is opening up her emotions to the crowd. Valentino being a case in point. But then she launches into Glam Racket, which is about nothing much in particular, albeit a glorious stomp, and the moment is gone.
Wasteland sees Brix getting serious and is one of the few tracks she introduces. It's a rage against the climate emergency and has Brix bellowing "I told you I can control the weather". This is her at full force.
From there it's a canter to the line with Tannis Root and The God Stone, both from the new album.
We've done pretty well so far avoiding Fall comparisons. Given four of the five members of the band have been in The Fall at one time or another this may seem like a minor victory from this reviewer's point of view.
But then Brix and the band only go and do Totally Wired as an encore. May The Fall be with you. You can't escape, even if you wanted to.
The Grand has been nowhere near full tonight. The last time we saw Brix, she more or less sold out O2 Academy in Liverpool. But, hey.
Those who did turn up were treated to a top drawer bill. We already knew about Brix. TV FACE were the discovery of the night. And along with Modern Error blowing us away last night, this has been a pretty decent weekend.
Images by Getintothis' Peter Goodbody
Comments
comments