Charlie Cunningham brought his Spanish guitar soul to the Philharmonic Music Room, Getintothis' Rogério Simões was impressed, but it was the support who blew him away.
It's a cold Sunday evening in Liverpool – and it's about to get wet too.
Few acts would be more appropriate to make us feel cosy and warm than Charlie Cunningham and his flamenco-inspired Spanish guitar.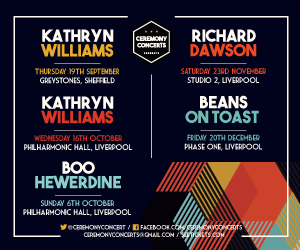 A sold-out performance at the Philharmonic's Music Room is the fitting scenario for Cunningham's very first headline date in Liverpool – and the seated audience is so much looking forward to see him that probably no one is thinking about the support act.
They should be, because this is no ordinary stuff.
In fact, she could be called the "mother of all support acts". Her name is Winnie Raeder, and she's been making small but noticeable waves in the UK for about a year. Perhaps most of those in the audience still don't know how lucky we are to have this rising talent in front of us, but we're about to find out.
She would eventually describe her set as "30 minutes of deep sadness", and we know that deep sadness goes hand in hand with sheer beauty.
While the only other musician on stage helps her making us sad with his piano, she lifts our spirits with her beautiful voice. And what a voice. "All I can do / Is love you", she repeats deeply in her opening tune, "Still" – the second track from the From Here EP, released in June –, and that love feels so real that we can almost touch it.
Winnie Raeder comes from a land even colder than Liverpool – a small town in Denmark called Aabenraa.
Her studies brought her to London, and rumour has it that her talent was discovered while she was serving coffee in a café in Putney – a story that should never be checked, in case it's not true and we lose the legend.
The fact is that Raeder was not joking about the sadness – and we're not joking about how special she is. Songs like I Wear a Ghost and the exquisite Don't You Dare are delivered with emotions written all over her face, by someone who really means every verse coming from her mouth.
We all take a deep breath and welcome Charlie Cunningham to the stage. A familiar face to most in the room, he brings with him a band of three, displayed in a unusual manner: drummer on the right side of the stage, looking at the keyboard player on the left, trumpeter in the back on an upper level, and Cunningham in the centre.
The disposition gives us the feeling that, despite Charlie Cunningham being the master of his art, this concert is a true collective effort.
He begins with tunes from the early days of his career – the energetic Breather, from the EP of the same name (2015), and the gorgeous An Opening, from his first album, Lines (2017). The trumpet, beautifully played by Sam Scott, is responsible for much of the atmosphere coming towards us.
Those, such as ourselves, who have been following Cunningham since the days when he performed on his own, just voice and guitar, know that his transition to full band was carefully made.
His bandmates play with him and for him, enhancing his music without overwhelming any of the original sound. With them around him, Cunningham seems to be even more himself.
He's ill, though. After three songs, he reveals that he's spent the whole day in bed, and tonight's performance "was touch and go". We don't notice anything wrong, and his voice sounds as deep as ever as he delivers words that remind us how good a lyricist he is – "What's he not drinking for? / Get some more, pour him some more, don't talk", from Lessleg, are those sort of unforgettable verses that make a song unique.
Since spending a couple of years in Spain, a long time ago, Charlie Cunningham started a musical journey where the Spanish guitar is central – a path similar to the one taken a decade earlier by the Swedish and latin-influenced José Gonzalez.
But the English virtuoso has gone further. He's been perfecting his sound, with guitar, a voice full of soul and whatever else that sounds good forming a unique entity.
Permanent Way, the tune that opens and names his second album, released earlier this year, is perhaps the best example of what Cunningham creates with his band: a tasty recipe of good pace, involving drums and lovely vocal harmonies.
We still haven't noticed any signs of Cunningham being ill when he delivers a cracking version of Minimum, then seals the night with Lights Off. It's the end of a wonderful evening, in which an already mature artist has beaten whatever bugs had kept him in bed for hours to give us a first class performance – and for that he receives a well-deserved standing ovation.
Liverpool, thank you for showing up and listening to us even though Liverpool were playing a match on telly! Also, we signed our first autograph so we felt pretty cool. Glasgow 2niiiiight pic.twitter.com/Tr0scwVw75

— Winnie Raeder (@WinnieRaeder) November 11, 2019
Everybody leaves the Music Room, towards the cold rain, felling beyond satisfied – and probably asking themselves, "What's the name of that girl again?" Winnie Raeder. "She's amazing, isn't she?".
She is indeed.
Images by Getintothis' Billy Vitch
Comments
comments