The second Deep Cuts awayday opened up a box of new music at Ormskirk's campus-based Arts Centre, Getintothis' Roy Bayfield was there for the ride.
Last time Deep Cuts ventured into Edge Hill University's Arts Centre Red Bar, springtime light made the leafy environs visible outside the windows.
This time we're surrounded by wintry darkness, giving proceedings an intimate feel. It's a relaxed gig in an open space with plenty of seats, the crowd drifting around and intermingling with punters lured across from the film showing in one of the venue's theatres.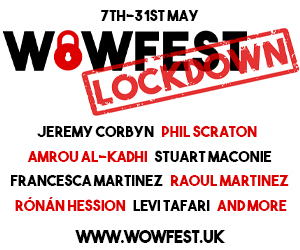 Folk-pop artist Alice Mae kicks off the night with an absorbing trio of songs, delivered with focussed intensity and without the vocal wispiness afflicting many singer-songwriters. Hopefully we'll see more gigs and longer sets from her soon.
Hammerhead Snails move things in a 'Happening' direction, switching unpredictably from meandering psych grooves to muscular Doorsy piledrivers and offhand sludge. Intriguing stuff from a young band that draw from deep wells of very early Black Sabbath and a host of psychedelic influences.
Podge takes the stage flanked by fellow sonic explorers Borth and Jacob Parry, for a chiptune-infused set of wonky synth-pop. Podge's rapturous self-absorption and montage-moves make for a compelling watch, and material from new EP Eatmore Fruit shows that this enigmatic artist is continuing to develop his unique world.
By this time the venue has become a bit of a 'House of the Rising Background Conversation', but this is soon to be blown away by Green Tangerines with an explosive set of jazz-funk. They're visibly enjoying themselves and so is the audience as the funk is brought, beautifully and massively by a band that everyone is going to be talking about. Life-enhancing.
Then hometown hero headliner Charity Shop Pop keeps the energy levels high with a blistering feel-good set of fey joyfulness. No appearance by Scooby-Doo this time except on video but the Ormskirk overfeeler gave out plenty of good vibes without his furry friend.
There's an atmosphere of onstage party as playmates join main man David Hughes on stage, Luke Beesley making a sustained vocal intervention on Your Number and Olly Bannister from Downfall adding guitar to Skint Boys and Always You, freeing David to caper and cavort in the VHS limelight of his projections. At the climax of Fire David jumps into the audience; there's wild thrashing and minor collateral damage; then like a bubble bursting it's all over and we go home happy.
Images by Getintothis' Warren Millar
Comments
comments