Francis Lung brought a dreamy set to 81 Renshaw which had Getintothis' Rogério Simões mighty impressed.
It's exciting to visit 81 Renshaw and its lovely stage, charmingly hidden in the back of its café and record shop area.
The room creates an intimate party atmosphere, to which everyone in the audience feels welcome. A perfect setting for this Friday night's line-up, topped by the 1960s inspired tunes of Francis Lung.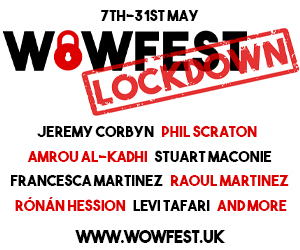 We start with Sara Wolff, the Liverpool based singer-songwriter who landed on these shores a few years ago from Norway.
Guitar on her arms and with a competent three-piece around her, Wolff offers us slow paced music that brings back memories of Everything But the Girl and Stereolab. It's quite sweet and contemporary to hear her singing verses about daily activities and concerns, such as "I go to coffee shops all day / All day" – that's all we do nowadays, isn't it?
A warning to the audience – something like "Stay right there! Surely that visit to the loo can wait!" – should come right before the next act, the deep-voiced blues-rock singer Bobby West and his impressive band.
Two guitars, bass, keyboards, drums and saxophone conspire to offer us a compelling performance by an artist with a bright future.
West, a local whom Liverpool might one day be very proud of, sings with the sort of passion and sadness that can please any admirer of Jim Morrison, Van Morrison or Elvis Presley.
When he shares with his audience words like "In case you are alone" or "They're telling lies to you", he distributes goosebumps aplenty. With a collective behind him that could be described as a gentle Crazy Horse, nothing seems to go wrong for Bobby West.
Francis Lung brings something entirely different – not only from West, but from his own past. The Mancunian, whose first album A Dream is U is only a few of months old, has been favouring melodies over power since the demise of its alt-rock band Wu Lyf, in 2012.
The decision to perform as Francis Lung, and not with his own name, Tom McClung, suggests the embrace of a new musical persona, which makes sense. Lung seems completely free from the intricate packaging of sound which Wu Lyf was known for and more connected to his own beliefs as a songwriter.
He's definitely immersed in the 1960s simplicity-complexity that The Beatles, The Byrds and many others applied in order to touch our hearts and melt our minds.
Although Lung is not (yet) as accomplished in that task as the greatest in his field, there are examples of brilliant psychedelic pop sweetness, particularly in the gorgeous Unnecessary Love – "Send me up to the stars / High up as they are / So I can be near, but yet so far" –, the kind of song that begs to be played on repeat.
The desire to find and enjoy the wonders of love is present in many of Lung's lyrics, but on Invisible his wish is to be the unseen witness of other people's social interactions – an interesting idea that might explain the shyness he sometimes reveals on stage.
He's not alone, though, and his band provide very efficient support, with beautiful keyboards and backing vocals arrangements. During the gig, Lung plays the guitar and even ventures into a saxophone solo, but the most crucial part of his sound comes from the two keyboards on the side.
Not 1980s keyboards, for sure, more late 1960s – which makes us wonder whether a 1968 mellotron should be eventually incorporated by the band.
Lung's music is sometimes dreamy, and he closes the evening travelling through the world of sleep on another of his best tunes, I Wanna Live With My Dreams.
The impossibilities of finding in real life exactly what we hope for is well put in a single verse: "There is no love like the love in dreams". It's a humbling note that Francis Lung offers us after a few moments of musical bliss.
His achievement with his first album is real, and his potential for greater success is clear.
For now, mission accomplished.
Images by Getintothis' Marty Saleh
Comments
comments