The former Black Mountain duo play their first show in Liverpool and Getintothis' Simon Kirk and thirty others are blown away by the spectacle.
We are at the final frontier of this chaotic week of music, but not before we welcome Vancouver's Lightning Dust to Liverpool for their debut show.
Lightning Dust is Amber Webber and Joshua Wells. In a prior life, the duo provided the all important framework for towering behemoth that is Black Mountain (you may have heard of them).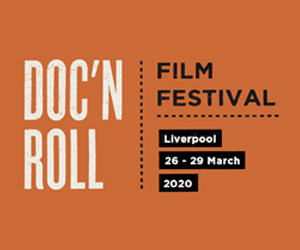 After four albums with Black Mountain, last year Webber and Wells parted company with the Vancouver hard-rock beast to focus on Lightning Dust. The result is the band's fourth album, Spectre, released in early October.
24 Kitchen Street is a sea of mist and apocalyptic orange, like we've entered the set for Blade Runner 2049. In closer terms the backdrop doesn't feel a world away from Lightning Dust's brilliant second album, Infinite Light.
Sadly, and we'll admit it was our fuck up, we missed the first act tonight. We've seen Simon Ward before, though and we love his tales of death and despondency. He is one of the few who knows his way around an autoharp.
We promise we'll make it up to you, mate.
The first act we catch tonight is local based artist, LUNA, who projects a nice down-tempo representation of electro-pop. There are echoes of Goldfrapp and HVOB throughout and it works.
In fact, there should be more of it around the local traps. Liverpool's loss is LUNA's gain who seems ahead of the curve here.
After a short intermission, Lightning Dust, operating as a four piece, takes the stage. They get straight to work with Devoted To, the opener from Spectre. It's rendered with a groundswell of bristling drone which sets a stunning tone.
The awe-inspiring Led Astray is next. While it may just be one of the best songs written in 2019, it's debatable whether it's the best live moment of the year, too. Webber's vocals so marrow-chilling that they could freeze Satan.
"Led astray, have I lost you along the way?/Bitter skies when you're too afraid to fly/And I feel things turning strange/In the places I remain," Webber hauntingly purrs.
Are there any better lyrics that have met paper this year? Perhaps not.
Another highlight from Spectre, Run Away, follows and three songs in, there is a collective feeling within the thin audience that we are in witness to something utterly breath-taking here.
Never Again and Diamond, the respective closing and opening numbers from 2013's Fantasy, allow us to catch our breath while More brings us straight back to life.
Let It Rain and Competitive Depression continues the theme of the songs from Spectre having an added dimension and bite when played live.
Wells' style across the keys and synths has a tender quality. Soft wobbly tones that provide gentle ripples of sound. A lovely foil for Webber's elusive vocals that always probe the listeners conscience, rife with a haunting edge.
With the set lasting just over forty minutes it's a short but sweet affair and one that we are just glad happens. Not even Black Mountain visited Merseyside during Webber and Wells' reign in the band, so for Lightning Dust to emerge from wilderness and into our locale is a celebration in itself.
It's earnest music produced by earnest people. A cosmic brand of campfire psychedelia that can also morph into something much bigger, as witnessed tonight.
While there are fewer than 30 people in attendance it really should be a moot point.
Whether it's a Sunday. Whether 24 Kitchen Street is slightly out of the way. Whether Primal Scream are playing across the other side of town.
None of these points supersede the energy that Lightning Dust create tonight and for the chosen few, they bear witness to something truly majestic.
Images by Getintothis' Peter Goodbody
Comments
comments