Everyone's favourite troubadour Mac DeMarco paid a visit to Mountford Hall and Getintothis' Lucy McLachlan was there to share a joke or two.
We're actually really grateful this gig was moved to Mountford Hall from Bramley Moore Dock. 
A usually hot and sweaty venue can be nice in the winter on a rather nippy night, not a long trudge down to the North Docks inside a brisk warehouse.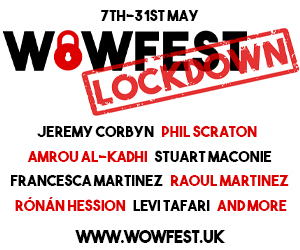 Painted cloths hang behind the stage – two of a wrestler, one saying proudly Join Our Club in what looks like the same font as Spam, and two fireman topless in suspenders with a speech bubble 'The whole fuckin' city is on FIRE!'.  
There are Mexican blankets hanging over amplifiers, and a huge projection screen like a TV with 90s clip art swirling around. It's looking a bit like we're in someone's squat.

Phoebe Green is very grateful to be playing Mountford Hall tonight, she says they're used to playing trade clubs. She's already got quite the crowd as Mountford Hall is already pretty full for half 7 on a cold and damp night.
Charming and laid back they genuinely can't believe they're supporting Mac DeMarco and getting such a reaction from the crowd who are cheering them on.

They seem to already have a following as a group in the crowd start screaming, to a very mellow song, it's all dreamy surf guitars and breezy light vocals.  Songs about changing your Facebook status and sad songs called Double Vodka Lemonade.
Enjoy the rest of your evening….responsibly Los Bitchos end their set whilst passing round a bottle of tequila. In our last review of them we gave them the label of The sound is as though The Shadows got stuck in South America during the 70s with a crate of tequila and we're gonna keep it at that.
They're their own brand of instrumental style surf guitars infused with Cumbia, a traditional South American folk music. There's loads of whoops and hollers and synchronized leg movements whilst wording guitars.
But we must admit we've seen them livelier. Currently supporting Mac DeMarco and recently Black Lips they admit today they're tired and though the music is brilliant for getting the crowd into party mode, we also hope they're going to get a good Christmas rest soon!
Catch these live, they just turned a dull November evening into a fun sunshine fiesta.
Public Image Ltd's Metal Box at 40 – casting aside the rule book and rewiring what had gone before
After many a false start, every time a song over the PA ended, the worked up audience would cheer as if the main event were about to start.  Mac DeMarco swaggered onstage, late, to DMX's Party Up (In Here) and a sea of camera phones ready to film his appearance.
Salad Days and Nobody start us off. DeMarco is pulling shapes all across the stage, it's Vic & Bob dad dancing at its finest as he creeps around the stage doing tricks with the mic.
In the background we get projections of close ups of the band members staring wistfully into space mixed with what looks like a 50s cooking show. A raw chicken gets dressed up and put in the oven.
Caught Mac Demarco at Liverpool Guild of Students tonight – Mac was funny and chilled but constant chanting and chatter of the audience made it difficult to fully enjoy! pic.twitter.com/6tstNcHogj

— Scott DG (@sdg81sdg) November 28, 2019
My Old Man gets mass sing along for courses and clap-alongs egged on with c'mon you motherfuckers cheekily beckoning the crowd to carry on singing.  Whilst Chop Chop sounds down right dirty, guitar licks and deep deep singing.
And things get so steamy the fire alarm goes off.

Seriously, the crowd looks round to see if it's for real or a prank DeMarco might be playing, but no one's in on it.  We heard someone had set it off backstage opening a fire exit door.
Another One got the audience's attention back with a big singalong DeMarco asks for all phone lights to be turned on which brings a sea of torches and a set of quieter songs.  We're promised rock n roll songs are on the way. And Rock and Roll Night Club we get complete with a background of greased up orange body builders.
The audience are lapping every song up, we've got dancing going on at the back of the hall, people on shoulders, a big old wave along.  The hall is packed and everyone is having the best time with the screen changing to footage of this year's Champion's League Final and the whole room went full on Oh Jeremy Corbyn chant.
Mac demarco crowd letting the country know where it's @ pic.twitter.com/Zm6NzeyeGN

— Max Betts-Davies (@Max_BDlfc) November 28, 2019
Nearer the end of the set it's time for jokes and we'll leave you with this gem as told by the great Mac DeMarco
Why does Santa Clause have no children?
Because he only comes once a year and it's down your chimney.
Ho ho ho ho ho.

Photographs by Getintothis' Lucy McLachlan
Comments
comments