Washington's finest Priests bring their fuzzy rock over from the USA, Getintothis' Steven Doherty joins the select few.
This year on the pages of Getintothis, we have gently ribbed Priests for having a gloriously ostentatious press photo, and bestowed the esteemed Single Of The Week title on them for Good Time Charlie, the lead single from April's album release, The Seduction Of Kansas.
And now it's time to see how they are live, as they venture to Shipping Forecast as part of their current UK tour.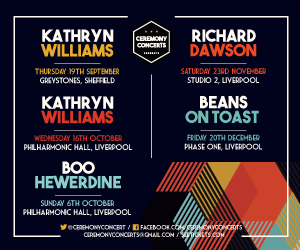 They are preceded on this murky Thursday evening by the glo-punk of Liverpool's very own Piss Kitti.
Having seen them a few times already this year, they have never failed to disappoint, a real beacon of the local scene, and tonight is no exception.
They start with a new one, we guessed this when the scrawled set list says "New 1" and the singer is reading the lyrics from her hand.
It seems to have, dare we use such an awful expression, more substance to it than some of the older stuff.
It's good to see tonight's headliners watching and more importantly, enjoying the support act, even though that involves watching them from behind a cowboy hat.
There's also an onstage cliffhanger as the set goes on, as to whether or not the guitarist toilets himself or not.
Hash, seemingly as ever, is the highlight, as they come and go in what seems no time at all.
"Thanks for coming to the show".
This is the greeting from Priests, as the Washington four piece clamber onstage, before launching into the latest record's Jesus' Son.
Instantly they sound fiercer than their on record persona, which feels somewhat over-produced and generally messed with.
They've struggled to get here, enduring a seven hour ferry journey, not that you'd notice, with the ferocity they attack their set.
Before the moody I'm Clean, they swap over drummer and singer, which changes the tone and vocal sound altogether.
Also they, bizarrely, seem to be playing the drums with some sort of maracas, but it works, giving them a softer effect. They switcheroo back in time for the aforementioned set highlight Good Time Charlie.
The small but perfectly formed crowd are well into it by the time the swirling Texas Instruments rolls around.
And themselves and Priests keep up the improved pace for the rest of the night.
If there was any justice in the world, it would be Priests and Piss Kitti as the Arena double bill, and Gerry Cinnamon playing a city centre basement.
Life truly is cruel.
Photos by Getintothis' Billy Vitch
Comments
comments