During a manic week of gigs, Getintothis' David Hughes selects some of the best singles for your listening.
Glass Animals: Tokyo Drifting (ft Denzel Curry) (Single of the week)
Glass Animals have been hinting at something new recently on their socials, and finally it has dropped, a weird and wonderful collaboration with Denzel Curry.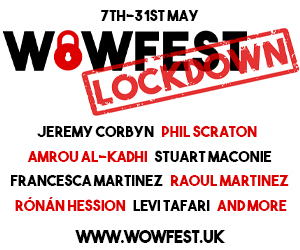 Three years since their last release, Glass Animals are back and mean business with this drum and bass anthem. With a heavy bass underlying the song, and a powerful strong drum beat, the song grows as it progresses. Some interesting additions instrumentally, like some sort of horn sounds underlying the second half of the song expand the range of it.
Over the first verse, it's an all Glass Animals affair, with them rapping/singing/whatever you want to call it over it, with the addition of Denzel only in the second verse. And what an addition he makes, he takes the gentle vocals from the first verse and throws them out the window. It's an incredible song that's going to be added to millions of playlists around the world.
Tim Ayre: Barcelona
It's approaching winter, the nights are getting longer, the sky is getting darker, yet Tim Ayre is taking us back to the heights of summer with his latest feel good track, Barcelona.
The Melbourne based singer-songwriter has just release his debut EP, which has, as he says, 'tropical pop' vibes. This latest single from the EP clearly shows Tim's influences, with sounds like The Beach Boys, The Beatles and even Daft Punk being heard through the dreaminess.
The track is an out and out synth pop tune, with a delightful synth lead melody during the chorus, with his almost speaking style of singing gliding seamlessly over the top. The character underneath from the guitars and synth pads allow these main synths and vocals to stand out and add life to the track.
Febueder: Wolseley
Febueder are an avant-indie duo based in Ascot and introduce to us their latest single, Wolseley.
Minimalistic in their approach, with simple instrumentation, a synth supplying the main rhythm along with the glockenspiel, a piano here and there alongside a trombone, it's very experimental and each time you listen you can hear something new. Vocals are interesting, they're difficult to hear properly and understand, however, that could be the point.
This is certainly an experience to listen to, one that you shouldn't miss out on.
Confidence Man: Does It Make You Feel Good?
Australia based Confidence Man have brought 90s pop back to the present day, with an almighty bang.
Having played Glastonbury and other notable festivals over the summer, including an almighty set at Sound City, Confidence Man are set to support New Order on their Australian tour early next year, before embarking on their own headline tour across Europe and the USA.
Does It Make You Feel Good? starts off with some simple synth sounds, before building into something magical. Each segment of the song adds something new, with the 90s electro beat and vocals coming in together. The headline lyric is repeated continuously throughout the song, becoming a mantra almost, as the song keeps building and growing throughout.
Aoife Nessa Frances: Here in the Dark
Irish fold pop artist Aoife Nessa Frances debuts the last track of her latest EP, Land Of No Junction.
It's a beautifully gentle song, with Aoife's vocals almost soothing your ears as you listen intently. Underneath her vocals sits an acoustic guitar, amongst other string instruments, along with some piano-esque sounds. The musical structure is quite repetitive, but that helps the song become almost hypnotic and puts you in a trance as you listen. It's a perfectly beautiful song.
JJ Rosa: Pandora
Blending hip hop beats, heavy guitar riffs and a powerful, soulful voice, JJ Rosa launches her latest track, Pandora.
The Manchester based artist has opened for Stevie Wonder and played the likes of Glastonbury and BTS at Hyde Park, JJ is on the rise from her DIY Youtuber approach, and this latest offering is a wonderful insight into her sound.
Pandora sounds like it could be a James Bond theme tune, with a punchy drive to it. It's blend of different styles is done remarkably well, with each element not feeling left as an outsider.
Willie J Healey: Songs For Joanna
Oxford's Willie J Healey has just launched a new EP, Hello Good Morning, with the lead single Songs For Joanna hitting the spot.
Having just played a 4-show headline UK tour, Willie shows off his talent with this latest track, with a simple yet effective structure. A simple drum beat and guitar rhythm throughout, with his Talking Heads style vocals over the top allow his lyrics to take focus, which is the best thing about this song.
It's clear we're not the only ones who love this tune, with Radio 6 A-list status for numerous weeks, as well as Radio 1 play.
Tourists: Align
The first new track from Tourists in two years is a delight, with its shoegazy, dreamy atmosphere allowing you to get lost in a different world.
The Devon based artist have taken a two-year hiatus to write new music, and finally we are hearing the fruits of their labour, Align. Drenched in buckets of reverb, this is a signal of intent of their comeback. With a riff that will get stuck in your head for days due to the repetitiveness of it, that's no bad thing.
Allie X: Regulars
Off the back of playing Lollapalooza and supporting Marina and the Diamonds on her European and US tour, Canadian solo artist Allie X is back with her latest single, Regulars, and it is a delight.
Starting off with simple instrumentation in the shape of bass, drums and her angelic vocals, Regulars captures your attention immediately, before adding guitar and synth elements later on. At times, it feels like her vocals are down in the depths of her range, but she picks it up in the chorus, which adds a particular sweetness to it.
MAITA: Can't Blame A Kid
Oregon based indie rock band MAITA reveal their first single for their debut album, Best Wishes, set to be released next year via the Kill Rock Stars record label.
It's a bold start to the album with a grungy guitar tone juxtaposed against the gentle vocals from lead singer, Maria Maita-Keppeler. At two minutes it's a short blast through, with heavy a drum beat laying down the law. It will be interesting to hear what the rest of the album sounds like, with a lot of anticipation resting on it shoulders after this track.
Comments
comments