With Christmas done and dusted we look ahead to New Year's eve and Getintothis' Simon Kirk provides us with the details on where's best to welcome the new year.
So, did you enjoy Christmas? We're hoping you did.
We did say there would be no more gig guides for 2019, but like a winter cold, we're back (sorry about that).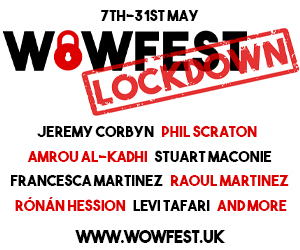 To be fair, this one's a bit of a rehash as we dissect the places to be this New Year's Eve.
It's Liverpool, so there's plenty happening, not least at Jimmys with the Red Rum Club. Then there's Sound Food and Drink with Eggy Records putting on their annual bonanza.
Plenty of venues are holding various parties to bring in the year of impending doom. Do check out Christmas and New Year guide for a full listing.
In the meantime, below are our picks on where is best to welcome 2020.
Whatever you choose, be safe, and don't fight over taxis with each other. You'll get home. Eventually.
And, with that, we say top of the New Year to you.
New Year's Eve at the Kazimier Garden, December 31.
IWFM present their annual new year's bash at The Kazimier Garden.
The night includes, live music and Kazimier DJs, including, Faux Queens, Mellodigy + Howard Be Thy Name, The SheA Twins, DJ Vinyl Silk, James and Ellis, plus live music from members of All We Are in The Wanton String Band.
Tickets on sale now.
Red Rum Club: Jimmy's, December 31.
And for the pick of the month:
What a year for Red Rum Club. Sold out gigs, going off at festivals, all after producing one of the great records of 2019 in the shape of their debut album Matador.
Stealing Sheep interview: Getintothis' band of the year talk Big Wows, American dates, Sound City and their plans for the future
To those of you (unlike me) who were quick off the mark getting tickets for this extravaganza, this will be some welcome to 2020.
Support comes in the shape of Shardy and Scuttlers and there'll be DJ's playing indie bangers till the small hours.
No better place to see in the New Year.
Any spares?
Eggy New Year!: Sound, December 31
One of Liverpool's shining stars, the Eggy Records label has gone from strength to strength in 2019.
Following a recent all-dayer in the same venue, they are now back, taking over the Basement on this special evening for what's sure to be a mad one.
The full line-up has now been announced, and features amongst others, Beija Flo, RongoRongo, Bill Nickson, Astles, Piss Kitti and so much, much more.
Chibuku NYE Party with Groove Armada: Invisible Wind Factory, December 31
The splendid IWF host a huge party featuring a spectacular DJ set from the bona fide dance legends that are Groove Armada.
It also has the Chibuku seal of quality so you know it's going to be a night packed with tunes.
It's on 10 till 4, and the full line-up will be announced nearer the time.
New Year's Eve at Camp and Furnace, December 31.
New Year's at the Camp and Furnace includes special guest DJs, live dancers, circus performers and, of course banging tunes amid big visuals and lasers.
The team at Camp and Furnace know how to do Christmas Eve better than most so grab your tickets now. General ticket currently on sale.
Comments
comments