Pizzagirl made an 80s disco inferno out of Phase One, Getintothis' Peter Goodbody got his flares on for this one.
It's a hometown gig for Pizzagirl and his biggest one yet.
New album, First Timer has not long been on the shelves and things are looking rosy for Liam Brown these days.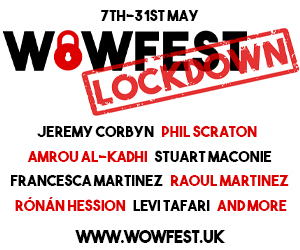 The so called 80s synth pop guru has a healthy crowd in tonight (but to be fair, so do the supports have their following). This writer hasn't seen Pizzagirl before and we're not quite sure what to expect. But, hey, let's dive in.
The Indica Gallery get us going. And, although, as is often the case with early supports, they implore the audience to come closer, they're an accomplished outfit.
New song Avalon has a an almost Springsteen feel to it. It's big rock. We like this lot.
Their song, Mallorca was a glorious tale of summer romance, Ryan Air and Mega Bus all colliding on a sunshine paradise. We'd love to hear the details, but suspect what happens in Mallorca stays in Mallorca.
Again, Hannah's Little Sister ask us to step closer. "I stopped biting in kindergarten". With that assurance, the crowd oblige.
Their Slits / B52s punk pop is hitting the spot and gets quite a few heads dancing.
They have a confidence about them. Their angular, spiky songs feel like everything's going ok in Hannah's life.
It's a strange and madcap take that veers this way and that, but somehow keeps us all smiling and agreeing with this quite frankly bonkers view on the world. Tremendous.
The Pop Group's Y at 40 years old: a new look at a ground breaking album
That's two absolutely top drawer supports. Pizzagirl will have to be on best form tonight, for these supports have both been class acts.
Coming on to That's Amore – you know the one – big pizza pie etc. "Let's party".
That's the cheese done with.
From here on this is a serious business.
There are plenty of bands around in Liverpool who are doing disco / funk type sets and we're not about to try and rank them, but Pizzagirl is right up there.
It's powerful. It's music to dance to, to scream to.
Biiiiig shoutout to past lily for drunkenly requesting you see Hannah's little sister n pizzagirl and somehow managing to get in lol

— lily (@lilyhbee) November 28, 2019
Generally to have a good time to. The Phase One crowd still need to be asked to come closer to the stage, but they're absolutely loving this. And, to be fair, so are we.
There's a hard edge to this and a class that cuts through any description of this band as being "synth pop". It feels like 80s New York disco brought right up to date.
We reckon Pizzagirl wasn't eclipsed by the supports, because they were that good.
Liam can work the audience, he has the charisma. And he has the tunes.
But he needed to be damn good, because the supports were excellent too.
He pulled it off in fine style.
Images by Getintothis' Peter Goodbody
Comments
comments