Newcastle behemoths, Pigs Pigs Pigs Pigs Pigs Pigs Pigs return with a new album and tour dates and Getintothis' Simon Kirk on their return.
As reported our 20 Albums for 2020 feature, Getintothis favourites, Pigs Pigs Pigs Pigs Pigs Pigs Pigs, were said to be releasing a new album and today we can confirm the details.
The Newcastle five piece return with Viscerals, their follow-up to 2018's brilliant King of Cowards.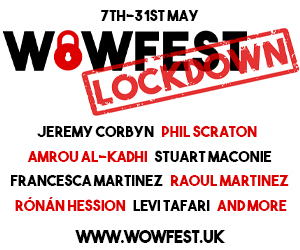 Viscerals will be released on April 3 via Rocket Recordings. You can watch the video for the band's first single, Reducer, below.
The band's third album, which was recorded in guitarist, Sam Grant's Blank Studios, is said to be sound leaner than its predecessor, going back to the roots of the band's debut long-player, Feed the Rats.
Speaking of the process, guitarist Adam Ian Sykes said: "We booked dates in Sam's studio before we'd written 80% of the album. We definitely thrive under pressure. It's stressful but that stress seems to manifest itself in a positive way".
Pigs Pigs Pigs Pigs Pigs Pigs Pigs talk Brexit, the seven deadly sins and filthy guitar
Sam Grant also shed some light on Viscerals.
"Viscerals is a reflection of many things I guess. It's the internal; it's our health and physicality; it's bodily and unseen; it's essence that forgoes intellect; and it's not a real word!"
Singer Matt Baty also weighed in: "At times it feels like we're on a playground roundabout and there's a fanatical group of people pushing it to turn faster.
"Then when it's at peak speed they all jump on too and for just a few minutes we all feel liberated, together."
In support of Viscerals, Pigs Pigs Pigs Pigs Pigs Pigs Pigs will hit the road, which includes a three US dates which culminate with an appearance at the acclaimed South By Southwest Festival in Austin.
Following their tour of the states, Pigs Pigs Pigs Pigs Pigs Pigs Pigs will tour the UK, which includes a Manchester date at Gorilla on Thursday April 16.
Viscerals tracklist:
Reducer
Rubbernecker
New Body
Blood and Butter
World Crust
Crazy in Blood
Halloween Bolson
Hell's Teeth
Pigs Pigs Pigs Pigs Pigs Pigs Pigs tour dates:
Monday, January 27: Independent, Sunderland
Friday, April 3: Star and Shadow Cinema, Newcastle upon Tyne
Saturday, April 4: Star and Shadow Cinema, Newcastle upon Tyne
Thursday, April 16: Gorilla, Manchester
Friday, April 17: The Mill, Birmingham
Saturday, April 18: Thekla, Bristol
Friday, April 24: Stylus, Leeds
Saturday, April 25: St Luke's, Glasgow
Wednesday, April 29: Rescue Rooms, Nottingham
Thursday, April 30: Electric Ballroom, London
Friday, May 1: Concorde 2, Brighton
Comments
comments