As 2020 stretches enticingly in front of us, Getintothis select the best arts events, exhibitions, festivals, spoken word and theatre happenings this year.

There's always a sense of promise at the start of a New Year.
Resolutions and all that.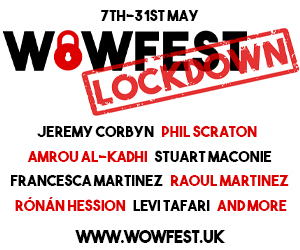 Blank diaries and calendars just waiting to be filled.
You've a whole year in front of you. 12 months. 52 weeks.
But there's no problem in filling that calendar up with something to do on the arts front across Merseyside.
There's a whole lot going on. More so than ever.
Pulling together this selection of just 20 picks throughout the year has not been an easy task. For every one which we've outlined in brief below, there must have been at least five that we didn't pick.
That's a good thing,
Not because maybe we left out some things that really should have been included, but because it really shows the strength, diversity and depth of the arts and more across Liverpool, Merseyside and the North West.
So we've got landmark exhibitions. festivals, theatre events, photography, spoken word and much more picked out in our 20 selections.
Grab a pencil, open up your diaries and start making the most of 2020.
Rick Leach, Arts Editor   
Krewe Liverpool
Sefton Park, Liverpool
February 7
The inaugural Krewe Liverpool is to be held in Sefton Park in February.
Billed as: "A surreal masquerade ball with music, dance, costume and carnival, housed in Sefton Park's iconic Palm House", the event will see a recreation of the traditional New Orleans Mardi Gras festivities descend on Merseyside.
From the Invisible Wind Factory, there'll be The Intergalactic Krunk Krewe, while World dance organisation Movema bring Krewe Movematazz.
Krewe Eat Me and Preach represent Liverpool's finest queer disco and alternative drag dinner Caberet, as local lindyhoppers Merseyswing present the Kick Back Krewe.
Finally, members of The Kazimier and Mello Mello's finest marching bands reform to create The Harlequin Dynamite Ancients of Balance Krewe.
They're in addition to the already announced live sets from Frog & Henry (New Orleans) and Liverpool's The Jubilee Stompers. – Rick Leach
Record Fair
Bluecoat, Liverpool
February 1
Looking for a fun, cheap, last minute event to get you out the house?
This might just be the perfect opportunity for any vinyl-enthusiast out there.
This February the Bluecoat are holding a Record Fair where you can expect to find records, CDs, DVDs, posters, books, programmes, and much more from national traders.
We love these kinds of fairs because you never know what treasures you'll find at a steal; this is a must-do for all the music buffs. – Kris Roberts
Violette WORD
Everyman, Liverpool
February 12
2020 sees the Violette machine go from strength to strength with planned releases and gigs from Studio Electrophonique and Pistachio Kid, along with the magnificent Violette Social nights at Studio 2, but their continued expansion into spoken word might just be the most exciting aspect of it all.
WORD is a welcome return of Violette's spoken word only events and the line-up for February is stellar.
Man of the moment Roy will be involved, whose brand of quasi-surreal quasi-kitchen sink North Liverpool drama has won him fans with the likes of Steve Mason, Paul Heaton and 6 Music, as will local heroes Roger Hill, Matt Barton and Saint Vespaluus.
The bill also features Hull's Vicky Foster and Amina Atiq, whose fierce yet tender reflections of life as a "Yemeini-Scouser" have an uncanny ability to make audiences laugh, cry, feel anger, shame and love, all within one poem – that might sound clichéd, but having seen her previously silence St George's Hall, we can testify. – Matty Loughlin
Liverpool Beer Festival 2020
Metropolitan Cathedral, Liverpool
February 20 to 22
Liverpool Beer Festival returns to the Crypt of the Metropolitan Cathedral in February 2020 and the theme is The War of the Roses.
With over 200 Real Ales and Ciders, the Liverpool Beer Festival challenges the brewers of Yorkshire and Lancashire to prove who's best.
Amongst the beers from other regions there will be a number from the proud counties of Lancashire and Yorkshire which are pitched against each other in a bid to the vote for beer of the festival. – Rick Leach
House of Suarez + Contact: Vogue Ball 2020
Manchester Academy, Manchester
February 29
Over in Manchester the House of Suarez are holding their annual Vogue Ball in Contact, the intimate venue just on the back of the Manchester Academy.
For anyone who doesn't know much about the Vogue Ball scene, you're in for a sensory treat. With a nautical theme for 2020, this event promises fierce dance and extravagant costumes.
For a night filled with dance battles and nothing less than a celebration of flamboyance and extravagance, get yourself down to Contact and let yourself be blown away by this spectacle. – Kris Roberts
Comicon Liverpool 2020
Exhibition Centre, Kings Dock, Liverpool
March 6 to 8
Comic Con Liverpool 2020 promises to be something very special indeed for fans everywhere as they bring you guest headliners Elijah Wood and David Harbour as well as never before seen in the UK special guests such as the one and only Mickey Rourke, Tank Girl herself, Lori Petty and Sabrina the Teenage Witch star Melissa Joan Hart.
There's an American Pie Reunion with Chris Klein, Shannon Elizabeth, Tara Reid, Chris Owen, and Thomas Nicholas and a Flash Gordon 40th Anniversary Special featuring Sam J. Jones, Brian Blessed and Melody Anderson.
As ever, there's much more to see and many names yet to be announced. – Rick Leach
Sasha Velour
Liverpool Empire, Liverpool
March 7
Sasha Velour, famous drag queen, artist, and illusionist, will be making her Liverpool debut this March at the Empire Theatre.
Bringing her one-woman theatre show Smoke and Mirrors across the pond for the second time, we can expect to see hair-raising performances from the artist unlike Liverpool has ever seen before.
Known for insanely unique visuals and stunning costumes and having received huge praise from critics all over the world, this one might be a once in a lifetime occurrence. – Kris Roberts
Andy Warhol at the Tate
Tate Modern London
March 12 to September 6
Well, Andy Warhol hardly needs any introduction, does he?
Creator of some of the 20 century's most instantly recognisable and iconic works of art, Tate Modern, London hosts a return exhibition of his work following the acclaimed show in 2015.
Bringing with it some of his best-known works (soup cans, anyone?), the run also includes pieces never displayed before in the UK. – Matty Loughlin
Conversations with Roddy Doyle
Playhouse, Liverpool
March 10
Celebrating the career of one of Ireland's best-loved writers, Roddy Doyle, as he discusses his work in an intimate and entertaining evening of sprawling conversation, with various special guest interviewers.
Roddy Doyle's writing is immediately recognisable for his rich humour, unique use of dialogue and contemporary references.
Credited with having reinvented the modern Irish novel, Doyle presents difficult critical social and historical issues in a concise and accessible form.
His work inimitably portrays the experiences of everyday Irish life and this is a chance to hear the man himself read from such books as The Woman Who Walked Into Doors, Booker Prize winning novel Paddy Clarke Ha Ha Ha and A Star Called Henry – Rick Leach

Frances Disley
Bluecoat, Liverpool
March 13 to June 21
This solo show by Frances Disley is part of Bluecoat's ongoing commitment to supporting outstanding Northern artists.
As a starting point for her work Disley has previously used the colourways of a high fashion tracksuit to create a moving painting and a community aerobics class as the setting for a dance performance and installation.
She is interested in the things we do to feel better about ourselves, while eschewing the elitism found within the self-care industry with its obsessions with conventional beauty, ideal body mass and self-regard.
For Pattern Buffer, as with many of her previous installations, Disley will layer multi-sensory elements to create an environment that invites gallery visitors to make use of her art works, whether that is to pause and rest in comfort, share a hobby or take something from the space.
Reference points for her upcoming solo show Pattern Buffer include dominoes clubs, hair accessories as art, plants which survive from moisture in the air and the Holodeck, a device from the Star Trek science fiction series in which participants engage with different virtual reality environments. – Rick Leach
Linda McCartney retrospective
Walker Art Gallery, Liverpool
April 25 to August 31
One here for both Beatles' fanatics and fans of photography.
With a selection of over 200 images that depict both the swinging 60s and Linda McCartney's life at home with Paul and their children, the collection also features images depicting the natural world and surreal landscapes created by Linda herself showing off her skills as a photographer. – Michael Maloney
Sound City
Baltic Triangle, Liverpool
May 1 to 3
Sound City, returning for its 13th festival across the Baltic Triangle from Friday May 1 until Sunday May 3 has already revealed Pale Waves, The Blinders, Tim Burgess and Stealing Sheep among the first names of the 2020 edition.
It also includes The Lathums, The Mysterines, The Lottery Winners, Catholic Action and Liverpool songwriter Jamie Webster among the 2020 bill.
Further support comes from Abbie Ozard, Alfie Neale, Bessie Turner, Catholic Action, Diving Station, Dylan, Elm, Far Caspian, Fever, Grace Lightman, On Video, Para Fiction, Sam Calver, Social Contract, Sophie and the Giants, Talkboy and Wargasm. – Rick Leach
AND Festival
May 14 – 17
Manchester Ship Canal and River Mersey
Abandon Normal Devices' festival of new cinema, digital culture and art, and the UK's only roaming digital festival, takes to the water for the 9th edition, exploring the global trade gateway of the Manchester Ship Canal and River Mersey.
AND Festival 2020 will transform waterways, ports and docklands into temporary autonomous creative zones, unfolding along the water's edge at sites in Merseyside and Cheshire.
AND Festival 2020 will feature 4 days of unusual and unexpected experiences – immersive installations, augmented reality seascapes, virtual environments, floating experiments and immersive field trips – on boats, docks and ports. – Rick Leach
Pzyk 2020
North Docks, Liverpool
May 16
After a fallow couple of years, Liverpool Psych Fest returns under a new name and a new location moving from the Baltic Triangle over to the North Docks.
Although Pzyk 2020 has yet to announce any acts, its return to the Liverpool circuit will no doubt be eagerly anticipated by those hoping to see similarly illustrious acts that have appeared at the festival in previous years. – Michael Maloney
LightNight 2020
City-wide
May 17
One of the undoubted highlights of the year, Liverpool LightNight is back on May 17.
LightNight is Liverpool's one night arts festival – a time for visitors of all ages to come along and see the city in a new light with everything from large-scale light projections and live music to workshops and spoken word, art, crafts and theatre, street performance, walking tours, dancing and late-opening exhibitions taking place right across the city centre.
LightNight sees venues large and small, old and new stay open late to celebrate the incredible arts and culture on offer in Merseyside.
Each year tens of thousands of people take the opportunity to try something new; see something different; step out of their comfort zone; or just spend time with friends and family.
LightNight is part of Museums at Night, the national festival of arts & culture that sees cultural spaces around the UK open late into the night. – Rick Leach
Don McCullin
Tate Liverpool
June 5 to September 27
Across his six-decade career, Don McCullin has captured iconic photographs of conflict across the world, including Vietnam and Syria as well as snapshots of working- class realism in industrial areas such as London's East End and Liverpool.
This exhibition hosts many of these images, all developed in McCullin's own dark room, in addition to some memorabilia as helmets worn during such visits and even a camera which took a bullet for him in Cambodia. – Matty Loughlin
Positive Vibrations
Baltic Triangle, Liverpool
June 12-13
Liverpool's award-winning celebration of reggae music and Jamaican culture, Positive Vibration will return to the Baltic Triangle.
Since its inception in 2016, the festival has established itself as one of the country's most exciting and eclectic reggae events, playing host to internationally renowned bands, legendary sound systems and selectors and some of the brightest new talent in the genre.
In 2020, the festival will welcome some huge names to Liverpool, including Hollie Cook and General Roots, General Levy and Joe Ariwa and Neville Staple Band.
Also announced for the festival are: Mungo's Hi Fi Ft. Charlie P, African Head Charge, Mad Professor, Tippa Irie, Horseman Dj Vadim + Jman, The Upper Cut Band, Kiko Bun, Don Letts, Sinai Sound System and Levi Tafari.
Taking place on June 12 and 13, the festival also sees the return of the Reggae Q&A panel discussion, Jamdown Food and Drinks Market, Family Workshops and The Art of Reggae Exhibition. – Rick Leach
Liverpool Arab Arts Festival
July 9-18
Liverpool Arab Arts Festival was established in 2002 and is still the UK's premier annual Arab arts festival.
The festival brings a thrilling celebration of Arab culture to venues across the city and showcases the richness of Arab culture through a packed programme of visual art, music, dance, film, theatre, literature and special events.
We're promised full details shortly but for now this is one not to be missed. Pencil it in – no, ink it in- your calendars and diaries. – Rick Leach
Getintothis' Arts Diary- the pick of the best arts events every month
Louise Bourgeois in Focus
Tate Liverpool
July 30 2020 to May 15 2021
Louise Bourgeois is one of the most important figures of modern and contemporary art
Bourgeois (1911–2010) is widely recognised as one of the most important figures of modern and contemporary art. Her work ranges from large-scale sculpture and installation to painting and printmaking.
This display brings together works from her seventy-year career, which include Spider I 1995, Femme 2007 and Cell XIV (Portrait) 2000.
Louise Bourgeois' work is often biographical and centres around the theme of childhood, birth, loss, motherhood and gender identity. – Rick Leach
Liverpool Biennial
City-wide
July 11 – October 25
Ever a movable feast, 2020's Biennial event explores the notion of the body and how we perceive this beyond its sheer physicality.
Fantastically titled The Stomach and the Port, the region-wide exhibition explores the similarities the city of Liverpool shares with a living, breathing organism and consists of three themes; stomach, porosity and kin.
A highlight of any cultural calendar, so far only the details of part one (the stomach) have been leaked out, with the other two to follow in due course. – Matty Loughlin
John Moores Painting Prize 2020
 Walker Art Gallery, Liverpool
September 11 to February 14
Running concurrently with the Biennial but always holding its own next to the bigger arts program, the John Moores Painting Prize is a great snapshot of the contemporary painting scene and it attracts a wide variety of styles from abstract to portraiture, there's a style of art here for everyone.
Given that there's also a public vote for their favourite painting alongside the judges' vote and entrants are a mix of professional and amateur painters, it's one of the most inclusive arts prizes in the UK. – Michael Maloney
Comments
comments