Art-punk collective, Psycho Comedy look forward to the release of their debut album and Getintothis' Nathan Scally has the details.
Creative collective, Psycho Comedy, are set to release their long awaited and highly anticipated debut album, Performance Space Number One, on February 14.
To be released on Valentines Day, the record will be filled with passion for the city the outfit have called home and explored while growing as a collective since 2015.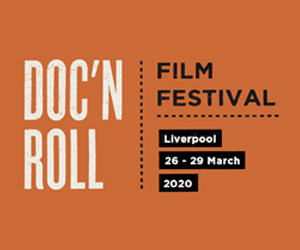 A self-proclaimed concept album, the six-piece have delivered both a love letter to their hometown and a coast to coast homage to New York City punk era in the 60's. Unlike records of similar creation, Psycho Comedy are using the chance to explore frontman, Shaun Powell's, conflicting pysche.
Recorded in a fraught atmosphere in Liverpool's Whitewood Studios, the band have looked to translate the drama and delusion of each session into each track.
The atmosphere can be partially put down to Powell's creative choice of self-induced insomnia, opting not to sleep before recording any vocals.
Set to be in a class of its own, the outcome of this unique process looks to bring a tense and troubling listen, true to their vision – which speaks volumes of producer, Rob Whiteley, and his ability to buy into their artistic ideals.
After recent praise for the duo of singles, Pick Me Up and Standin, from legendary taste-makers Steve Lamacq and Tom Robinson, the band are itching to release the vision fully into the world with Performance Space Number One.
Getintothis Social comes to District – a new free monthly night of music, poetry, quizzing and good times
Taking inspiration from the likes of the Stooges and Velvets, there is a clear call to the scene of New York in the 60's and 70's. With a scouse spin, Psycho Comedy, are bringing the sleaze of the era and mixing with the beat poetry they've become known for.
Half a decade in the making, they've crafted and developed a sound centred around the complex and cryptic, this album looks to ask questions for the listener to consider throughout.
Released through independent label, Silver Machine Recordings, the album is available on vinyl, cassette and all streaming platforms February 14.
Complete with live previews of whats to come, the band have already played Manchester's Gorilla and Leed's Brudenell Social Club with Mick Head in January.
And February will see them venture down South to play London's Earth February 2 – culminating with an album launch show at Phase One on February 15. And fans with a real passion for the record can collect a limited edition Valentines Day bundle at the show.
1. Where are you and what are you doing and how is that working out?
"At home on Berry Street, making coffee for my hangover and not working out."
2. What is your favourite view?
"I like the Chinese Arch from my window but in the world I guess The Bowery and St Marks Place In New York, I like the way the danger and grit is still etched into the scenery even if isn't the same place as I romanticise." 
3. When was the last time you did something you shouldn't have while drunk?
"Jesus Christ, every time I go out, I'd rather not talk about. Spending all of your money is probably something you should never do. Our generation will probably never learn."
4. When did you last get into an argument?
"With myself, earlier on."
5. When did you last shout at the TV?
"Watching Everton probably. Actually no, it was around the election time. Farage, Swinson and Boris Johnson have angered the whole country all year. I cant believe that we are still in Tory regime."
6. When did you last consider quitting social media?
"Everyday, but I guess being in a group and wanting to promote your Art, you need a platform. Its just 2019 isn't it? I would probably come off I wasn't in Psycho Comedy."
7. Did you have any hobbies as a kid?
"Me and our Brian loved Cricket as well as Football so we played relentlessly in our back garden in Kirkby. I was quite a decent bowler, I should of probably carried on. I was always into films and used to collect VHS, which I still have."
8. What was the first gig you went to?
"Yes! T Rextasy (T Rex tribute band) at Mountford Hall. I am so pleased that was my first show because even though it was a tribute band it was a rock n roll show and only being 10 years old that worked for me. The guitars all loud, glitter. It wasn't Marc Bolan but I didn't care. It was still mesmeric."
9. What's your hangover remedy?
"Watching loads of Comedy, Coke with Ice and Lemon then a milkshake."
10. What's your first memory?
"I cant remember really but I do remember going being to young to be in the Gladwys Street. The smell of weed and pies under 10."
11. What's your guilty listening pleasure?
"I like loads of 80s pop but I'm not guilty about it. Imagine feeling guilty? Fuck that."
12. Vinyl, CD, MP3 or Streaming?
"Vinyl because of the artwork and sound. But I wouldn't dismiss any form. Psycho Comedy have put cassettes out recently and in the past. By the way buy our record Performance Space Number, its out on the 14th Feb. Valentines Day, do the right thing."
13. Thanks for taking the time to answer our questions.  Is there anything else you'd like to say?
"Yeah thanks to Connor, Jack, Jack, Lydia Sophia and Ed for making it all possible with Psycho Comedy this year. Prosperity is in the air and hopefully 2020 and beyond is ours."
Comments
comments