Strange Bones tore a strip out of Phase One and Getintothis' Peter Goodbody was there to survey the damage.
What a fucking line up.
We first came across Strange Bones as a support slot at the Evil Blizzard mini fest in Preston last year. They were seriously impressive.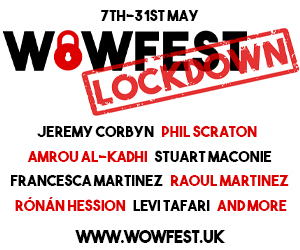 Dead Naked Hippies need no introduction. We've seen them a few times. They're seriously impressive too.
And Gen and the Degenerates. Yeah, guess what.
This is our kind of bill. In spades.
We've been away for a while, so it's good to get back to see a gig and this one sits right down next to us and buys us a decent pint of IPA. You're very welcome.
Gen and the Degenerates are pretty straightforward rock and roll. That's a good thing.
It's easing us in gently. Remember, we haven't been to a gig since before Christmas. Gen complains she has a cold – "Come closer and you can catch some of it", she says. We don't really notice any issue with her voice which still seems to have the required power to deliver this set of belters. All good so far.
The punters are enjoying this. And rightly so. It's ace. "I love you, I love you, l love you, but I love rock and roll more". We believe.
Dead Naked Hippies are next and can do no wrong in our eyes.
Lucy Jowett pummels out the songs as though she's fighting for her life. There are no half measures.
Phase One is probably the biggest venue in which we've seen the band play. It doesn't phase Lucy as she does her manic, robotic dances on and off the stage.
Full of aggression and punk power, this is a set that is surely worthy of a headline slot, even if we do know what's coming next.
Dead Naked Hippies' party trick is to have just the one guitar, drums and Lucy's voice. It may sound odd to read that, but they make enough noise to keep us happy. Shall we just say they were brilliant and leave it at that?
New single, Eyes Wide is a definite keeper. But the big question, asks Lucy, "Liverpool, are you primed and ready for Strange Bones?"
Well we're ready. And to be fair, so is most of the audience.
It starts at a breakneck speed and doesn't let up for 40 minutes so – we're not quite sure, we weren't timing the gig, but it seemed short. That's OK – make your point and don't labour it.
Like a sort of Beastie Boys on speed the band chugs through a set that makes no compromises to anyone or anything.
Strange Bones don't do things by halves or even 9/10ths.
It's an all out attack, running as fast as they can. It only takes three songs before front man Bobby Butters has his top off.
It only takes the one before he's jumped into the crowd. That will be repeated many times. The stage is no limiter here. It's a glorious kind of mayhem. It's in your face and personal. It's raucous, loud and angry.
It's good to be back. Thanks, Strange Bones. You were just what we needed.
Images by Getintothis' Peter Goodbody
Comments
comments