Reading five-piece Valeras headline a chilly evening in Sound, Getintothis' Steven Doherty is on hand with his gloves and scarf.
It's one of those evenings where we are so glad to see such a big crowd there so early to get a warm from the body heat, if nothing else.
Aligners are first up and have a set laden with decent radio friendly pop tunes.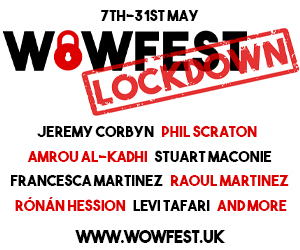 They look like a band with their eyes on the prize and they seem to have all the ingredients to get somewhere, wherever that would be for them.
Except for one thing. Their name.
As someone who has spent the day trying to find out more about them, but Google just gives me a page full of teeth related items, a change of name may be advisable.
Novacub are a band in demand having had numerous support slots, including the likes of Feeder and Kaiser Chiefs amongst others in the last year.
As such they have their half hour set off to a fine art.
It's so polished you can tell they are used to playing much bigger places.
New single November, with its almost tribal drumming, is the early set highlight.
Then things turn fiercer.
We Don't Care turns them from indie fops into angry young folk and it becomes both glossy and angsty at the same time.
Set closer Strike only accentuates the unspoken theme of the set.
We are watching half of Bloc Party up there (albeit the half that look like they might be a laugh) and the set overall has the spirit of them hanging over it.
Still enjoyable though.
Flaming Lips Liverpool Invisible Wind Factory date revealed as part of UK tour
Valeras are a hotly-tipped Reading five-piece who all met at a music camp in 2015, and tonight it shows.
In the absence of a behind-the-scenes dressing room, they do their collective pre-gig hug and superstitious clapping thing out there in the crowd, as if they're about to go and conquer Wembley Arena, it's very sweet.
But sometimes you can have too much of a sheen.
A band before their first album should be still a bit of a mess, but tonight they are polished to within an inch of their lives, leading to somewhat of a subdued opening, each song appearing as an already formed object, as the nods from the crowd that soon turn into heads standing still testify.
Playing With A Gun is an early mood changer, as Valeras try and get the crowd going.
Crashing is the best of the new stuff, with its lilting skank, strangely reminiscent of later No Doubt.
Intentions and Your Honey finally get the crowd going, as they start to play the ones they know.
The closer, new single Hear Me Out becomes an immersive experience as singer Rose Yagmur embeds herself within the healthy crowd, and leaves us with the over-riding feeling that if the band had let themselves go as much in the first 35 minutes than the last 5, then we'd be onto something.
Work in progress, but there's some nuggets already in there.
Images by Getintothis' Robert Gay
Comments
comments