Hurrah, everybody rejoice! Masterchef is back on the telly.
I know it may not be massively rock 'n' roll, but I love a bit of Masterchef. We may even call it my guilty pleasure.
I remember a few years ago on an internet forum where one person was arguing that there was no such thing as a guilty pleasure, that we should all feel free to like whatever we want without guilt and without suffering the slings and arrows of outrageous peer pressure.
Mind you, she then went on to post a link to a David Gray video, so she didn't really help her argument there.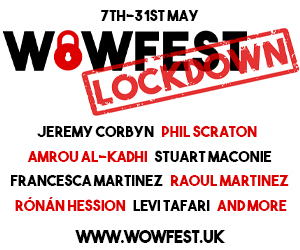 But if we were admitting to guilty pleasures Masterchef would be mine, despite the horror of regular sightings of Greg Wallace's sex face whenever he eats some chocolate.
One of the surprises of Masterchef is when we get people who are so wrapped up in the competition that they can exhibit all the signs of extreme stress induced breakdowns when a previous finalist we've all forgotten passes judgement on their ridiculously presented puree.
But my favourite moments are when a contestant bursts into floods of happy tears upon being told that the food they have presented is as good as they hoped it was going to be.
Well either that or when John Torode tries to say 'brilliantly' and falls over his own tongue halfway through.
The reason the former provides me with my most loved Masterchef moments is that I think there is a basic human desire to feel vindicated. For humans to be told that the food they have cooked, the book they have written, the song they have sung is good, that it is worthwhile, that their efforts have not been in vain and they they can feel justified in what they have done.
There is something about this that must appeal to a deep and primal instinct, a barely buried need to know that we have worth and we can create or do something that reflects this.
In the new songs we have discovered below, I suppose I am the Greg Wallace figure and the bands offering up the fruits of their labours are the contestants. I hope they feel vindicated by what we have to say about them.
And I hope I can get through this without making my sex face.
Prima Queen: Brownstone
Prima Queen are led by best friends Louise MacPhail and Kristin McFadden, who hail from Bristol and Chicago respectively.
As Prima Queen they make thoughtful vocal-driven music that sounds to these ears like being taken back in time to the 90s, but with a modern sheen and sensibility.
Brownstone is about fantasy, with the band saying "I think the song is about getting older and being disillusioned by the unrealistic depictions of love/relationships on TV/in the media, but knowing deep down you kind of want to live that fantasy."
The repeated chorus of "I don't believe in the American Dream' also hints at the disillusionment that can come with that realisation.
Brownstone is a bittersweet song that gets under your skin and stay in the memory.
Prima Queen are set to support Big Moon on their UK tour. We look forward to seeing them.
Wyldlife: Kiss and Tell
New York punk glam band Wyldlife get off to a good start by namechecking Oasis and Stone Roses in their press release. Not that this is particularly evident when listening to Kiss and Tell.
It is a no nonsense punk pop song with insanely catchy vocals and a good stomping drum beat.
The chorus 'I'd rather be ignored than be adored" twists the Stone Roses lyrics back on themselves and adds a sense of mischief to the song.
Other references are made to the Stooges, Rolling Stones and Rezillos, which gives us a feel for where Wyldlife are coming from.
Don't expect to hear anything new or revolutionary, but do expect to hear good time punk/rock that is pretty much guaranteed to get you moving and singing along.
Wyldlife's sense of fun is gloriously contagious.
Doc'n Roll Film Festival: five unmissable music documentaries at FACT and BME
Wharf: Ghost Town
London based quartet Wharf offer up a hugely impressive slice of epic indie. Echoes of Editors and The 1975 abound and I for one can see no reason why this shouldn't take them to similar levels of acclaim.
Wharf seem to be fully formed and ready for take off and Ghost Town is a song we can easily imagine blaring out of a thousand windows on a hot summer's day or, even better, off a festival stage.
This band are writing songs that deserve this kind of platform and, personally, I may well have found a new obsession. At the very least I have a new band to look out for and maybe, just maybe, fall in love with.
Wharf walk away with top honours for this edition of  Unknown Pleasures.
Hunt them out, track them down and see them live soon so you can brag to your kids about it in a few years' time.
Zachery Allan Starkey: Xxx
I'm going to be honest, I didn't want to like Zachary Allan Starkey although 'm not quitesure why. Perhaps it was the three names, the studied pose of the accompanying photograph or the fact that this track features Bernard Sumner of New Order, but it seemed a bit contrived.
But Xxx is an good old fashioned electro floor filler. It is unashamedly retro, with both feet planted on an 80s dance floor, but it has an irresistable four-to-the-floor and a memorable hook.
I'm not sure I can figure out what Bernard Sumner is actually doing on Xxx. Maybe that's him shouting out the song's title, but maybe not.
Whatever, Mr Starkey seems to be well connected and he seems to know exactly what kind of music he wants to make, which is always a good thing.
If you have ever lost yourself to an electro groove on the dancefloor, try doing it again to Xxx.
Comments
comments