Doc'n Roll is back for 2020, Getintothis' Vikki Gregorich previews the highlights of the space where music aficionados meet documentary devotees.
For the fifth year in a row Picturehouse at FACT and the British Music Experience will bring five fascinating films to Liverpool for the Doc'n Roll Festival, running from March 26 to 29.
Be prepared for this year's Doc'n Roll to take you on an emotional journey through the decades, starting in the 60s with the outrageous David Crosby: Remember My Name.
We jump to Africa in the 70s straight into Zamrock with W.I.T.C.H, then fly back to the UK for the award winning, and timely, Rock Against Racism documentary  White Riot.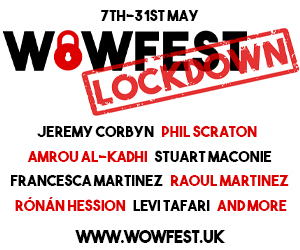 The Rise of the Synths will remind us of the 80s but the Doc'N Roll programme brings us right up to date via the 90s after the bass drops with The Rest is History – The Early Days of Drum & Bass. 
Supported by the BFI, Doc'n Roll seeks to "grow audience appetite and enjoyment for a wide range of independent British and international films."
Launched in 2014 by founder Colm Forde, its mission is to show long-overdue love to the many under-the-radar music docs that risk-averse film programmers tend to ignore. 
Forde says: "I'm delighted to present our film programme for the 5th Liverpool edition of Doc'n Roll. Focusing on musical outliers, this year's selection of films, including works by first-time directors, is a testament to the power of music as a universal language of hope and inclusion."
Exit Music (For a Film) #5: what is the use of Awards Season?
The Rest is History – The Early Days of Drum & Bass
Thurs March 26, 6:00 pm – FACT Picturehouse
Dir. Pete Costigan, 2019, Canada, 111 mins
The Liverpool Premier of this insightful film reflecting on the early years of jungle and drum & bass, from illegal raves to the dark club sounds of Optical and Ed Rush through the evolution into the hugely influential underground art forms they are now.
The film contains interviews from some of the genres' pioneers, including Micky Finn, Ray Keith, Dillinja, Ragga Twins, Paul Ibiza and G.Q and there is a Q&A panel discussion with Andee J DJ (100th Monkey owner).
White Riot
Thurs March 26, 6:30 pm – British Music Experience
Dir. Rubika Shah, 2019, UK, 80 mins
London Film Festival winning documentary, White Riot, showcases the beginnings of the Rock Against Racism (RAR) movement. RAR's multicultural punk and reggae gigs provided rallying points for resistance.
The campaign grew from Hoxton fanzine roots to 1978s huge antifascist carnival in Victoria Park, featuring X-Ray Spex, Steel Pulse and of course The Clash, whose rock-star charisma and gale-force conviction took RAR's message to the masses.
White Riot blends fresh interviews with queasy archive footage to recreate a hostile environment of anti-immigrant hysteria and National Front marches.
The Clash at London's Victoria Park – 40th Anniversary of Punk's Woodstock
Feature followed by Q&A with a member of Rock Against Racism.
W.I.T.C.H
Friday March 27, 6:00 pm – FACT Picturehouse
Dir. Gio Arlotta, 2019, Czech Republic, 90 mins
It's time you discovered Zamrock, where traditional African music meets psychedelic funk. This film follows the reformation of WITCH (We Intend To Cause Havoc), Zambia's most popular rock band of the 1970s.
The film explores the life of a former African rock-star, Jagari, and the excitement around the rediscovery of his music by Western fans, many of whom had yet to be born when his last album was released.
Bring your dancing boots, this feature is followed by a DJ set (Positive Vibrations).
The Rise of The Synths – A Synthwave Film
Sat March 28, 6:00 pm – FACT Picturehouse
Dir. Iván Castell, 2019, Spain and USA, 78 mins
Narrated by iconic director John Carpenter, The Rise Of The Synths is a journey back and forth in time, from the roots of this scene to its impact on today's pop culture.
Synthwave is an irresistible blend of 80s nostalgia and music; spontaneously created by anonymous composers collaborating over MySpace.
+ Q&A with Pretty Glass Folk, one of the UK's brightest Synthwave acts.
David Crosby: Remember My Name
Sat March 29, 2:30 pm – FACT Picturehouse
Dir. A.J. Eaton, 2019, UK USA, 95 mins
Director A.J. Eaton and producer Cameron Crowe explodes myths and sheds new light on all the music, politics and personalities that have crossed David Crosby's path.
This is an honest and redemptive journey back to music from an uncompromising spirit whose voice has been harmoniously woven into the fabric of pop culture and music royalty since the mid-1960s (first with the Byrds but most famously as a founding member of the supergroup Crosby, Stills, Nash & Young).
Crosby is a masterful raconteur and unsparingly self-aware survivor.
Trailers
Comments
comments