Sarah Records, the 1980s home of twee indie pop made some superb records, Getintothis, Si Jones picks out ten of the best.
All the worst excesses of Thatcherism were truly thriving in 1987.
A music industry full of sleek inspirational stars echoed the hollow sentiments of the decade. Scattered around the UK though a few disparate misfits and outsiders were beginning to find their voice.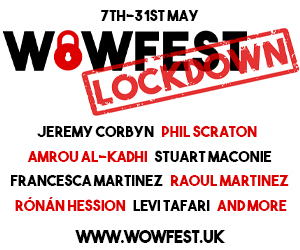 The much lauded NME C86 cassette had given us the proto Stone Roses pop of Primal Scream's Velocity Girl and a post punk DIY ethos forged by Factory, Rough Trade and Postcard Records had spread around the UK courtesy of a burgeoning cartel of devotees.
They had proved that pop music can exist on its own terms outside of the mainstream and on scratchy seven inch vinyl it found a home in Bristol.
In a city that will be forever defined by the world conquering collective vibe of Massive Attack, a young pair of fanzine writers were living on the wonderfully named There and Back Again Lane.
Clare Wadd and Matt Haynes met as students both selling zines at sparsely attended gigs around the UK. A burgeoning relationship lead to them collaborating on the ultimate in disposable pop music, the flexi disc.
However, it was a peak Thatcherite concept that gave them an unlikely opportunity.
It is doubtful that alternative music was high on the Tory agenda when they conceived The Enterprise Allowance Scheme, but it gave two struggling writers £40 a week, a couple of book keeping lessons and they were away with their own label.
They called it Sarah.
Free of any constraints they were able to release records they loved on their own terms.  The initial rush of seven inch singles complete with photocopied sleeves and swirling images of iconic Bristol landmarks at their centres are a revelation.
From the crystalline pop of The Sea Urchins to the pastoral eclecticism of the Field Mice this is DIY pop music at its most wide eyed and optimistic.
The whole enterprise was run with a passion and a diligence that marks them out from their peers. Handwritten notes popped in sleeves, inviting people around the country to write to them and get on board with their manifesto.
The records kept coming and the signature sound of chiming guitars and lo-fi harmonies developed to include spiky punk from Golden Dawn & Boyracer, proto Riot Grrl and sparse downtempo melancholia.
As pop kids became converts and fervent fans, the press and the rest of the music industry seemed rooted in disdain and bemusement.
The NME reviewed one Secret Shine single with 'This is not music, This is Cancer'
Even the more right on hacks at the time couldn't seem to fathom that a woman was running a record label, on her own terms.
The people got it though and it became a welcoming refuge for the disaffected, an inclusive haven of inclusivity wearing their politics on their sleeves, or lapels in the form of the iconic  cherry adorned badges.
NME's Ruby Trax compilation: A gathering of indie clans that defined an era in music
What followed was eight years and a perfectly symmetrical 100 releases.
These developed from the original 7 inch format to include some outstanding albums, a handful of 10 inch singles and the much sought after Saropoly board game.
By 1995 indie was in a very different place. Britpop was swaggering and alternative had been co-opted by the majors to soundtrack a big communal end of the century singalong.
This was not for Sarah. They embraced the end and left on their own terms which also coincided with end of Clare and Matt's relationship.
A chaotic farewell Bristol boat gig and a full page advert in the NME was their obituary. "Nothing should be forever, It's ours to create and destroy how we want and we don't do encores."
Amen.
In homage, we present a Sarah Records top ten, in chronological order:
The Sea Urchins: Pristine Christine
Sarah001
An absolute chiming statement of intent and a blueprint for what was to come. Three minutes of lo-fi pop perfection incorporating oblique harmonies and jangling guitar lines.
This was an immaculate introduction to the Sarah manifesto,
A six piece band from a provincial town in the West Midlands able to channel 1960's heartbreak and punk spirit and capture it in a swirling 7 inch haze.
One of the few Sarah singles to hit 'Single of The Week' status at the time the song has resonated with future generations and the limited nature of the release finds copies regularly changing hands for £350.
A touchstone for disaffected pop kids the world over.
Another Sunny Day: Anorak City
Sarah003
The phrases shambling and anoraks were often used as lazy catch all press taglines about Sarah bands.
Here Sarah mainstay Harvey Williams seems to pre-empt any of this with a knowing nod and a wink on this feedback soaked flexi disc.
The somewhat ephemeral idea of flexi discs apparently appealed to Matt and Clare – you love it, you play it, and then it disintegrates. "We'll stay to the end of time in Anorak City"
The Springfields: Sunflower
Sarah010
On their tenth release Sarah go truly international singing Illinois The Springfields, an impressive feat considering the deal was done across the Atlantic from a phone box and a massive pile of those huge old school ten pence coins.
The track is 60's pop in its purest, opening with a sweet jangling riff that gives way to beatific harmonies that sound more akin to Memphis studios than DIY indiepop.
The Field Mice: Emma's House
Sarah012
The Field Mice always felt like the one band on Sarah who could have signed to any label in the world.
Here Bobby Wratten manages to combine balletic guitar lines whilst making homespun drum machine beats sounds cathartic and welcoming, after looping verses a chorus soars without ever seeming it was trying to.
The whole EP is a pretty much flawless contemplation on love and loss from a point of view of wide eyed innocence.
We cannot believe this was a debut EP. An audacious introduction.
East Village's 'Drop Out' revisited: a reassessment of a lost 90's classic
The Wake: Crush The Flowers
Sarah021
Factory records loomed large over 1980's indie and in the shape of Glasgow band The Wake,Sarah managed to pick up an inspired free transfer.
After recording a handful of releases for Factory with Martin Hannet, they were deemed persona non grata at Factory and welcomed in Bristol.
Here the austere synths are tempered with two part harmonies and a dash more playful vibe than their early Manchester roots.
Brighter: Does Love Last Forever?
Sarah027
Brighter were an act steeped in the classic Sarah sound.
This is an absolute sugar rush of a track tucked away on the B Side of the Noah's Ark single.
Chiming guitars and soaring choruses that could be dropped straight into a classic period REM album.
The Orchids:Something for the Longing
Sarah029
The Orchids were a real mainstay on Sarah and the emblematic band of the label.
They went on as much of a journey as the actual label from Glaswegian melancholia to harmony laden pop and the incorporation of bubbling electronica.
Heavenly: Our Love is Heavenly
Sarah041
Heavenly arrived out of the ashes of the much loved Talulah Gosh.
More than most they always seemed to be labelled the dreaded four letter word of twee. Over the last few years people have reclaimed this pejorative term and turned into a badge of honour.
This is lovely, all playful guitars and lyrics full of the optimism of new relationships.
Twee as fuck.
The Field Mice: Missing The Moon
Sarah057
A huge departure in more ways than one, here The Field Mice embrace the house scene on a 12" single of all things.
Lush synths and harmonies and a dancefloor worrying drum machine sees Bobby Wratten getting with the zeitgeist.
The crossover appeal lead to an NME single of the week and just as the band were poised to headline their biggest ever show at Tufnell Park  and looked on the verge of becoming anti superstars they quit.
They even went as far as playing a new, unreleased track at their last ever gig. A very Sarah way to bow out.
Secret Shine: Loveblind
Sarah071
Proving that Sarah were not immune to adapting to emerging new sounds here they embrace the burgeoning feedback drenched sound of shoegaze.
Ethereal harmonies and a driving beat echo the sound being pushed by Creation acts such as Ride and My Bloody Valentine.
A true lost classic.
;
Comments
comments