Our single of the week comes from Damien Jurado as Getintothis' Naomi Campbell sifts through the new releases.
Amongst the glam and success of working as a full time musician you can easily find the mundane, usually in the form of requests to play Belter from the freshest stag party to arrive at the weekend.
So I was particularly glad to get my ears wrapped around some fresh new releases and ignore the distant pecking of old worn out song requests thrown my way for a few days.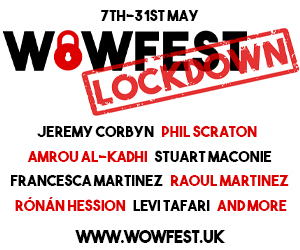 Sadly the mundane hasn't quite stopped there as the consistent ping of my inbox filling with new music also came with the reminder of our current social, political and economic struggles.
Songs full of angst and despair reaching out to us, trying to help us, the listeners, understand how we are getting eaten up by technology and forgetting to live our lives.
Alas, such has always been the work of the songwriter, the messenger. Perhaps that's why we do enjoy our old pub gig covers so much, they take us back to a time when issues surrounding the lyrics weren't ours to face.
So here are my picks for this week's singles club albeit with a few good old fashioned acoustic swoons thrown in to soften the blow.
Damien Jurado: Birds Tricked Into the Trees – Single of the Week
Seattle folk genius Damien Jurado has had his fair share of releases over the years with What's New Tomboy? being his 15th self-produced studio album to date.
Birds Tricked Into the Trees was an apt choice for the album opener luring us into all of what's good about Jurado's voice, not a pure sound but raw and full of character, which could be the rewarding result of a 25 year career in the industry.
Embedded in the comforting sounds of an organ the bass moves and pulls the track throughout its two and a half minutes, Jurado explains the simple production decision: "The bass is pushed into the foreground, acting as both a mediator between harmonics and an autonomous entity sprawling across the canvas. It's very Paul McCartney-esque… very dry, with the bass mixed in very loud."
A gem in that it's as unexpectedly sweet as it is short and you don't quite realise until it's over and you want to listen again and again.
Witch of the East: Fools Paradise
Dark vibes are looming in Leeds, and Witch of the East's latest single Fool's Paradise is responsible for casting them.
After Leeds based Aeris Houlihan left her band Chambers, she teamed up with ZERA TØNIN and Michael McManus to inject some dark gothic vibes into a moody grunge-tinged stormer of a debut album 'Queen Of Insecurity'.
After spending the year playing incendiary shows around the UK and Europe Aeris gathered up her crew to set upon album number two.
Henry Jamison feat. (Jospeh): Still Life
In a dream studio production with scattered diamonds of pedal steel, a string section and slide guitar glistening against sweet background vocals Vermont singer-songwriter Henry Jamison hasn't missed a beat for new single Still Life.
Taken from his forthcoming collaboration EP Tourism, Still Life features guest vocals from Joseph, their gritty and punchy lyrics based on relationship regret, "It's a pretty bombastic take on my failure to value what I had" says Jamison.
Avi Kaplan:  I'll Get By
After leaving a ccappella group Pentatonix in 2017, Nashville based singer-songwriter Avi Kaplan has been taking his time crafting the EP I'll Get By, the first release under his own name.
Under a mountain of slow-building acoustics and Mumford & Sons style backing vocals in the chorus' we can still find Kaplan's authenticity in his earnest lyrics "I'm tired and growing weary of these clouds that follow me. Swallowed by the shadows, when it's sunshine that I need."
Simon & Garfunkel's The Boxer influenced crashing cymbals and a whistle outro take us with Kaplan to the sounds of his roots in the hills of California where he was originally inspired for I'll Get By.
Unknown Pleasures #204 ft Lynn Olagundoye, Chouk Bwa, Cécile Doo-Kingué
The Wants: The Motor
Soothing melodies and warm acoustics aside, The Motor taken from techno three piece The Wants' latest LP Container is a post-punk meets new wave fantasy from start to finish offering something for everyone.
Following a foreboding bass synth we are introduced with the words "let's go fast" and it's all systems go, what follows can only be described as a sonic roller coaster.
The instrumental parts are sparse but the arrangement builds in such specific detail to give the track a full bodied effect, the synths and guitar parts speeding up alongside choppy, spoken word.
Everything about The Motor is clean cut, polished and exciting from the razor sharp synths and guitar tones down to the shipping container turned home studio the album was recorded in.
The debut self-produced album Container will be released on 13th March via Council Records.
Blóm: Be Kind
Whilst we're at it let's get even more gritty with the raw energy of Geordie punk newbies Blóm, who may as well jump out of the screen of whatever device you are listening on and physically grab your attention with their debut single Be Kind.
A disturbing, white noise-sounding signal surrounds a building drumbeat before the distressed vocals come instantly conveying an important message, a reminder to "be kind to yourself and others, even though this is not always the easy or automatic route".
Unsettled and frantic, bold and defying the track explores creativity in that its message is simple and clear but as the eccentric musical presentation suggests it's not always that easy to get it to sink in.
Be Kind is the lead single release from debut album Flower Violence released on the 1st May. The trio will support PIGS PIGS PIGS PIGS PIGS PIGS PIGS in April on their UK tour.
Sophie Morgan: Bar To Bar
Cheshire singer songwriter Sophie Morgan has spent the last few years expanding her repertoire whilst gaining a loyal fan base.
Morgan has a gently sculpted voice but knows how to bend notes and punctuate words to her benefit in new single Bar To Bar, backed by the warm tones of Archie Faulks, who co-wrote the track.
The song is delicate in its onset, sounding almost as though it's being played live in the room with a close miked guitar and crisp, honeyed vocals before the drums quickly introduce a homely chorus.
Sophie will be supporting Seafret on their UK tour next month and has announced a headline show at Liverpool's LEAF on Thursday 9th April.
The Peach Fuzz: Softie
Liverpool's own modern day psych rockers are back with new single Softie ahead of their debut headline UK tour later this month.
Similar to previous release Pieces, Softie is an easy-listener with swarming instrumentation surrounded by reverb soaked vocals.
The perfect introduction to spring with nostalgia ensuing guitar riffs and descending synths it's easy to imagine this one getting played out as you lay down in the park with a few cans of something spritzty.
Dirty Projectors: Overlord
Brooklyn six piece Dirty Projectors have released their latest single Overlord, an organic and addictive insight into the magic they've created in the studio with their recently expanded line up.
Yet another single which subtly, but not so secretly ponders over the brooding fear of the modern world where technology oversees all.
The juxtaposition of sickly sweet intertwining harmonies against poignant lyrics "how can you try to help me" result in an effortless slice of comfort, packed with warm instrumentation including an upright bass and congas.
The Sway: Changing
Another one to enjoy on that grass with your bevvy this summer with vintage effects and de-tuned sounding electric guitars taking us through a colourful sound palate.
The local lads will take their harmonies and 90's tinted guitar riffs to the Arts Club on 6th March for a sold out headline show.
They will also play Sound City later in the year along with 12 other acts chosen as part of Sound City's talent development initiative project.
Dan Croll: Actor with a loaded gun
This scouser made a significantly apt decision to go stateside in 2018, a decision that has seen his music adjust, just as he has to the fluid LA lifestyle. With the release of two new singles we too get a taste of that American sunshine.
Acoustic psych-pop gem Actor with a Loaded Gun sees Croll trying to adjust to LA life, attempting to make friends in a city full of aspiring actors whilst taking his inspiration from the music of James Taylor and Joni Mitchell.
The Paul McCartney mentored song-writer takes his awe struck experiences in the big smoke and turns it into his own masterpiece with doubled vocals and an alternating arrangement that sees atmospheric sections suddenly strip back down to vocals and acoustic guitar.
Porridge Radio: Circling
Circling is the latest single from Brighton psych outfit Porridge Radio, with a dreamy intro playing around with the idea of being underwater with an exaggerated vocal moving the track along at a slow pace.
No, you haven't stepped into the 60's or an LSD trip, only perhaps if you close your eyes and listen intently.
In a nod to the recurring mention of the 'sea' the track comes complete with a eerie merry-go-round sounding mid-section at 1.39, reminiscent of The Beatles Benefit of Mr Kite.
Distorted vocals from lead singer Dana Margolin retort 'everything's fine and you're okay' in a stream of consciousness style mirrored with backing vocals before exploring into a more urgent tone as the track comes to an abrupt end.
A hypnotic piece in which Margolin explains she "tried to follow the feeling of the flow of waves, and how they keep coming in endlessly, washing everything away without judgement".
Circling is taken from the upcoming album Every Bad, released 13th March via Secretly Canadian.
Porridge Radio will kick off their Spring/Summer tour with an in store at Liverpool's Phase One on 6th March.
TOPS: Colder & Closer
Clean cut synths, air tight vocals soaring around atmospheric soundscapes? You guessed it; it's another summer sizzler from Montreal four-piece TOPS.
Colder & Closer has delicately combined modern pop with all we love about the 80's through Madonna-esque tepid vocals and chimes in the choruses.
A pleasure to wrap the ears around, oozing all the qualities of a pop single that has you hooked.
The album I Feel Alive will be released on April 3rd via Musique.
Comments
comments