In this month's theatre column, Getintothis' Ally Goodman raises the curtain on dramatic performance across the region.

'Subjects that you wouldn't associate with a good night out' seems to be the running theme through our March picks for the Stage Door. So strap yourselves in because we've got a cholera outbreak, racism, being scared half to death and the oppression of the working class to cover this m…wait, where are you going?
In all seriousness though there really are some cracking productions across Liverpool and the North West this month.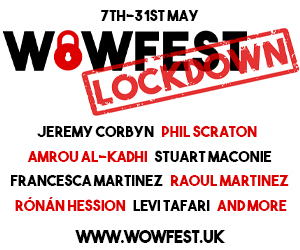 One thing that this column has opened our eyes to is the rich offering of theatre that we're blessed with at the moment.
We might have to start doing an 'honourable mention' section at the end of these, moving forward.
We're kicking things off with a show full of jump scares, so keep your volume down if you're wearing headphones.
Enjoy.
Ally Goodman, Theatre Columnist.
Ghost Stories
Playhouse Theatre, Liverpool
March 31 – April 4
Horror seems to be something very hard to get right on the stage. There's no end of thrillers and tense dramas in the Samuel French publishers back catalogue, but true spine-chillers with gasps and screams in abundance? A much rarer beast in theatre land. Aside from The Woman in Black, very few seem to have broken into mainstream consciousness at all.
Ghost Stories will leave you wondering why on earth this is the case.
It's an astounding piece of theatre that makes terrifying an audience look effortless in its execution. The pacing, performances and use of the venue space was truly something to behold when we had the pleasure of catching this during its West End run at the Lyric. Now in 2020 it returns to Liverpool, where it first started terrifying souls a decade ago in its debut run.
Liverpool Arts Diary: Comic Con, La Dolce Vita, street poetry – March 2020
Anyone familiar with illusionist Derren Brown's stage specials will recognise Andy Nyman's fingerprints all over this one. The show's co-writer collaborated with Brown on four of the mentalist's live spectaculars and he clearly knows how to keep an audience on the edge of its seat.
But honestly, the less said in advance about this Olivier-nominated production the better. No spoilers here. Sit back, (try to) relax, and prepare yourselves for something very special.
Please note: Ghost Stories contains moments of extreme shock and tension. The show is unsuitable for anyone under the age of 15.
Sweet Mother
Royal Court Theatre, Liverpool
March 13 – 14
Certain actors in the industry who want to proclaim loudly on Question Time that they feel racially abused when being called out as 'privileged white males' would do well to see Sweet Mother at the Royal Court this month.
The show is an ongoing oral history project charting the stories of local white women from the L8 community who fell in love and married black men in a time of racial unrest in the 1960s and 70s.
It specifically follows four women who became life long friends when they met in their young years. They all had two things in common: interracial relationships and the community that they made their home.
Based on real events that highlight the women's lives through verbatim accounts, this will no doubt be a fascinating and timely insight into the racial tensions that were so prominent in our city a whole two decades before the rising of the Toxteth riots.
Liverpool gig guide: Psycho Comedy, Jade Hairpins, Hundredth and more
Kitty: Queen of the Washhouse
St George's Hall, Liverpool 
March 7
Not many shows will have played Norris Green before going on to London and New York City. But then this celebration of one of our own famed Liverpudlians, Kitty Wilkinson, is no ordinary show.
The story of Wilkinson, whose community efforts for public hygiene helped stem the outbreak of cholera in the early 19th century, leading to the opening of the first combined washhouse and public baths in the UK, toured a whole host of local schools last year, including St. Vincent de Paul, the site of her original washhouse.
Now this wonderful show returns for one night (and matinee) only to St George's Hall, the home of not only the play, but the statue of Wilkinson herself, which stands proudly in the building's Great Hall.
UK Music Festivals 2020: guide to line-ups and best festivals
The show is a brilliantly creative production with shadow puppets and gorgeous special effects helping tell the life story of the woman who came to be known as the 'Saint of the Slums'.
Liverpool talent is abundant throughout the show, from writer John Maguire to Sam Walton as Kitty herself, and anyone wanting to learn a bit more about one of the city's true heroines, whilst being thoroughly entertained, should bag themselves a ticket for this one while they can.
The Gallery closes and Baltic Triangle loses a key space for adventurous art
Undermined
The Brindley, Runcorn
March 28
Danny Mellor's self-penned one-man show, based on true stories of the 1984 miners' strike, shines a light on a part of working class history that really should be taught in schools, and not just those in colliery towns.
But whilst the likelihood of that remains slim (especially if the Government want the likes of Wrexham and Blyth Valley to remain blue for the time being) this story of picketing miner Dale aims to bring together the personal and the political of this massive industrial action that changed the country forever.
Set to a classic 80s soundtrack, the production's tagline of 'one man, one chair and one pint' highlights the fact that sometimes less is more when the source material of a show is as vividly emotive as this.
During its Edinburgh run, the show earned 4-stars from the Scotsman and was described by the Fringe Review as "part pit poetry, part storytelling of the highest order and intently theatrical".
This one might not come around these parts again for a while so don't miss its one-nighter at The Brindley this month.
HEDDA
The Arts Centre, Edge Hill University
March 23 – 24
Whether you're familiar with Henrik Ibsen's classic of realism Hedda Gabler or not, this queer re-imagining of the tale from director Jen Heyes starring avant garde performance artist David Hoyle promises to be a strikingly fresh take on the source material.
Heyes has been working closely with the film and animation department at Edge Hill and has promised 'a very visual, cinematic production' of this tale of isolation, oppressive love, suicide and mental health.
"I've been obsessed with doing this play," Heyes said. "Hedda Gabler challenges conventional ideas of femininity and established patriarchy, making it a perfect fit here in light of Edge Hill's proud history of promoting the rights of women."
If you missed the technicolour whirlwind of talent that is David Hoyle when he was last in Liverpool hosting the now sadly missed Liverpool Mental Health Festival at the Philharmonic, make sure you catch this unique performer when he takes the lead on the Arts Centre stage at Edge Hill.
The Navy Lark
Epstein Theatre, Liverpool
March 16
Until going to see The Hitchhiker's Guide to the Galaxy at the Empire in 2013, we'd never seen a radio play performed live on stage. In all honesty,we weren't sure how it would work. Why wouldn't we just listen to the thing at home with a brew and eliminate the risk of the person next to us being an annoying, constant whisperer, or even worse, a loud chewer?
I'm certainly glad that my love for Douglas Adams' masterpiece brought me to Liverpool that night though because it opened my eyes to a whole new genre of stage performance. Granted, it's one that lives and dies on the charisma of its cast and their ability to connect with their audience from a standing position behind a microphone, but when it's done well it's absolutely electric.
Deep Cuts #35: Borth, Lucy Gaffney, The Kairos – best tracks February 2020
The original radio series of The Navy Lark ran for nearly twenty years (1959 – 1977) and featured the frankly ludicrously good cast of Leslie Phillips, Dennis Price, Ronnie Barker and Jon Pertwee.
Now returning to the stage for the first time in decades, modern audiences can enjoy three episodes of the classic sitcom, set aboard a British Royal Navy frigate, for one night only at the iconic Epstein Theatre.
Cheshire Cats
Theatr Clwyd, Mold
March 4 – 7
Chester playwright Gail Young has an incredible talent for taking subjects that have no right to work as comedies and creating stories that are both hilarious and moving in equal measure.
Among her back catalogue are scripts taking on the unlikely subjects of dementia, silver splitters (the rising trend in older couples seeking divorce), and even amateur netball, yet every single one has been a hit not only in North West theatres but across the country.
Cheshire Cats was Young's full length debut – first performed back in 2005 – and focuses on a group of women brought together in a quest to speedwalk their way to fundraising success in the London Moonwalk.
Be warned however; the frequent laughs do make way for some heart breaking moments throughout so this is one you may need to pack the tissues for.
Comments
comments