Buzzard Buzzard Buzzard have released details of a new EP along with single Hollywood Actors, Getintothis' Alex Holmes with the news.
Welsh glam rockers Buzzard Buzzard Buzzard have announced their new EP, Non-Stop, with new single Hollywood Actors this week.
Championed by none other than the legendary Iggy Pop and the BBC Introducing's Huw Stephens, Buzzard Buzzard Buzzard stormed our very own Deeper Cuts festival (remember those?) last summer, finishing the year leaving an impression on our man Cai Thomas at Jimmy's in Liverpool.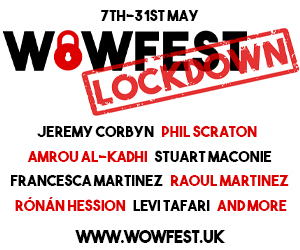 Hollywood Actors was written on an old organ and drum machine in guitarist Tom Rees' flat, a reference to Rees' fascination with Tinseltown; "I suddenly realised that everybody is just acting, and the whole film becomes completely surreal and you realise how mental the film industry is. I started applying that perspective in everyday life and the similarities were haunting, I felt like everyone around me was acting".
Starting as a bedroom project for Rees, the band – completed by Rees' brother Eddie, guitarist Sac White, and drummer Ethan Hurst – have gone on to support Miles Kane and the Magic Gang as well as hosting their own club nights in their native Cardiff.
The current coronavirus epidemic might have called a halt to their planned live dates (including a spot supporting Noel Gallagher at the Teenage Cancer Trust show at the Royal Albert Hall), but rescheduled headline dates mean the band will be back on tour in September.
Liverpool gig guide: rescheduled shows including Paul Weller, Porridge Radio, Elbow, Nap Eyes, and more
The EP, their debut release since signing to Communion – the label who brought us Michael Kiwanuka and Catfish and the Bottlemen – features Hollywood Actors alongside recent single John Lennon is my Jesus Christ.
Rees added: "I'm so happy these songs are finally getting some air, especially on such an amazing label as Communion. They've been knocking around with us for two or three years now, so it's really exciting to have them coming out for everyone to enjoy".
 Non-Stop is released on July 10.
Double Denim Hop
Late Night City
Stockholm City Rock
Hollywood Actors
Theme From Early Morning City
Long Day / Free Day
What Is Hate?
John Lennon Is My Jesus Christ
Theme From Late Night City
Sugarloaf Mountain Crucify Me
Comments
comments