King Gizzard & The Lizard Wizard announce feature-length film Chunky Shrapnel, Getintothis' Claire Cook tells us more.
King Gizzard & The Lizard Wizard have announced details around the release of their latest film project, Chucky Shrapnel, featuring live performances from their 2019 European tour, set to be released on April 17.
The band will also be releasing a live album to accompany the film on April 24, featuring performances recorded in Manchester, Milan and Brussels.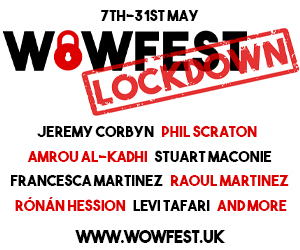 Directed by John Angus Stewart, Chunky Shrapnel follows King Gizzard's "adrenaline-inducing onstage performances" from the band's perspective.
On making the film, band member Stu Mackenzie said: "It was fun and funny and wild and weird. Sometimes an inconspicuous fly on the wall, sometimes an intrusive camera man one inch from my face. Always exciting though. Chunky Shrapnel was made for the cinema but as both concerts and films are currently outlawed, it feels poetic to release a concert-film digitally right now."
Chunky Shrapnel is described as an on stage experience from the perspective of King Gizzard & The Lizard Wizard, with the music taking centre stage, rather than the inner workings of the band.
Prior to the live-streamed premiere, King Gizzard plans to engage with fans during a Reddit AMA on April 17, 8pm GMT.
Chunky Shrapnel album track list:
1. Evil Star
2. The River (Live in Luxembourg '19)
3. Wah Wah (Live in Madrid '19)
4. Road Train (Live in Manchester '19)
5. Murder Of The Universe (Live in Utrecht '19)
6. Quarantine
7. Planet B (Live in London '19)
8. Parking (Live in Brussels '19)
9. Venusian 2 (Live in Milan '19)
10. Hell (Live in Milan '19)
11. Let Me Mend The Past (Live in Madrid '19)
12. Anamnesis
13. Inner Cell (Live in Utrecht '19)
14. Loyalty (Live in Utrecht '19)
15. Horology (Live in Utrecht '19)
16. A Brief History Of Planet Earth (Live in London, Berlin, Utrecht and Barcelona '19)
Watch the trailer for Chunky Shrapnel below.
Comments
comments