Cabin fever is rife but we're hopeful that this week's new releases will ease the pain and Getintothis' Simon Kirk issues his top selections. 
So, with the Covid- 19 pandemic and the continuous uncertainty of everything, it's only natural that we all tend to do strange, slightly mad things.
Perfect case in point. Hope and Glory…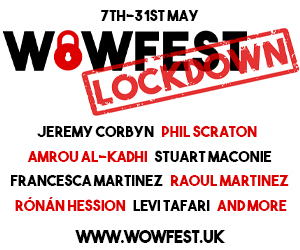 It's no different here, folks. I went wild and created a Spotify playlist for you all. No big deal to most, but here's the thing…
Just like Youtube binges. Just like scrolling through your Facebook or Twitter feed. Just like animal filters.
Playlists can be added to the above things that I dearly loath. Don't ask me why. I just do, okay?
However… I appreciate they are other people's bag, so with that, happy Friday! Get to the end of these musings and you shall be rewarded with grace.
The playlist will grow as each week rolls on. While many of you will have more time to discover new music, I'm sure your time will be equally spent consuming Netflix and, ahem, Youtube as well as various other rabbit holes one ventures down.
In the meantime, though, enjoy this week's top releases and, above all, stay safe.
The top picks from the virtual rack this week.
Albums Club #45: Porridge Radio, The Lovely Eggs, Sorry, The Chats, Baxter Dury and more
1. Pigs Pigs Pigs Pigs Pigs Pigs Pigs: Viscerals
Rocket Recordings
Newcastle's Pigs Pigs Pigs Pigs Pigs Pigs Pigs return with their third record, Viscerals.
Following on from 2018's brilliant King of Cowards, expect a rawer offering from the noise-making five-piece. To get you in the mood, have a read of our 2018 interview with the band here.
2. Yves Tumor: Heaven to a Tortured Mind
Warp
Following 2018's Safe In The Hands of Love, Sean Bowie's Yves Tumor project is back with his third instalment, Heaven To A Tortured Mind.
This is one of the most anticipated releases in the first half of 2020 and if it's anything as good as SitHoL, then we are in for some treat.
3. The Lovely Eggs: I am Moron
Egg Records
The Lovely Eggs return with their fifth album and follow-up to This Is England in the brilliantly titled I Am Moron.
Produced by the irrepressible David Fridmann (The Flaming Lips, Mercury Rev, Low et al), get ahead of the game and read our review of I Am Moron which featured earlier this week in our Albums Club.
4. Thundercat: It Is What It Is
Brainfeeder
Thundercat is back, following up 2017's Drunk with It Is What It Is.
Produced by Flying Lotus and Thundercat himself, It Is What It Is features a slew of musical contributions from, including Childish Gambino, Lil B, Kamasi Washington, Steve Lacy.
5. Purity Ring: WOMB
4AD
After an absence lasting over five years, Purity Ring return with their third album, WOMB.
Produced and recorded by the duo of Megan James and Corin Roddick, WOMB chronicles a quest for comfort, the search for a resting place in a world where so much is beyond our control.
This could be interesting.
6. Maserati: Enter the Mirror
Temporary Residence
Temporary Residence mainstays, Maserati, return with their first LP since 2015's Rehimanzier in Enter the Mirror.
There are more dislocated grooves and genre-bending absurdity here but like most Maserati album's they've refined the package right here.
We're not sure which sounds better. The band's name or this album's title? In any case, get a taster with our review of Enter the Mirror.
Interpol's Paul Banks reveals new project Muzz and debut single Broken Tambourine
7. tētēma: Necroscape
Ipecac Recordings
Ahh, Mike Patton. He's always got his hand in something new and along with Australia electronic pioneer, Anthony Pateras, the pair bring us the second tētēma album, Necroscape.
Pateras described the first single, Haunted on the Uptake, as sounding "like The Melvins' tour van broke down in the Balkans and instead of going home, they decide to open a mountain laboratory dedicated to possible hybrids of Rembetika and hardcore."
Yeah, we could imagine that.
This week's other notable releases.
James Elkington: Ever-Roving Eye (Paradise of Bachelors)
Locate S,1: Personalia (Captured Trackers)
Viagra Boys: Common Sense (YEAR0001)
Mentrix: My Enemy, My Love (House of Strength)
Ren Harvieu: Revel in the Drama (Bella Union)
Wilma Archer: A Western Circular (Weird World)
Sun Araw: Rock Sutra (Sun Ark)
Ringo Deathstarr: Ringo Deathstarr (AC30)
Sports Team: Deep Down Happy (Island Records)
Peel Dream Magazine: Agitprop Alterna (Tough Love)
NNAMDÏ: BRAT (Scooper Records)
Square Fauna: Meet the Fauna (Firecarcker Recordings)
Melkbelly: PITH (Wax Nine)
CMON: Confusing Mix of Nations (Mexican Summer)
Seazoo: Joy (Big Terry)
M. Ward: Migration Stories (ANTI-)
Ellis: Born Again (Fat Possum)
Nathan Fake: Blizzards (Cambria Instruments)
Ad Infinitum: Chapter I: Monarchy (Napalm Records)
Es: Less of Everything (Upset the Rhythm)
Anna Burch: If You're Dreaming (Polyvinyl Record Co.)
Everything Is Recorded: Friday Forever (XL Recordings)
Ashley McBryde: Never Will (Warner Music Nashville)
Crisman: Crisman (Top Shelf Records)
Becker & Mukai: Time Very Near (SaS Recordings)
Warm Digits: Flight of Ideas (Memphis Industries)
Born Ruffians: Juice (Yep Roc Records)
Rod Wave: Pray 4 Love (Alamo Records)
Violent Soho: Everything Is A-OK (I OH YOU)
Witch's Wall: Witch's Wall (Cornelius Chapel Records)
Borrowed Beams of Light: Do It Again (WarHen Records)
Charmer: Ivy (No Sleep Records)
The Claudettes: High Times in the Dark (Forty Below Records)
Empress Of: I'm Your Empress Of (Terrible Records)
TOPS: I Feel Alive (Fat Possum Records)
Her Name Was Fire: Decadent Movement (Raging Planet Records)
Hollow Ship: Future Remains (PNKSLM Recordings)
James Alexander Bright: Headroom (!K7)
Jeffrey Silverstein: You Became the Mountain (Arrowhawk)
Jon Stickley Trio: Scripting the Flip (Crossroads Label Group)
Wu Fei & Abigail Washburn: Wu Fei & Abigail Washburn (Smithsonian Folkways)
Kurt Elling: Secrets Are the Best Stories (Edition Records)
Mentrix: My Enemy, My Love (House Of Strenght Records)
Mick Harvey: Waves of ANZAC / The Journey OST (Mute Records)
Parsonsfield: Happy Hour on the Floor (Signature Sounds Recordings)
Peach Pit: You and Your Friends (Columbia Records)
Shordie Shordie: >Music (Captain Hook)
Søren Lorensen: Lake Constance (Okey-Donkey)
Testament: Titans of Creation (Nuclear Blast)
Thievery Corporation: Symphonik (ESL Music)
Comments
comments