Brighton's finest five-piece announce their new label and single, their first of the year and Getntothis' Steven Doherty has all the details.
Squid are back with their first music of 2020.
Their new single, entitled SLUDGE, is the band's first release for Warp Records (home of Aphex Twin, Battles and Squarepusher amongst others) since signing with them late last year.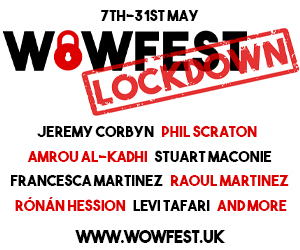 A long time live favourite, SLUDGE sees them sound even more widescreen than last years trio of bangers Houseplants, The Cleaner and Match Bet.
Described as "a song kind of about self-isolation before it was a government enforced lifestyle", the single is available to download and stream now, ahead of the release of their debut album at some point this year.
The musical thrust of SLUDGE was initially conceived during a sound-check, which for a band who have built so much of their reputation on their incendiary live shows seems a fitting way to begin this new chapter.
The track sees them team up again with recently-awarded Producer of the Year, the very much in-vogue Dan Carey, owner of their previous label Speedy Wunderground.
Squid, who toured extensively last year with some major support slots with the likes of Viagra Boys, Wire and Our Girl before their inclusion on the prestigious BBC Sound of 2020 long-list, have also announced the rescheduled dates of their latest headline tour which was meant to take place this month.
The new tour dates are:
July 22: London Scala
August 24: Brighton Chalk
September 1: Bedford Esquires
September 2: Oxford Bullingdon
September 3: Southampton Joiners
September 8: Birmingham Castle & Falcon
September 9: York Crescent
September 10: Hebden Bridge Trades Club
September 12: Manchester White Hotel (Matinee)
September 12: Manchester White Hotel (Evening)
September 13: Edinburgh Summerhall
September 14: Newcastle Cluny
September 16: Norwich Arts Centre
Comments
comments