Hope And Glory Festival 2 will return in 2021, Getintothis' Bill Noddy with the scant details.
Hope And Glory Festival is to return in 2021.
Organisers of Hope And Glory Festival 2 – are keeping tight-lipped on details but insist James and Charlotte Church won't be 'anywhere near' the bill.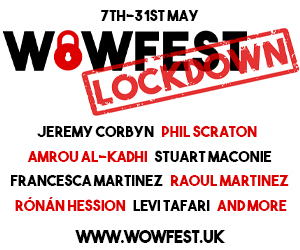 A short statement issued by a festival intern late last night, said: "What this country needs right now is a festival that brings everybody together.
"We're not sure where, and we're not sure when – but Hope And Glory is that festival."
While the festival director could not be contacted, the intern added: "Hope And Glory 2 will be bigger, better and bolder. While there's no festival today, there will be, some day."
Bands already confirmed not to play include James, Hacienda Classical, Happy Mondays, Zutons', The Coral, Clean Cut Kid, The Blinders, Lightning Seeds and Public Service Broadcasting.
Reverend & The Makers are barred from attending.
No artists or bands have been revealed and while the location is yet to be disclosed, top brass for the festival have insisted Tim Booth yoga mats and inflatable Charlotte Church inflatable bouncy dungeons will be available to purchase on site.
The intern added: "We can't wait for it to all go off – and if it doesn't see you at Magnet."
Tickets are priced £250 for early birds – and are on sale now.
A gallery of highlights from Hope And Glory Festival is below.
Comments
comments