Father John Misty has a new live album out now and Getintothis' Will Neville looks through the fog to find out more.
The first live album from cult hero Father John Misty, Off-Key In Hamburg, is out now on Bandcamp.
Formerly drummer in Fleet Foxes, Father John Misty started his solo career in 2003 under his real name of J. Tillman after leaving post-rockers Saxon Shore. He has released eight albums under his own name, followed by four more as Father John Misty.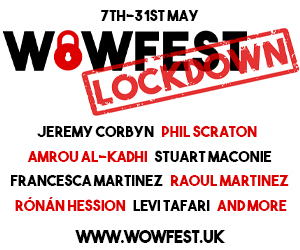 He has been a prolific collaborator, working with the likes of Beyonce, Lady Gaga, Post Malone and Har Mar Superstar.
Coming from a strict religious background, Tillman described his upbringing as "culturally oppressive".  He was only allowed to listen to religious music, managing to get albums like Bob Dylan's Slow Train Coming past his parents, as it was ostensibly a Christian record.
Tillman was estranged from his parents for a long time, although they have since got over their differences and again established a relationship.
The new digital-only record is in aid of the MusiCares COVID-19 Relief Fund. It was recorded at the Hamburg Elbphilharmonie on August 8 last year with his eight-strong long-time touring band, ably supported by the Neue Philharmonie.
The charity aims to help those in the music industry affected by the coronavirus outbreak and its impact on the live music scene.
Albums Club #45: Porridge Radio, The Lovely Eggs, Sorry, The Chats, Baxter Dury and more
The set list for the record reaches as far back as 2012's Fear Fun for a brace of tracks, with the album including versions of six songs from each of his three most recent albums, with the orchestral backing adding extra flavour to several of the songs.
The 20 track album can be bought here for $10
One track off the album, Holy Shit, can be listened to below.
Comments
comments