It has been the oddest of months, but the Getintothis photographers have been out and about as much as they can, here's the pick of the photographic library for March 2020.
The last gig we covered was Romeo Stodart on 15 March 2020.
And there's no telling when the next one will be.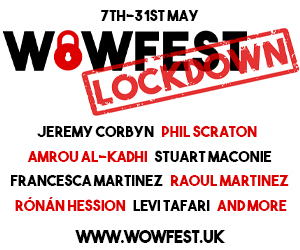 Since then we've all been busy downloading Zoom.
In less than a week, we've had to adapt, to change and re-assess what we photographers can do.
A few of the Getintothis team managed to get out into Liverpool city centre on just about the last day it was acceptable to be walking around, save for essential journeys. The eerie shots with which the guys came back show how quickly our world had turned upside down.
We've now become Zoom gurus, using it for meetings and brainstorming sessions. After all, we can't sit around in Leaf and chew the fat at the moment.
Instead, we'll be looking to cover some personal projects, mining our archives, maybe dipping in to some online gigs and whatever else transpires over the next few weeks. We have no real idea.
Although we only had two weeks gig shooting this month, the pictures in the gallery below show the range of subjects we cover. This is particularly so in the case of, say, the shots from Comic Con – a gift for a photographer with an arena full of willing subjects. It was a joy to spend a few hours there, drinking in the atmosphere created by fans and enthusiasts.
Quite what we'll be up to on the photo front for a while remains to be seen, save that we continue to plan ideas and you can be sure there will be plenty of photography related pieces on Getintothis in the coming months. We're just not saying what at the moment.
Anyway, if you fancy getting involved with our merry band, drop us a line on Facebook, or email Peter, our Live Editor at gigs@getintothis.co.uk.
Enjoy the gallery.
Comments
comments