Tiger King is taking over social media, Getintothis' Naomi Campbell gets her paws on the Netflix series.
With the world in lockdown and many of us becoming over familiar with our TV screens, any new arrivals on Netflix are just in time.
Tiger King: Murder, Mayhem and Madness, is one of many new series that's slipped into the binge-worthy quarantine category, raising the eyebrows and temperaments of the population.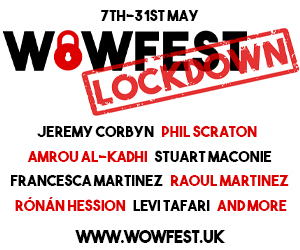 Arriving just months on the back of Netflix's twisted series Don't F**k With Cats where a group of cat lovers join a cyber-hunt to track down an unidentified cat killer, Tiger King similarly follows suit unravelling with corruption, internet sensations and murder conspiracies.
As the title suggests there is little sanity to grasp from its 7 episodes and what we do manage to piece together leaves us feeling morally confused at our own enjoyment but hooked nonetheless.
The true-crime documentary follows "big cat" enthusiasts and the secrets behind the money making profits of their industry, but as the series unfolds the producers narrow in on the on-going feud between the two main characters, chirpy big cat rescuer Carole Baskin and fearless TV personality, Joe Exotic.
Baskin, a passionate advocate for animal rights runs non-profit organisation Big Cat Rescue, but her attempts to exploit animal trafficking and pay-for-play businesses in which visitors pose for pictures with wild cats make her an arch nemesis for roadside zoo owners like Exotic.
In each episode we are given an all access pass into the bizarre life of Joe Exotic, real name Joseph Maldonado-Passage, and his obscene verbal attacks on Baskin.
The mullet donning Oklahoman will do anything to keep his celebrity status from internet star to Country singer, the zoo keeper even sold condoms branded with his own face on his online Shop.
A seemingly innocent longing for the spotlight portrays Exotic as nothing more than a loveable wannabe before his own self-destruction and obsession with Baskin spirals out of control.
Presumably through Exotic's eyes, what was a once thriving career quickly deflates due to a suspected self-inflicted fire, the suicide of one of his younger husbands and a million-dollar lawsuit against him from Baskin for trademark infringement.
Exotic's deluded false sense of popularity even encouraged him to go as far as running for President of the United States before finally, paying one of his employees to kill Baskin.
Chernobyl, Netflix and Spotify: how technology is transforming the arts
The unsuccessful pay for hire murder was ironically divulged to the authorities by Exotic's own employees who also revealed his self-administered euthanasia of several tigers, ultimately leaving him with a 22 year prison sentence.
Baskin, with a soft spoken voice and permanently fixated smile is rarely seen losing her calm and collected demeanour on-screen.
If she isn't seen cycling along her driveway head to toe in leopard print or behind her computer screen addressing her "cool cats and kittens" online then she will soon appear on the face of yet another target created by Exotic.
Demeaning evidence against Baskin which suggests she murdered her missing husband Don Lewis soon surfaces, much to Exotic's enjoyment who enthuses to the cameras that Baskin fed her husband to her cats. (can you keep up?).
Baskin's somewhat restricted and nonchalant expressions whilst defending herself in comparison to Exotic's transparent behaviour somehow adds fuel to the fire of what can only be described as a virtual witch hunt.
Viewers with their pitchforks at the ready consequently see it as their obligation to choose a side in what has suddenly become a battle of good vs. evil.
Even with his dirty laundry out in the open some still can't help feeling empathy towards Exotic joining him on his anti-Baskin tirade even going as far as adopting the infamous phrase "that b***h Carole Baskin" which has quickly unleashed an abundance of internet entertainment.
So yeah, in case you had forgotten the purpose of the series was to focus on animal misconduct, (remember the tigers?) but not even the filmmakers could prepare for what they would actually discover.
Interviews in each episode become increasingly disturbing as secrets begin to unravel, the staff all too willing to dish the dirt on their leaders.
We learn that Exotic's first husband John Finlay was manipulated into marriage in return for drugs, zoo keeper Kelci "Saff" Saffery lost her arm to a tiger on shift at Exotic's G.W. zoo and we are introduced to Bhagavan 'Doc' Antlel which opens up a whole other can of worms.
Exotic and Antle had a somewhat delusional bro-ship, bonded by their mutual hatred for Baskin. Similar to Exotic, the Florida based wild animal breeder also has an eerie cult-like firm full of young women behind him, some of which he had sexual relationships with.
As the increasingly disturbing revelations pile up against the corrupted zoo keepers Baskin and her seemingly genuine approach to cat rescue albeit with some questionable "sardine-oil" references along the way, meanwhile, has come out the other end of the series as a cold blooded killer with Exotic garnering the status as something of a cyber-celebrity.
With their livelihoods tainted and their backgrounds reduced to a 7 hour documentary, these controversial individuals can at least defend themselves with the freedom of speech but the sad reality is that the wild cats have no say in their fate and instead their mistreatment takes a back seat in the circus-like shenanigans of their keepers.
What initially disgusted and horrified us, the sight of wild tigers crammed into cages and newborn cats being manhandled, quickly falls behind the shock elements of the series and the behaviour of the humans themselves, surpassing any emotion felt towards the animals.
Tiger King certainly ticks all the boxes of quality entertainment between murder speculations, animal trafficking, limb massacres, fraud and polygamy, but it's our own unnerving ability to see what we want to see that resonates deeper than all the weirdness.
Once again Netflix have spoon fed us all the ammunition we need to make our own dangerous assumptions as someone else's (pun-worthy) catastrophic life becomes the subject of our entertainment.
We are addicted to what's ultimately the downfall of a reckless human being and what's worse is we can't bring ourselves to dislike the guy as we are easily amused by his naivety and ill-fated life choices.
Baskin, to her disadvantage is much less colourful in the romanticised reality of TV which leaves her fate in the grubby paws of online trolls.
The whole thing is chilling, unfathomable and just plain sad leaving us with so many unanswered questions but, whether it's for the right reasons or not, it's certainty got the world talking and is undoubtedly something we can escape into in a time of worldwide distress.
Comments
comments